Recipes
Cauliflower Shawarma with Pomegranate, Tahini, and Pine Nuts
Serves

serves 2-4

Cook

1 hour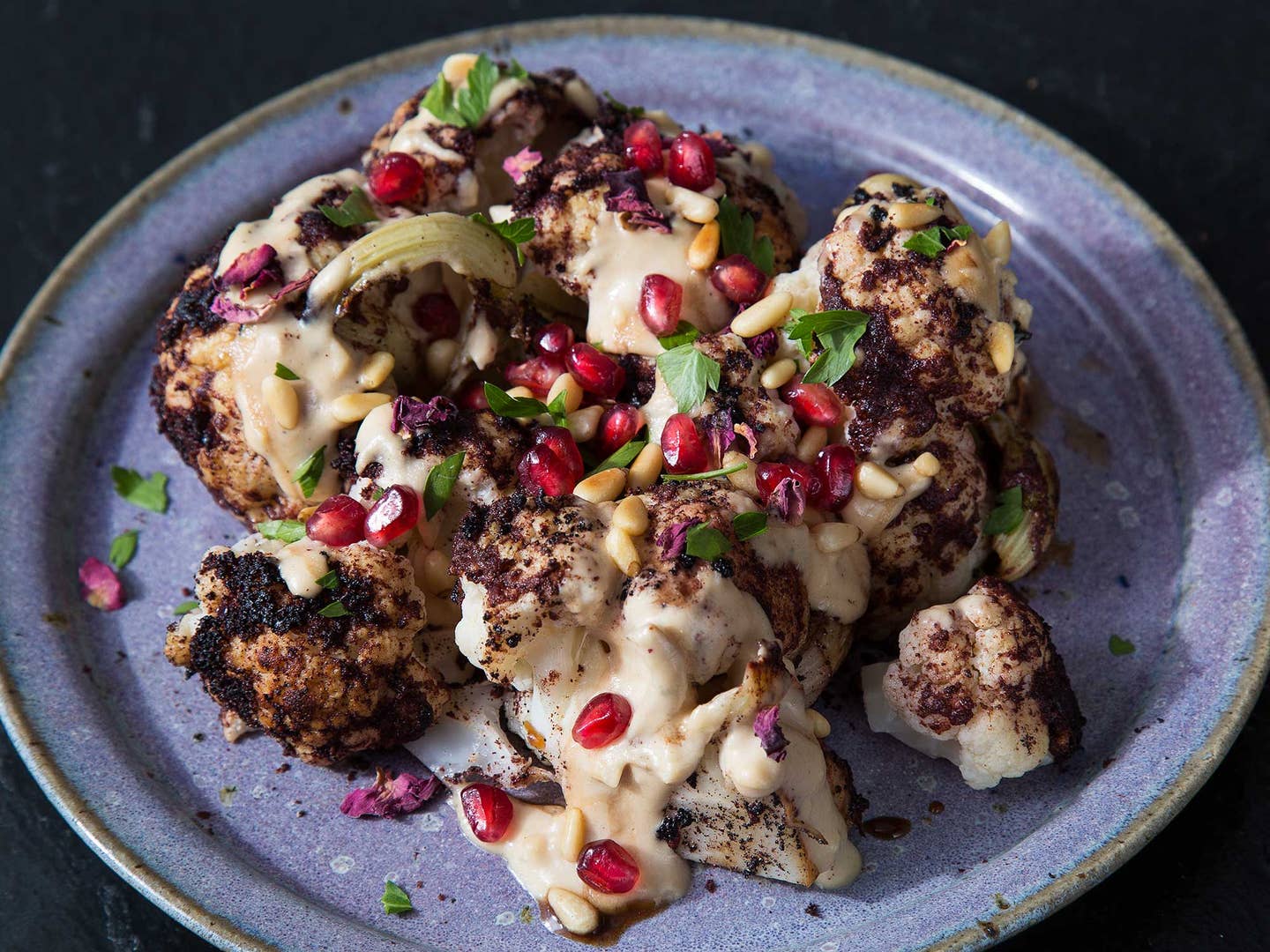 Blanched and then grill-roasted until charred, this Middle-Eastern-inspired vegetarian entrée—which easily goes vegan—comes from chef Josh Katz of Berber & Q. A richly-spiced whole head of cauliflower, the smoke flavor will sate even the most devout carnivores.
Ingredients
1⁄4 cup plus 1 1/2 tbsp. fresh lemon juice
3 tbsp. unsalted butter, softened
1 1⁄2 tbsp. minced cilantro
1 tbsp. ground cinnamon
1 tbsp. ground sumac
1 1⁄2 tsp. ground cumin
1⁄2 tsp. ground allspice
1⁄8 tsp. ground cardamom
1⁄8 tsp. freshly grated nutmeg
2 cloves garlic, minced
1 1⁄2 tsp. kosher salt, plus more
1 whole head of cauliflower, stem trimmed, leaves left intact
1⁄3 cup tahini
2 tbsp. pomegranate seeds
1 1⁄2 tbsp. finely chopped flat-leaf parsley
1 1⁄2 tbsp. pine nuts, toasted
1 tbsp. pomegranate molasses
1 tsp. dried rose petals, lightly crushed
Instructions
Step 1
Light a grill. In a small bowl, stir 1 1⁄2 tablespoons lemon juice with the butter, cilantro, cinnamon, sumac, cumin, allspice, nutmeg, cardamom, and half the garlic.
Step 2
In a large pan of boiling salted water, cook the cauliflower until the stem can be just pierced with a knife, 8 to 10 minutes. Drain the cauliflower and transfer to a cutting board. Rub the cauliflower all over with the spiced butter and transfer to the grill. Cook, turning as needed, until charred and blackened all over, about 10 minutes, and transfer to a serving platter.
Step 3
Meanwhile, in a small bowl, whisk the remaining 1⁄4 cup lemon juice and garlic with the 1 1⁄2 teaspoons salt, the tahini, and 3 tablespoons ice-cold water until smooth. Drizzle the tahini sauce over the cauliflower and sprinkle with the pomegranate seeds, parsley, and pine nuts. Drizzle with the pomegranate molasses and sprinkle with the rose petals before serving.