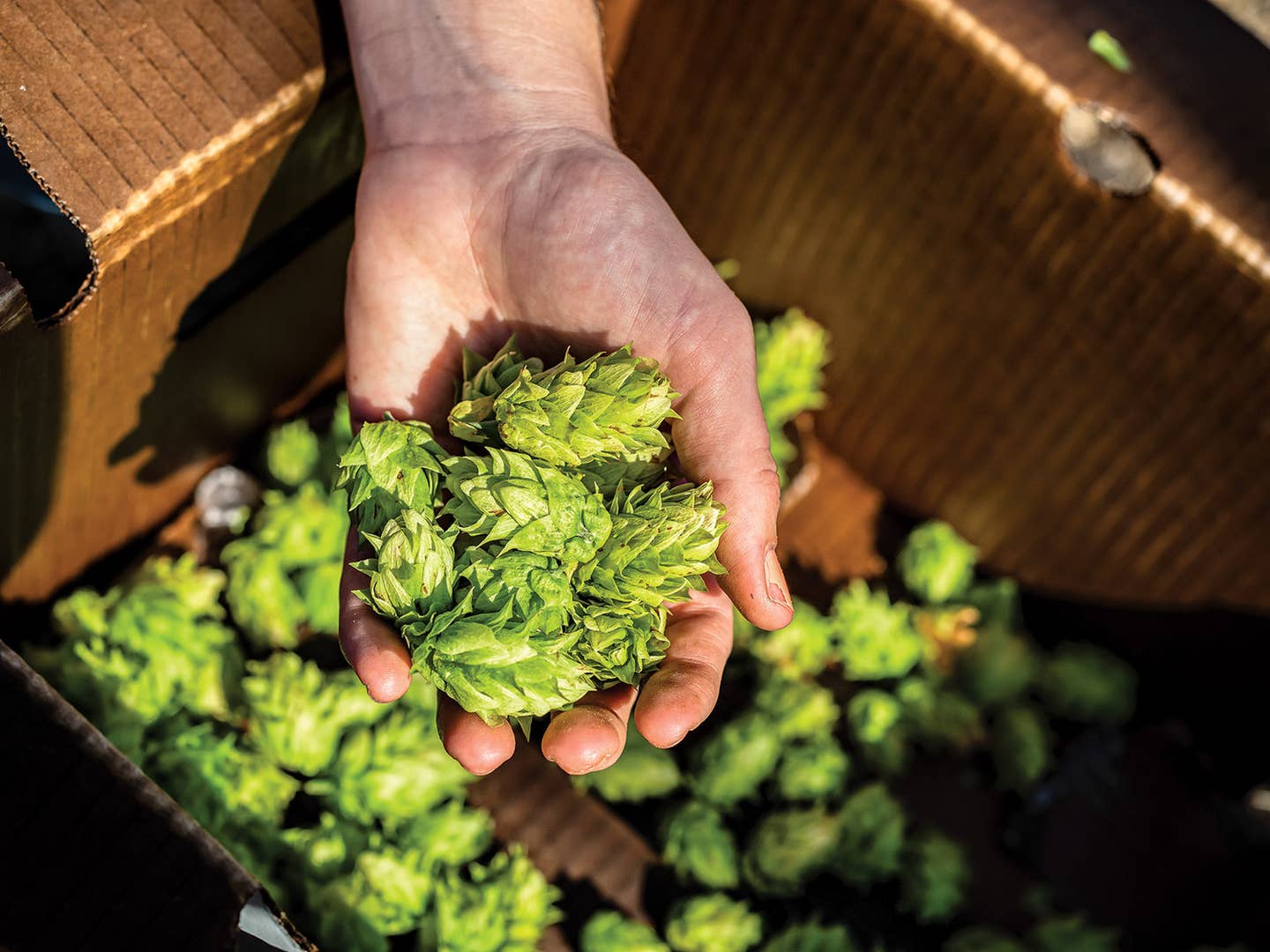 Drinks
The Hop Growing Process Behind the Perfect Pint of Beer
Often overshadowed by high-end viticulture, the art of farming hops is worth a closer look
It can be easy to get lost in the labyrinthine trails of Nopalito Farm and Hopyard in northeast San Diego County. Hop farms are strangely evocative of oceanic kelp forests: fields filled with gently waving, upward-reaching verdant plants that can tower so high, they blot out the sun. But unlike the unsustainable and sometimes-violent mechanized kelp-dredging process, hop harvests are done delicately and by hand on small farms to ensure their perennial return.
The typical hop plant—a member of the hemp family—generally takes three years to fully mature, making growing hops a laborious process. Hops thrive in moderate climates that have lots of both sunshine and rain as well as distinct seasonal temperature fluctuations. The Yakima region of Washington State is by far the most prolific hop-growing province in the United States, but hop farms can be found as far north as the Canadian border and as far south as Mexico's.
While only three of Nopalito's 16 acres are dedicated to five hop varieties—the rest are home to crops such as avocado and citrus—those boundaries contain a few thousand hop bines. Hops grow on bines, not vines, meaning the stems use tiny, stiff hairs to climb sunward. The fields, regardless of size, must be regimented into distinct rows with picture-frame-like trellises spaced just far enough apart to allow farmers to slip between the plants. The farmers typically run taut cords of coir twine (a strong, fibrous, sticky string) perpendicular to the ground to provide the bines an easy route toward the sun. Nopalito uses two strings per plant, retied and reknotted twice by hand every spring, to support the weight of an eventual full-grown bine, which can reach up to 15 feet by harvest.
"The longer the days get, the quicker the bines grow," says Jordan Brownwood, who, along with his wife, Mariah, purchased Nopalito farm in 2014. "Once they're all the way up, they start growing out and developing their flowers, called cones. Around the solstice, they can grow 4 to 6 inches in a day." As the hops mature, a fresh aroma—reminiscent of cannabis—permeates the landscape. Hints of pine, earth, and sometimes even tropical fruits such as passion fruit or guava edge in, depending on the strain. Eventually the plants' perishable essential oils or resins, which are responsible for these aromas, will interact with yeast from the brewing process, adding nuance to a beer's final flavor. Sometimes, the flavors and aromas are not so subtle, as in the hop-derived bitterness that comes about from adding the hops early in the beermaking process. But other times, the flowers lend the subtle aromas of the strain and the growing source, a citrusy note or an earthy one, a specificity of a place and a moment in time some would say is similar to terroir.
Most of the world's hop harvest happens during the month of September, with a few weeks on either end, depending on the area. Thanks to San Diego's arid climate, Nopalito's harvest tends to fall a few weeks before those of farms in the Pacific Northwest, but all hop farms in the United States are constrained by time when it comes to picking.
"Each variety has a different pick window, which can last one to two days or up to a week," says Zak Schroelucke, marketing manager for Crosby Hop Farm in Woodburn, Oregon. Because of Nopalito's comparatively diminutive acreage, its harvest window for the entire year is even shorter: about six hours, which means the farmers will often pick, separate, and hand-deliver their whole crop to a handful of local breweries the same afternoon.
Hyperlocal craft breweries are willing to pay a premium for exceedingly fresh hops in order to brew "wet hop beers," which can be made only during the hop-harvest season. Rather than using pellets (hops that have been dried, pelletized, and cold-stored for stable year-round use), wet hop beers use whole hop cones within 24 hours of picking, which requires several times the "normal" amount of hops a beer recipe generally calls for. The cost for this once-a-year brew can run a small brewery's margin into the ground, but that's beside the point for brewers and fans smitten with the ethereal beer style. They believe it showcases the true essence of the plant's personality, which means that, once a year, there's a chance to capture the apex of each sun-drenched bud's life span in one perfect pint.