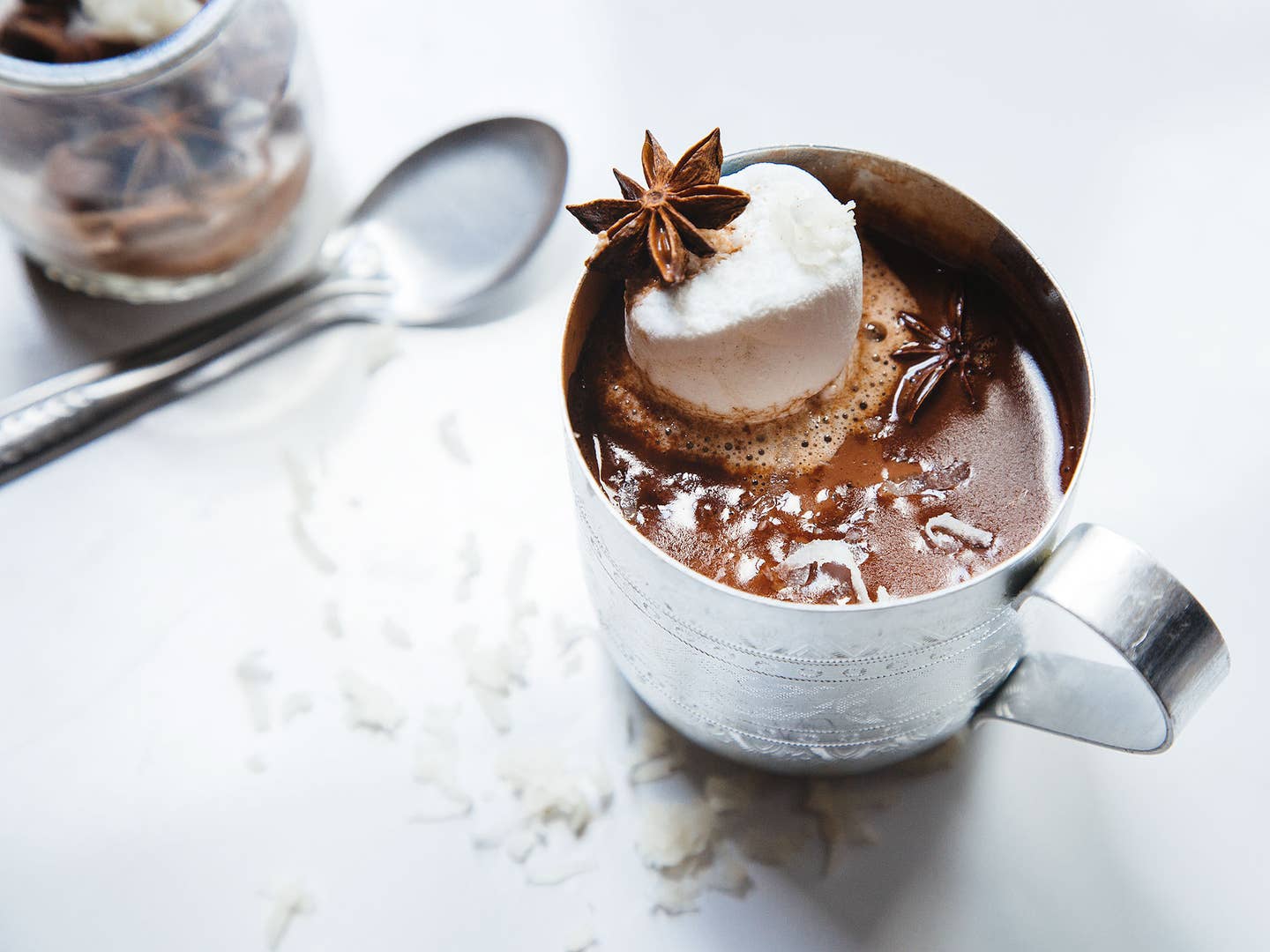 Drinks
Make These Spiced Hot Cocoa Mixes to Forget About the Instant Stuff Forever
Whip them up in bulk, then batch them into single servings of anise-spiced, matcha-dusted love
As far as I'm concerned, this is the time of year when everyone can and should be drinking hot cocoa every day, regardless of time or how old you are. Nothing screams winter to me more than warming up my hands on a nice hot mug full of hot cocoa, and there's no easier way to share that feeling than to make hot cocoa mixes for just about everyone.
Here are six spins on the classic made with different spices and sweeteners. They're designed to make single servings—just add a cup of hot milk—but are easy to scale up. Make them in bulk, then separate into single-serving jars or baggies for customizable gifts to give to family and friends. Go forth and make the most of your pantry.
Cardamom, cloves, and star anise replicate the sweeter flavors of a rich Thai curry. For this recipe, swap milk out for equal parts coconut milk and water—the coconut brings all the spices together. For a richer cocoa, omit the water and use 1 cup of coconut milk.
Perfect for a hot cocoa pick-me-up. Instant coffee makes this an easy dry mix, but if you're making it for yourself at home, use half a cup of freshly brewed coffee with half a cup of milk instead.
The classic, now made better. The warm verve of cinnamon and nutmeg scream "tis the season!"
For matcha lovers, this will definitely hit the spot. The matcha mellows out the sweetness of the hot cocoa so this is great for those who don't like their cocoa too sweet. For a more subtle matcha flavor, use 1/2 a teaspoon instead of 1 teaspoon.
Adding a mint tea bag is the perfect way to flavor hot chocolate. For a stronger mint flavor, steep the tea bag for longer, but you only need a couple minutes so the mint doesn't get too grassy. A couple fresh mint leaves don't hurt, either.
This mix goes way beyond the typical flavors with umami Chinese fermented black bean chile paste and chile powder for a spicy, savory hot cocoa that delivers a kick of heat to the back of your throat. This is one hot cocoa that doesn't taste like anything else you've ever tried.