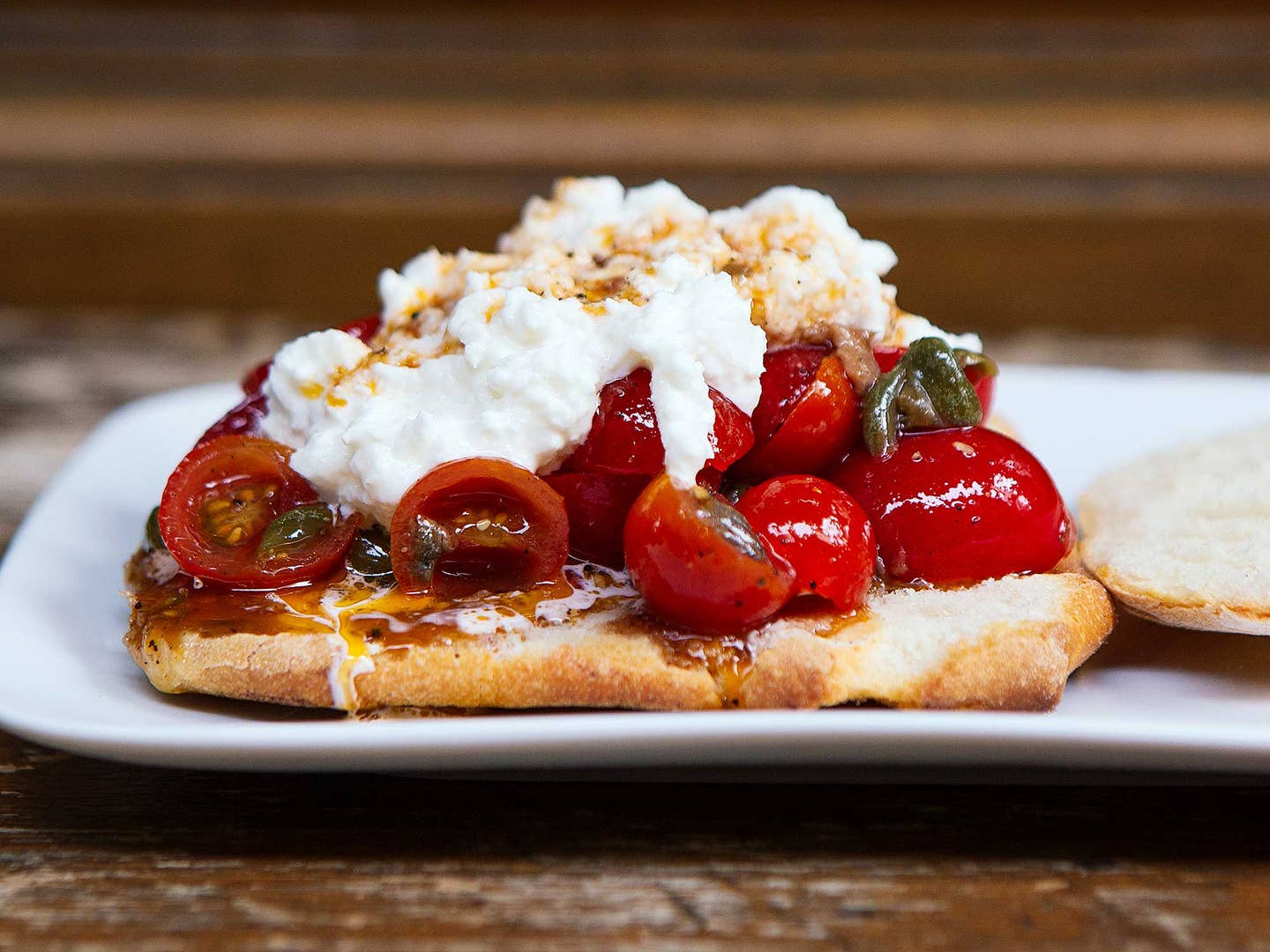 Recipes
Make These Panini From the Sandwich Capital of the World
Learn from the best sandwich city on Earth: Florence
When I boarded a plane bound for Florence, Italy during the summer after my sophomore year of college, I didn't like tomatoes. When I boarded a return flight just five short weeks later, I scoffed at my previously immature tastebuds. Had I found myself while studying abroad? Debatable. But in response to whether Florence made me a better person, the answer is undeniably yes. The Tuscan capital finally gave me an acquired taste for tomatoes.
I spent most of my trip eating an average of a tomato a day. There's the caprese salad with buffalo mozzarella and local balsamic and predictably fresh slices doled out on top of a sizzling margherita pizza. But one of the best ways to love the juiciness of Italy's tomatoes is to squeeze them between two thick slices of bread.
Enter the burrata and marinated cherry tomato sandwich. Based off a sandwich offered at Casa del Vino, one of the city's oldest enotecas, it's satisfyingly messy, owing to the juiciness of the cherry tomatoes marinated overnight with anchovies to lock in the salty flavor. It's another ingenuous way Florentines have combined tomatoes with cheese, in this case semi-soft burrata, which is made from mozzarella and cream.
What I quickly learned while living in the city is that sometimes a panini is literally your only option, but trust us, you're not settling. You're wandering through the cobblestone streets in a trance-like state overwhelmed with culture and you suddenly become ravenous. You've skipped lunch; it's 4 p.m. No restaurant in sight will be open during the midday siesta, but what is available to you are a plethora of hole-in-the-wall sandwich shops serving up both the most classic of Italian paninis and the most innovative. There's no time in Florence you can't find a decent glass of wine and a delicious sandwich.
The porchetta sandwich with marinated onions and salsa verde fits the bill. The meat is fatty and the salsa is unexpected; what more could you ask for. Other than the vinegar-laced onions generously piled on top.
Another classic from Casa del Vino is one of the simplest sandwiches you could ask for. There are essentially only three ingredients to top the bread—pecorino, parsley, and anchovy—but what it lacks in number of ingredients, it makes up for in boldness of flavors. The key is to coat the parsley on top with the olive oil mixture, but make sure it's not dripping. It should still feel light and fresh when you take the first bite.