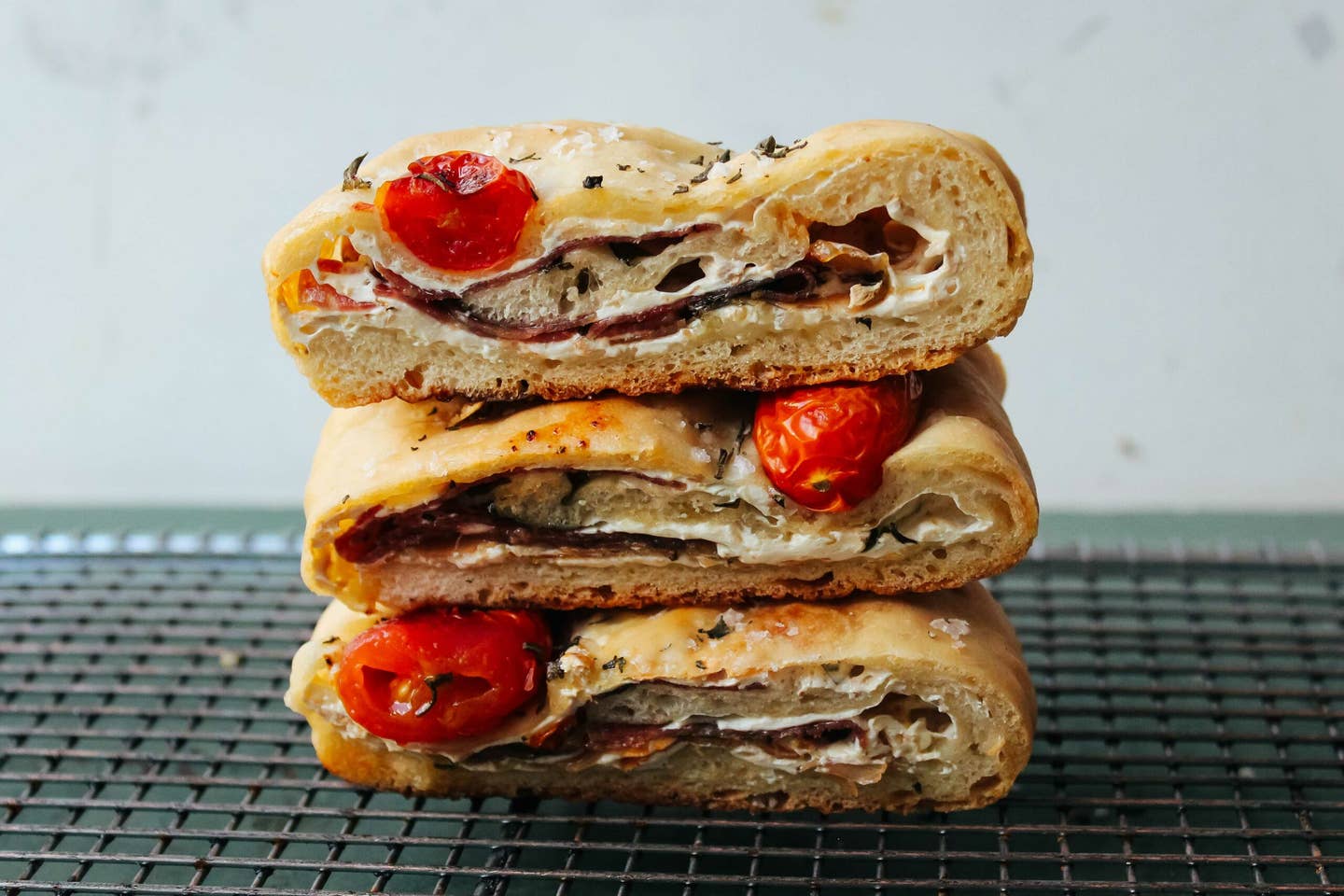 Techniques
How to Fold and Stretch Your Way to Fabulous Stromboli
This Italian-American classic deserves a closer look
The Italian stromboli, as we know and love it, isn't Italian at all. It's probably from Philly, a city that certainly knows its way around carby constructions of meat and cheese, and it's one more dish to add to the pile of Italian-American fusion dishes that stretch up and down the regional cuisines of the East Coast.
But as a spiritual descendent of layered, folded treats like Sicilian scaccia, the humble stromboli is worth a closer look. And it's very much worth making at home. Unlike fussy Neapolitan pizza and deep-fried calzones, stromboli—spirals of dough, thinly sliced meat, vegetables, and cheese—are easy to make in just about any kitchen. Chef Scott Conant of New York's Fusco (the restaurant's named after his Italian grandmother) showed us how he does his:
Don't be saucy. Stromboli don't get sauce, which keeps them from sogging up during baking. Instead, opt for a flavorful olive oil and more intensely flavored cheeses, like the smoked mozzarella in his recipe.
Flour power: Bread flour, rather than all-purpose, is the best pick for this easy stromboli dough. It comes with extra protein for a richer chew that'll serve the roll well. It should function more like a stuffed bread than a cake.
Fill it smart: Stromboli doesn't bake for long enough to really cook meats and vegetables, so your best filling options are pre-cooked or raw fillings that you probably already have lying around your fridge. Thinly sliced charcuterie, cooked chicken or mushrooms, and raw cherry tomatoes are all smart options.
Got it? Good. Try out Conant's recipe below, along with another of our favorite stromboli, and get movie night started.