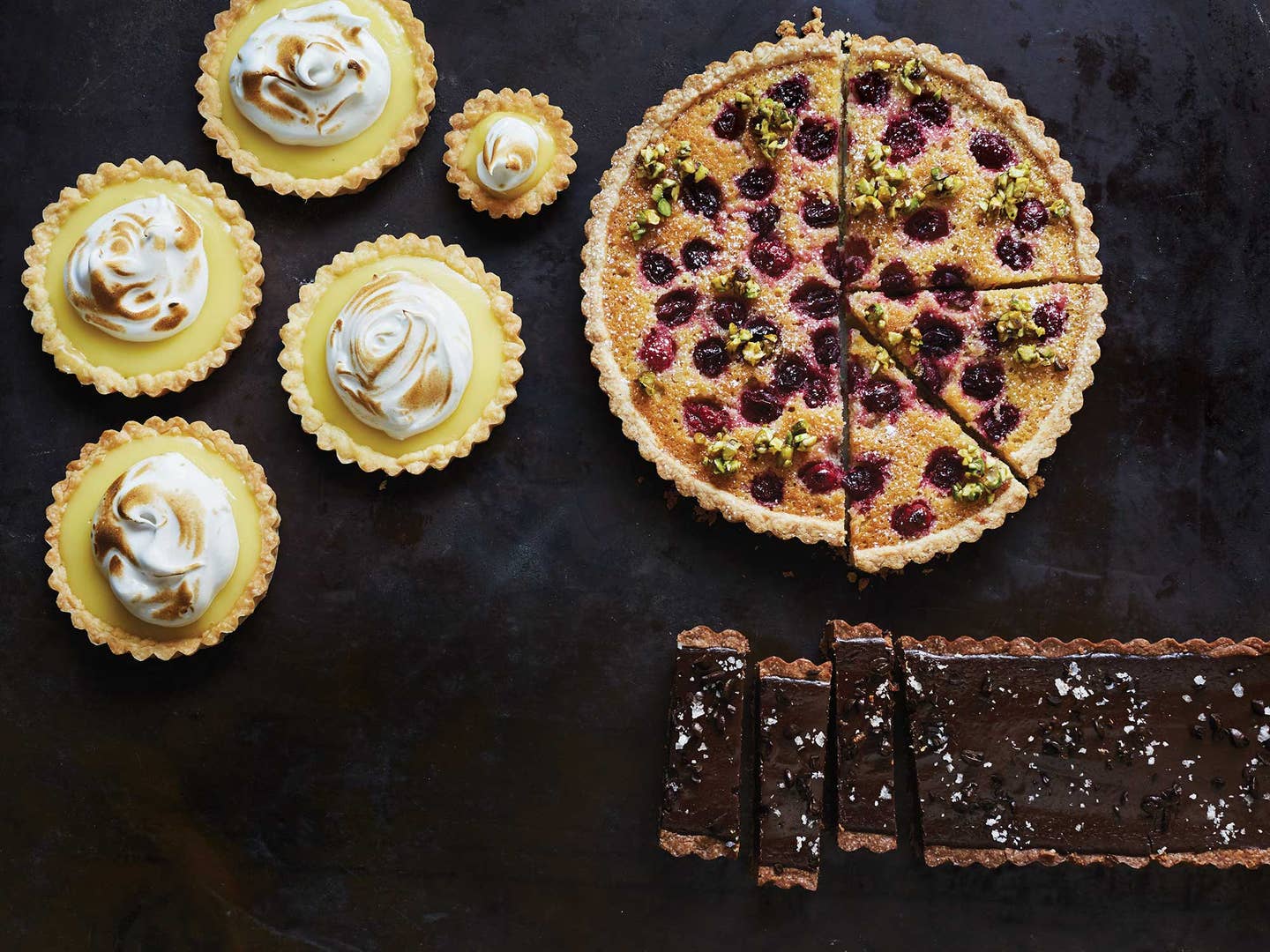 Techniques
How to Make the Perfect Tart
Stacy Adimando on the perfectionist's artistic alternative to the pie, with all the tart recipes and tools you need
"The view of the tart as too uphill or too technique-oriented to make at home has always been the greatest obstacle to home bakers," says Maury Rubin, owner of Manhattan's City Bakery and author of the slender yet canonical Book of Tarts. Rubin is one of a passionate tribe of bakers that puts the tart, above all other pastry, on a pedestal.
He's not wrong about the tart's daunting reputation; defined by their delicate, crumbly shells, open-faced designs, and a precise ratio of dough to filling, tarts demand close attention and reward practice.
If cookie baking is like dropping coins into a jukebox—pleasure found easy and cheap—constructing tarts is like conducting a symphony. They require the unity of many elements: crust, baking, filling, and decoration. Therefore, tarts encourage a perfectionist approach; a good one is an artistic and culinary triumph, a mediocre one defeats the purpose.
Still, Rubin assures, you likely already know some fundamentals of tart baking.
"What might be seen as making 'fancy French pastry' is actually, from a technical perspective, identical to making cookie dough." You cream butter and sugar, add eggs, and slowly blend in flour. The real work starts once the drone of the mixer blade fades: coaxing dough into a pan before it overwarms; forming fluted columns of buttery crust; stirring curd into a glossy surface, placid as lake waters; shingling frangipane with roasted fruit or fresh berries; mixing a silky, sea-salted ganache. The trick is practice, which eventually results in perfection.
Obsess about ingredients: From a tangle of taut red currants to voluptuous poached pears, a tart's topping is its first impression. Source fruits at their peak that are similar in size for even baking. Choose the highest-quality cream, chocolate, eggs, and butter for the most dramatic flavors.
Play with dough: There are two classic mother doughs in tart baking: pâte sucrée, which is lightly sweet, buttery, and crumbly (like a shortbread cookie) and its savory sibling, the flaky pâte brisée. (Some bakers designate a third category, pâte sablé, which is shorter and crumblier than brisée or sucrée.) Learn these first, then improvise by adding finely ground nuts, dried or fresh herbs, citrus zests, cocoa powder, minced candied ginger, or interesting flours like rye, buckwheat, or corn.
Premeditate: Work in advance by making and refrigerating dough overnight, or lining and freezing tart pans a few hours before baking. Set out equipment and ingredients before getting started. When a few seconds can mean the difference between a lumpy filling and a smooth one, organization is key.
Style freely: Forget the jam-shellacked fruit decoration and high-piped toppings of tarts past. Slice plums thinly or make a whole poached pear the central adornment. Experiment with subtle dustings of cocoa powder or confectioners' sugar, whipped cream, free-form meringue, coarsely ground salts, and edible flowers (not all on the same tart, of course).
Pare down: Tarts are about restraint. Overhandling dough can result in a tough crust. Overfilling the pan will make for a cakey crust rather than a buttery, crisp one. And too many fillings or garnishes will muddle flavors. Resist the urge to keep adding more.
The Right Pans for the Right Tart
Fluted Tart Pans: The friendliest option for home bakers, the fluted pan has grooved sides to lend flair without added effort. Many have removable bottoms, which ease transportation from counter to oven to table. Look for a fluted pan with low (3/4- to 1-inch-tall) edges, which temper urges to overfill and make for easier rim removal.
Tart Rings: Favored by professional bakers, these bottomless, smooth metal circles (also called flan rings) allow for the flattest, thinnest dough possible and a striking minimalist look. However, the lack of a bottom means there is no room for error when building, transporting, and baking dough.
"To bake a perfect tart shell, use a bottomless tart ring, perforated sheet pan, and silpat [nonstick baking mat]. Together, they eliminate air pockets between the shell and pan, and allow air to circulate on both sides of the shell, ensuring the crust is cooked inside and out." — William Werner, Craftsman and Wolves, San Francisco
"I prefer using fruit with beautiful stems and poachable fruit we can add flavors to—usually liquors like amaretto, kirsch, frangelico, and rum." — Tzurit Or, Tatte Bakery, Boston and Cambridge, Massachusetts
"At Chez Panisse, we sprinkled our crusts with 'moon dust,' a combination of crushed amaretti cookies, ground almonds, and flour, which kept the pastry from getting soggy with fruit juices. Now, I use a combination of flour, a little sugar, and a ground nut to suit each tart." — Claire Ptak, Violet Cakes, London
"We use Wüthrich, a European-style butter from Wisconsin, because it has a higher fat content and less moisture, making the dough creamier tasting and easier to work with. Plugra brand is also a good, widely available option." — Sandra Holl, Floriole Café and Bakery, Chicago