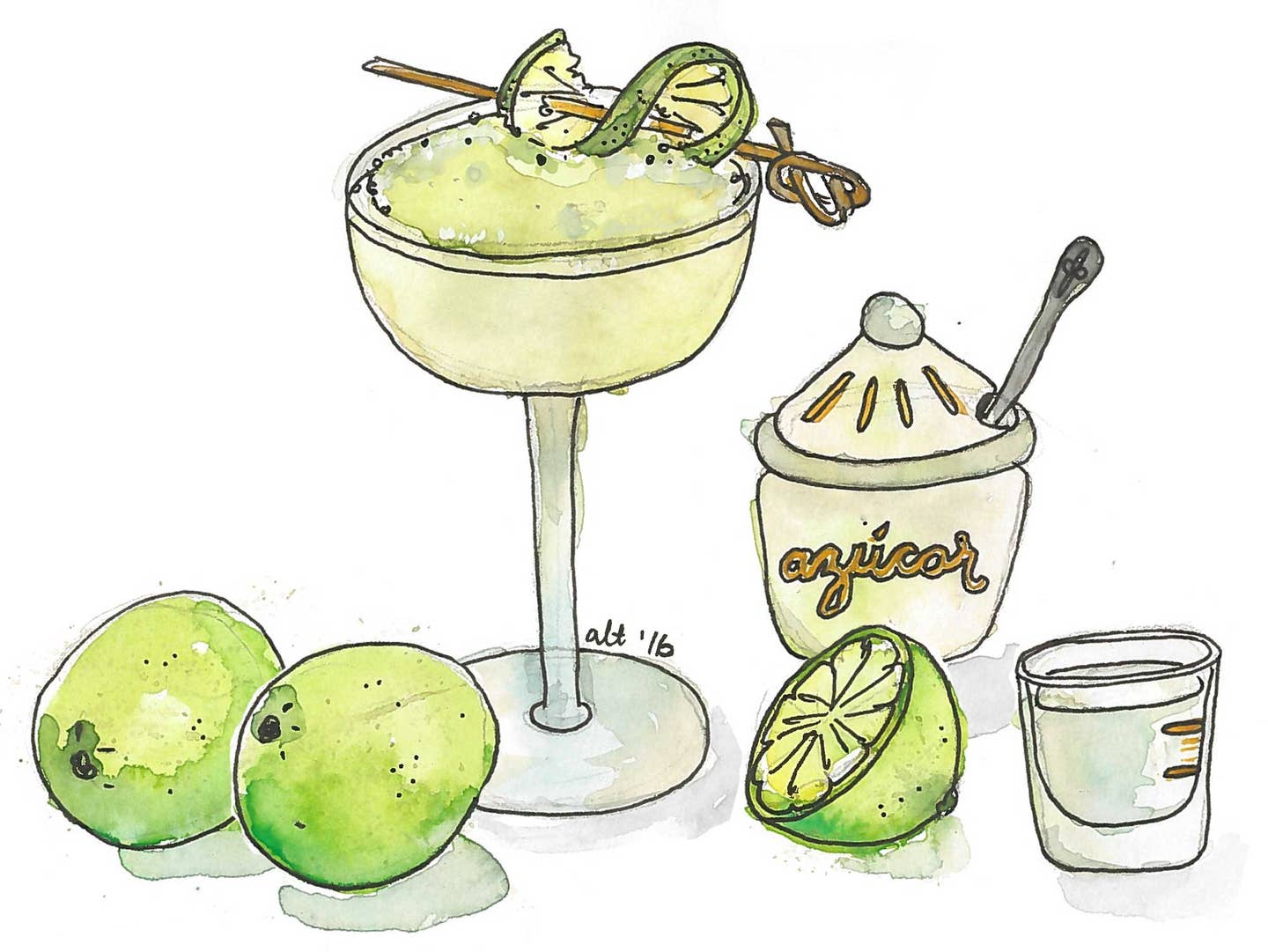 Drinks
The Trouble With Finding a Good Daiquiri in Cuba
Drink your way through Havana and you won't find Hemingway's ghost, but you will see how Cuba's new economy is emerging from behind the bar
Plenty of questions came to mind when I booked my first trip to Cuba. Are the roads really full of '57 Chevys?, for one. (Yes.) Will Cuba feel like a time warp? (Absolutely.) And, as a cocktail obsessive—Can you find a good drink in Havana?
I love a good daiquiri, but in a larger sense, I'm fascinated by bar culture. I hardly expect all my travel destinations to have great drinks. But Cuba plays a prominent role in cocktail history. Many classic cocktails—the daiquiri and the mojito among them—were invented and popularized on the island. Cuban rum's quality deserves international acclaim, to say nothing of the forbidden allure it shares with the nation's cigars. And Havana's nightlife is legendary, even if that legend is a holdover from pre-embargo days when Americans saw Havana as the Las Vegas of the Caribbean.
So much of Havana feels lost in time; I hoped I'd find bars that did as well. Unobtrusive establishments undisturbed by the passage of decades, shaking up daiquiris just as in Hemingway's time. Did that window into another era's world exist?
At the risk of spoiling the punchline—no. But that's not to say you can't drink very well in Cuba. And it's the journey to finding a great daiquiri that taught me far more about Havana than any hidden-away tavern could. In a country where you can't rely on buying even staples like milk and vegetables at the store, you can rely on finding good rum, limes, and sugar. And in a country where private enterprise still faces enormous obstacles, modern bars are just beginning to break through.
Chasing Hemingway's Ghost
Two names kept coming up in my bar research: La Bodeguita del Medio and El Floridita. "My mojito in La Bodeguita, my daiquiri in El Floridita," Ernest Hemingway once said, or rather, is said to have said. Every alleged Hemingway quote, especially about Cuba, should be greeted with skepticism. In Cuba, Hemingway is far more than a beloved author; he's an industry. Every real or manufactured association the man has with Havana has been wrung dry—every former residence is a museum, every former haunt touts his name far and wide. (One imagines that Hemingway himself would have nothing but disdain for his commercialization…but there I go, ascribing opinions to Hemingway like everyone else.)
I was after the perfect daiquiri, the classic that's been reclaimed by bartenders in recent years. Most drinkers still envision a strawberry-flavored slush, but the original daiquiri, which does trace its roots to Cuba, is elegant in its simplicity: rum, lime juice, and sugar, all shaken together. During the Spanish-American War in 1898, the story goes, an American mining engineer named Jennings Stockton Cox was working near the Cuban town of Daiquiri. While entertaining guests, he found himself short on gin, his tipple of choice, and reached for local white rum instead. He added citrus and sugar, the cocktail ingredients he had on-hand, and the daiquiri was born.
Cocktail historian Dave Wondrich points out that "the daiquiri represents such an obvious marriage between local ingredients—rum, sugar, limes—that it would take the chowder-headedest duffer who ever buttoned a trouser not to invent it." So it's hard to declare Cuba the only site of the daiquiri's evolution. Still, the version Americans know stems from the Cox daiquiri; a sailor who had passed through Cuba introduced the drink to Washington DC's Army and Navy Club by 1909, and its reputation evolved from there. In Havana, too, the daiquiri was soon a barroom staple.
I found countless articles about Hemingway, about how Floridita invented the frozen daiquiri (the rare drinking claim that's fully documented), about the two bars' decades of history. What I couldn't figure out is if the damn drinks were any good.
Good, no. Serviceable? Absolutely, in a sanitized, friendly-to-tourists way. Now both state-run, like the vast majority of Cuban bars and restaurants, Bodeguita and Floridita have become dressed-up, almost caricaturized versions of themselves. (I can't imagine the six-foot plastic daiquiri by Floridita's entrance was around to greet Hemingway.)
Inside Floridita, four or five nattily dressed bartenders each run a blender, whirling up frozen daiquiris with remarkable speed. No measurements needed; they free-pour Havana Club and maraschino with precision that impressed my bartender fiancé. There's a three-piece band playing Guantanamera and the greatest hits of Buena Vista Social Club. Daiquiris fly from the bar, trays of 10 or 12 at a time. The free plantain chips: excellent. It'd be silly not to have a good time. (As a tourist, at least; the $6 price tag exceeds a Cuban doctor's weekly salary.) The daiquiris? The ice wasn't always fully blended. The flavors were a little dulled. Perfectly tasty; perfectly unremarkable.
A few blocks further into Old Havana stands La Bodeguita; you'll know it by the crowd at the bar, which spills out into the street. The restaurant further back is less chaotic, though live musicians are, again, a given. (The tourist bands all have the same repertoire, but even a standard-issue Cuban tourist band is impressive.) There are worse places to spend a first night in Havana, when the city still seems bewildering, and a plate of tasty-enough ropa vieja is a worthy dinner.
The mojitos? Fine. A modest pour of Havana Club, lime, granulated sugar that collects, crunchy, in the bottom. A flaccid sprig of mint. It was refreshing in a city that can often feel a furnace. Worthy of international acclaim? Hardly. Hemingway was letting me down.
Perhaps we shouldn't take the endorsement of a man who, by all accounts, drank just about everywhere in Havana that one could drink. How discriminating could Hemingway be through the haze of 12 daiquiri doubles?
Beyond appreciating the history, it became clear that there's no particular need to seek out Floridita or Bodeguita. Because, as I figured out quickly, just about any bar or restaurant can make an equally solid daiquiri. Better than many in the States. You can't count on finding much in Cuba—even staples like milk can be elusive—but you can count on rum, lime, and sugar. Since limes are plentiful, there's no need to use anything other than fresh juice. Havana Club is the city's go-to rum, and it's a solid one—better than Bacardi Silver, to be sure. Drinks tend more toward tart than sweet; in my dozens of daiquiris, I never came across one too sugary. It reminded me of drinking a restaurant's house wine in Italy: The baseline is quite high. The best glass of wine you've ever had? Not at all, but reliable, affordable, and leagues better than the Barefoot or Yellowtail you might get as a default in the States.
What a blessing a decent drink can be, in a country that can feel as unfamiliar as Cuba. And once I freed myself of my New York cocktail snob's critical glasses, it became easy to appreciate drinks everywhere. In the last few years, the Cuban government has loosened restrictions on private ownership of bars, and overnight, new venues began to sprout up across the city. While none are on the cutting edge of craft cocktails, all are trailblazers in a much more powerful way, pushing the bounds of private Cuban enterprise. And every place I visited was a pleasure to drink at.
At Siá Kará I encountered a properly blended daiquiri, in a barroom outfitted in eclectic ephemera—antique clocks, old lamps, weathered couches. I idly wondered how much a bar in the States might spend to achieve the look of artful decay that comes so naturally in Havana. A young, excited bar staff chatted over the bar with young, excited regulars. At El Cocinero, a sophisticated rooftop lounge of a kind that didn't exist in Cuba until five years ago, I sipped the best frozen daiquiris, made with a judicious dose of maraschino liqueur. Our waiter was swift, smiling, and eminently professional (rarely the case at government-run restaurants).
At FAC—a nightlife hub housing theaters, galleries, and performance art spaces within a maze of rooms and bars—bartenders dashed Angostura bitters, which to that point I'd only seen at expensive hotels, atop each mojito. And I sipped mine while wandering between a seven-instrument jam session, an exhibition of contemporary religious art, a performance from an all-female drumming group, and a screening of "Goodfellas."
At Kingbar, Havana's newest gay bar, with Beyoncé and Madonna videos projected on 15-foot screens: an excellent piña colada. (Be careful asking a cab driver to take you there. Pronounced with a Cuban accent, it's apparently a slang term for a sexual act my Spanish was not quite strong enough to appreciate the nuance of.)
At O'Reilly Bar—not an Irish pub, as the name might suggest, but located on O'Reilly Street—the menu has dozens of cocktails, mostly reworked classics. Or smashed-together classics. Why not top a frozen daiquiri with a gin-and-tonic? And tint it with blue curaçao? And then garnish with a long, long lime peel to spiral down the glass? O'Reilly is tiny; I'd guess its legal occupancy would be about six people, were it in the States, not the 25 or so happily crammed in with frosty drinks. The owner clearly knew many of his clientele, squeezing between tables to make his rounds. It's a convivial place, and a welcoming one. (Also: Excellent plantain chips topped with garlic oil. Complimentary, as they were in many bars across the city. Bar-hopping in Havana leaves one a connoisseur of plantain chips.)
The Rise of a New Cuban Bar Economy
Rather than searching for a cocktail culture that has yet to land in Havana, it became easier to appreciate that a bar scene is reemerging at all. Hemingway's alleged haunts La Bodeguita and El Floridita are now, like the vast majority of Cuban bars and restaurants, government-run. Such establishments have a sense of eerie sameness and predictable mediocrity; decades of state control have in many ways suffocated the service industry.
But back it comes, with every one of these bars. Nearly all are family-operated, even run out of family homes, like the country's growing host of paladares. The airy Bar Bohemio felt every bit an elegant bar and restaurant—until I visited the bathroom; there's a shower, and a slight gap in the curtain revealed a baby's bath toys. The building doubles as public bar and private home. Traces of family life are masked, but not hidden completely.
When the bartender lives upstairs and his cousin waits tables and his aunt is in the kitchen, the personal investment is palpable. And impressive, given the enormous obstacles to success. A service industry that's essentially starting from scratch. An agricultural system so dysfunctional that an island once fought over for its natural abundance now imports 80% of its food. An embargo that prohibits many imports and vastly complicates others.
A few months ago, I talked to a prominent New York cocktail type who was petitioning Tales of the Cocktail—the industry's largest cocktail conference, an annual confluence of bartenders, writers, and brands—to hold a session in Havana. "There's so much cocktail history, and so many incredible bars that we haven't been able to see, until now—right?" he asked. And my answer was an emphatic no. Try to chase Hemingway's ghost through now state-run tourist bars and you're likely to be disappointed. Search for inklings of craft cocktails and you'll be more disappointed still.
What you will find, rather than any idealized historical treasures, are resolutely modern bars breaking the government's grip on drinking establishments. And I found their success impressive far beyond the scope of any one cocktail. That these bars exist, and even flourish, and can serve you a properly made rum drink, is worthy of attention. Yanquis have spent decades upon decades looking at Cuba through a hopelessly American lens. Far better to just sip a daiquiri and appreciate Havana for what it is.
La Bodeguita del Medio
Empedrado No 207, Havana
+53 757-1375
Siá Kará
Calle Industria 502, Havana
+53 7867-4084
KingBar
Calle 23, Vedado, Havana
+53 7833-0556
O'Reilly 304
Calle O'Reilly 305, Havana
+53 5264-4725
Bar Bohemio
Calle 12, No 1065 Entre 12 y 14
+53 7833-6918