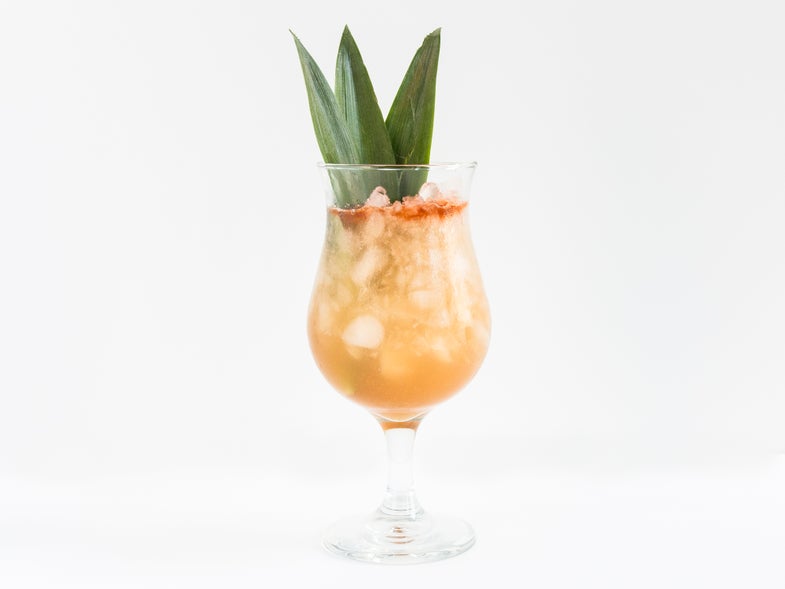 Leo Robitschek of Eleven Madison Park crafted this cocktail in honor of our 21st birthday, inspired by SAVEUR's global influence. "While your average 21-year-old is spending their birthday getting a little too familiar with Jagermeister and Miller High-Life—not that there's anything wrong with that—SAVEUR has already been around the world," he says. "She's sampled the best, and is hungry for more. Here, a perfect blend of some lesser-seen players: spicy rye, robust and savory-spiced velvet falernum, ancient and unapologetically vegetal Green Chartreuse, and Linie aquavit, a spirit that, amazingly enough, has actually sailed around the world, aging in oak sherry casks to the rhythm of the rolling waves. Coconut, lime, and pineapple tie the package together; a somewhat more civilized yet totally delicious way to celebrate one's twenty-first year."
Featured in: 21 Cocktails for our 21st Birthday
If You Like Piña Colada
This modern twist on the piña colada, from Leo Robitschek of Eleven Madison Park, has sophisticated herbal notes of Chartreuse and aquavit.
Yield:
makes one cocktail
Ingredients
3⁄4 oz. pineapple juice
1⁄2 oz. coconut syrup
1⁄2 oz. fresh lime juice
1⁄2 oz. Green Chartreuse
1⁄2 oz. Linie aquavit
1⁄2 oz. rye, preferably Michter's
1⁄4 oz. Velvet Falernum
3 dashes Angostura bitters
Pineapple fronds, to garnish
Instructions
Combine pineapple juice, syrup, lime juice, chartreuse, aquavit, rye, and velvet falernum in a hurricane glass filled with crushed ice and stir; top with bitters and garnish with pineapple fronds.