Techniques
9 Great Kitchen Tools to Bring Back From India
Two pastry chefs' must-have grinding stones, tiffins, and indestructible market baskets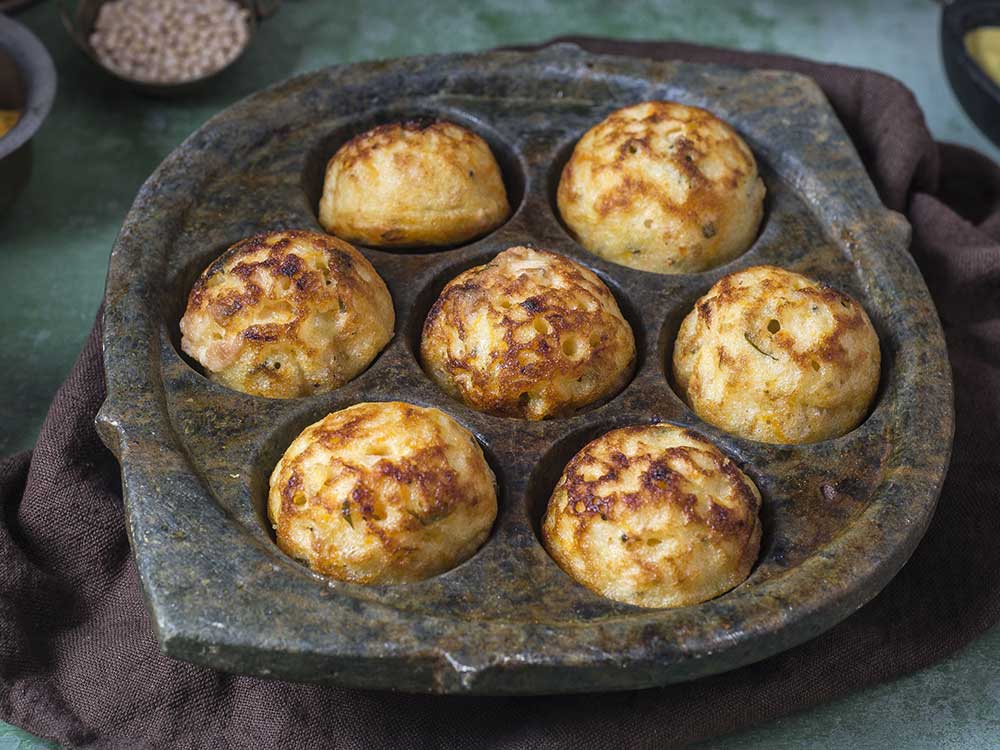 Husband-and-wife pastry chefs Miro and Shilpa Uskokovic wander regularly through India in search of the delicious. The couple met while students at the Culinary Institute of America—the Serbian-born Miro locking eyes with Indian-born Shilpa while she was "stuffing her face with the tiniest, crispiest eclairs…. a sign of things to come."
After the couple's wedding in 2013, Shilpa's parents hosted their "small" reception of five-hundred people in her native Tamil Nadu, in the southern region of India, in 2016. They returned again this last August to seek inspiration for Miro's menu at New York's Gramercy Tavern and home goods for Shilpa's artisan import company, Extra Helpings.
With discerning palates and eyes for aesthetics, the couple shared some of their favorite Indian kitchen essentials, for both utility and design.
As Shilpa explains, davara cups are an integral part of the centuries-old tradition of coffee drinking in south India, where coffee plantations are prevalent. "In India," she notes, "we believe that we can't share saliva or touch our lips to glasses. When we drink liquid, we pour it down our throat versus sipping. The wide surface of the saucer cools it so that it can be poured down the throat."
To both cool and blend with milk and sugar, the chicory-laced brew gets "pulled" or "stretched" between cup and saucer in long pouring motions, ending in the saucer. Miro describes the result as "absurdly sweet, tasty and delicious," with the body of a latte.
The tradition dates back to the brahmins—members of the country's highest caste, the priests—who used copper for its stellar heat conductivity. Today, stainless steel is the norm, with inlaid patterns and designs common, too.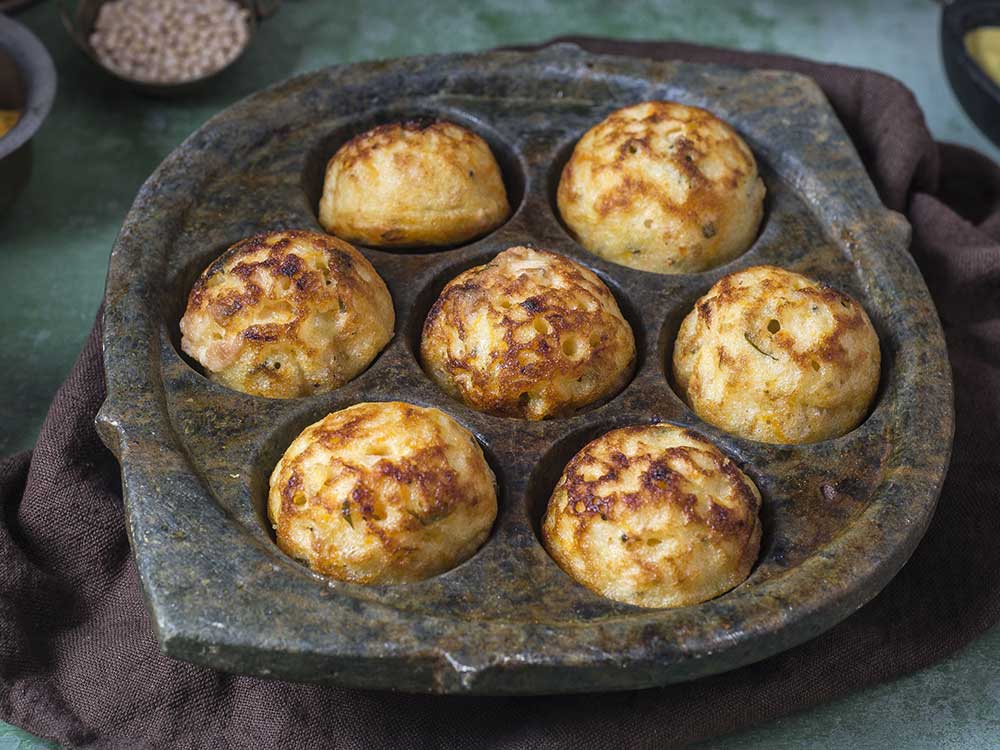 <a href='https://www.amazon.com/Aebleskiver-Preseasoned-Cookware-Commercial-Chef/dp/B07C9K86ZM/ref=as_li_ss_tl?keywords=Paniyaram+Pan&amp;qid=1558449887&amp;s=home-garden&amp;sr=1-13-spons&amp;p' rel='nofollow' title=''>Paniyaram Pan</a>
SHOP NOW
Seen only in Tamil Nadu, the pan bears striking resemblance to the cast iron equipment used for German ebelskivers and Japanese takoyaki. A popular street food, paniyaram are made from a basic dosa batter of rice and lentils, sometimes then mixed with eggs, onions, or curry leaves, cooked until soft through and with an almost crunchy exterior.
"What makes it special," Miro shares, "is that the paniyaram are basically deep-fried in ghee, turned over to give the round shape. It's like a savory doughnut hole. Because the batter is fermented, it has an acidic tang balanced by the sweet greasiness from the ghee. I love it."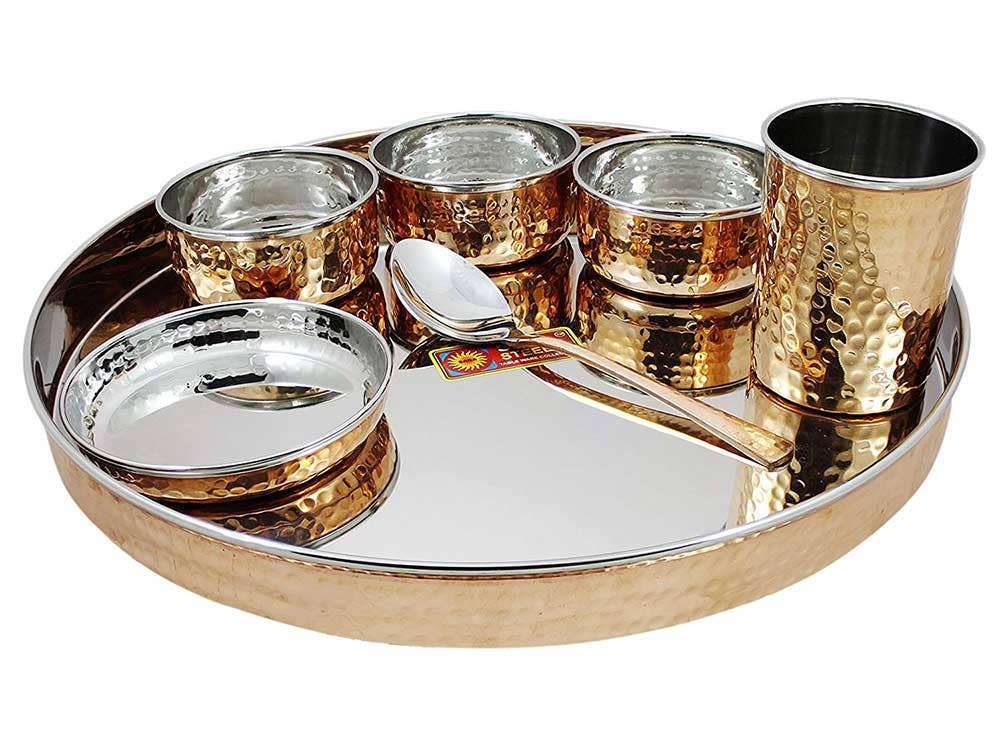 <a href='https://www.amazon.com/PARIJAT-HANDICRAFT-Dinnerware-Stainless-Traditional/dp/B078VQBN7D/ref=as_li_ss_tl?keywords=Thali+Set&amp;qid=1558449946&amp;s=gateway&amp;sr=8-3&amp;linkCode=ll1&amp;tag=' rel='nofollow' title=''>Thali Set</a>
SHOP NOW
Before easy-to-clean stainless steel became the norm, copper or brass were prized for the ions activated when hot rice or ghee hit the center of the plate: "That's why food is always served on metal instead of glass," Shilpa explains. "We believe eating off of metal helps the body pick up on those trace minerals. In India, eating with your hands is also a sensory part of the experience: Your hands touch the warmth of the food, they touch the plate, and it makes everything more authentic and enjoyable. It all goes together."
If not preparing a full curry spread, Miro suggests using set for separating taco or sundae bar toppings, to hold various cocktail party appetizers, or for the nuts, jam, and honey that go alongside a lavish cheese plate—the tall glass makes the perfect spot for crackers or straws, too. Or, "when cooking, use for your mise en place items of sorted, chopped, and cut ingredients, so that they're all ready and next to the stove," he suggests.
The stainless-steel carriers vary in size—both school children and caterers moving buffet meals transport in them—and stack as high as gravity sees fit. Many come with metal plates nestled between compartments, and as food is most often eaten with bread by hand, most people don't bring utensils. Insulated jackets are available, and the metal containers can be directly reheated in the oven.
"If you're somewhat OCD like me and don't like your foods touching each other, it's great," Shilpa says. "We use ours to sneak food into movie theatres," Miro jokes back.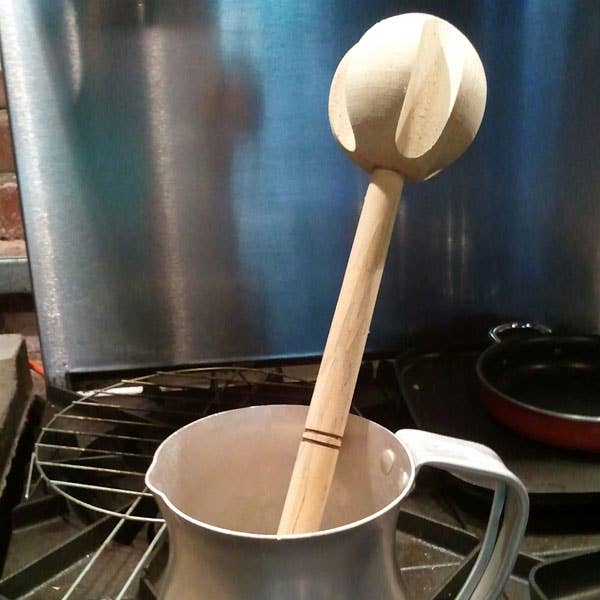 <a href='https://www.amazon.com/Stirrer-Molinillo-Mexican-Chocolate-ATB/dp/B00AEAJMLO/ref=as_li_ss_tl?keywords=colombian+molinillo&amp;qid=1558450070&amp;s=gateway&amp;sr=8-8&amp;linkCode=ll' rel='nofollow' title=''>Hand-held Churner</a>
SHOP NOW
Traditionally made from wood or metal, this cross between a hand-held churner and mortar is vital for separating solids from cream for ghee, or to whisk lassis. Similar to the Colombian molinillo, Miro loves to use the small, fine surface for frothing milk foams or blending quick vinaigrettes.
Many Indian households have two kinds of unpolished granite grinding stones: a flat one for making fine spice powders and pastes, and a rounded one reminiscent of a mortar and pestle for grinding lentils and rice into dosa and idly batter. While the latter have now largely been replaced with electric models, lots of cooks still fix stone surfaces directly into countertops for hand grinding.
Made predominantly in South India, the simplest doughs combine rice flour, ghee, and cayenne, but can be flavored with various additions of dahl, chili, and spice. Depending on how the shapes are pressed directly into bubbling oil, they curl upon themselves, fry out in long ribbons, or are stamped through plates into charming shapes.
Most now come in brass or stainless steel. But Miro coaches that "copper is very hip. If you find copper, get copper."