Recipes
An Ultra-Comforting Bowl of Japanese Curry Noodles
Reminiscent of Japan's beloved instant curry, this homemade curry udon is brimming with beef, potatoes, and carrots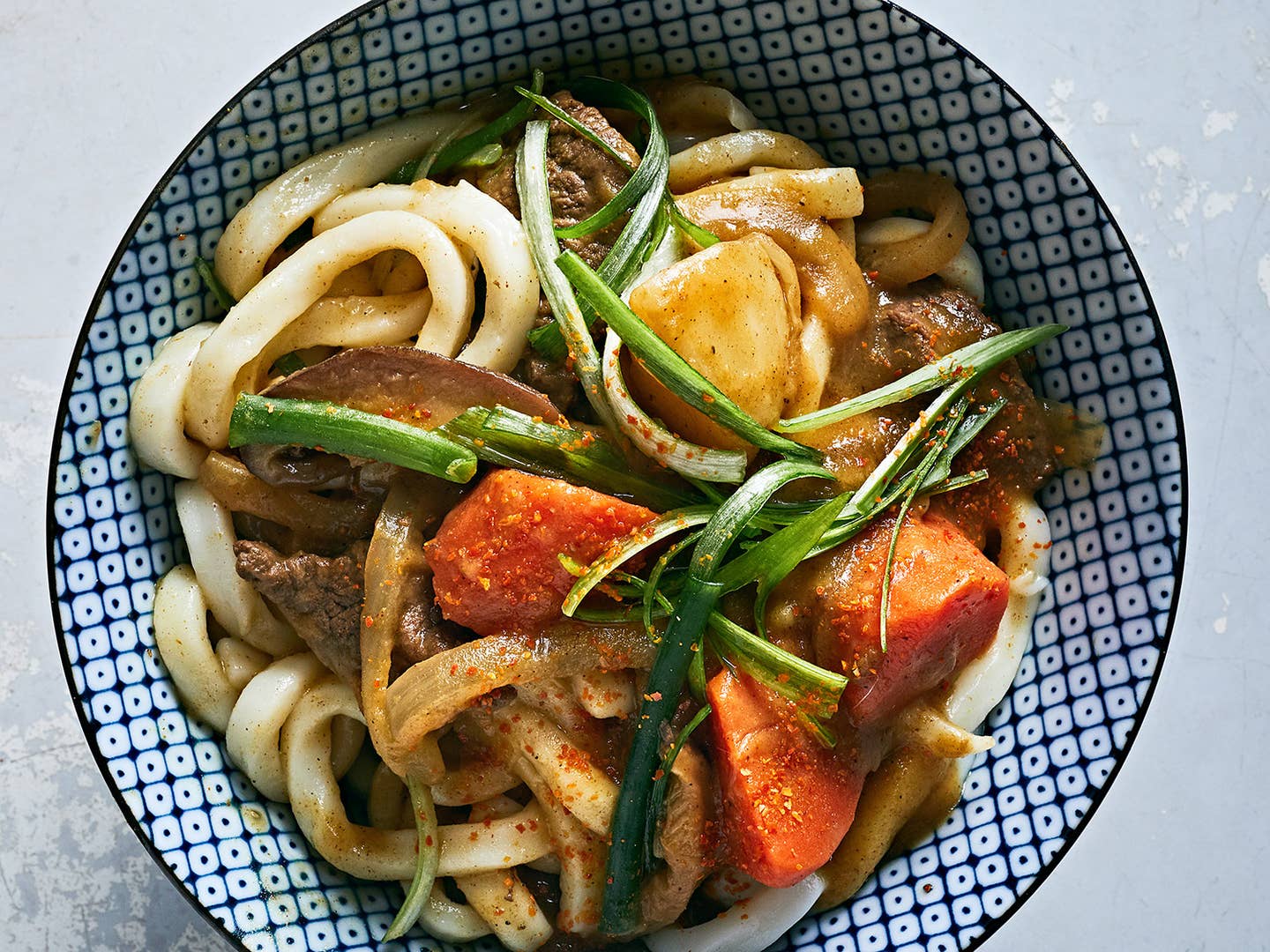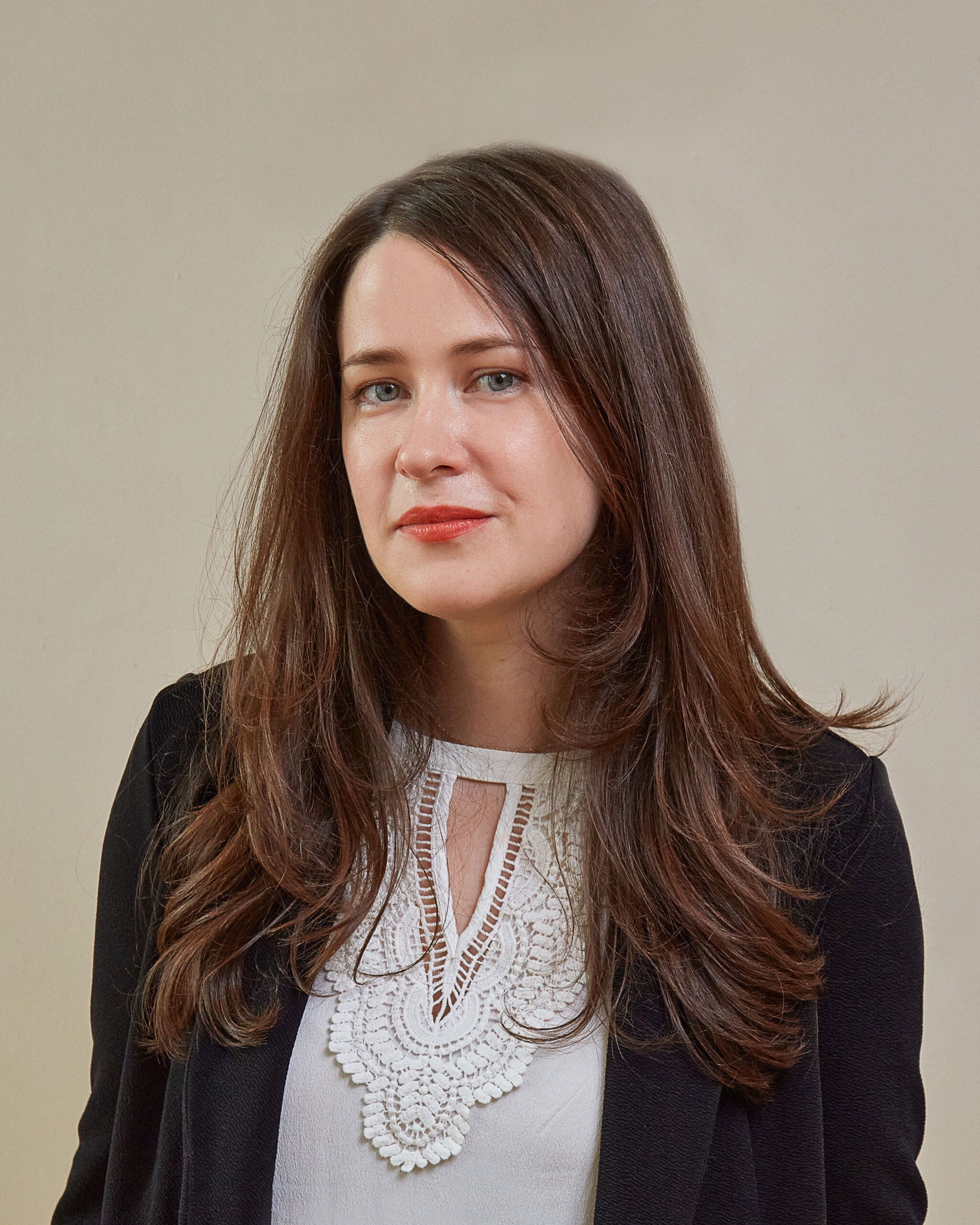 ---
While you'll find curry at many Japanese restaurants outside Japan, it isn't nearly as ubiquitous here as it is in its home country, where curry shops abound and the dish is a staple of home kitchens, school cafeterias, office canteens, and even the military. Curry can be found served every which way throughout the country: ladled over rice; sidled up next to tonkatsu; tossed with ramen, soba, or udon noodles; and even stuffed into bread and donuts.
Curry powder arrived in Japan via the British Navy at the start of the Meiji Era and was quickly adapted to suit Japanese palates and ingredients. Kare raisu (curry rice) began appearing in Japanese cookbooks and on restaurant menus in Tokyo as early as the 1870s, but the nationwide obsession with the dish didn't really take hold until "instant" curry mixes were introduced in 1954. Essentially blocks of premade curry base, they've been a mainstay of Japanese households ever since.
Though my background is very much not Japanese, the country's curry has long been one of my go-to comfort foods. My college roommate was Japanese-American, and from day one in the dorms, we were bonded by our shared obsessions: David Bowie, New Wave haircuts, eyeliner—and food. While I stocked our mini fridge with the spoils from my job at the local cheese shop, she arranged for her mom to ship us a rice cooker and a rotating assortment of her favorite Japanese snacks and ingredients, from Pocky sticks and squid chips to furikake and instant ramen. My favorite ingredient from this exchange, the one I still seek out and cook with today, was none other than instant Japanese curry.
The chocolate-like bricks of paste from Japanese brands such as S&B and Vermont Curry allowed us to transform a few cups of vegetables, pilfered from the cafeteria salad bar, into a "home-cooked meal." Melted into a pot of simmered meat and vegetables, the seasoning cubes thickened the cooking juices into a rich, silky sauce with a truly habit-forming MSG kick. Spooned over rice, our curries were an antidote for anything that ailed us our freshman year, be it homesickness, heartbreak, or even the surreal days following 9/11.
While I still keep a few packages of Vermont Curry in my pantry, I found myself wanting to make the dish from scratch, and fill my kitchen with the scents of the spices and vegetables. I started with small tweaks to the curry I'd known, adding a few extra spices and aromatics to the mix, or topping the finished dish with scallion ribbons and ichimi togarashi (Japanese chile flakes). Then, in an effort to use up the abundance of spices in my pantry, I attempted to reverse-engineer the curry paste itself using Japanese curry powder, a mild combination of turmeric, coriander, cumin, fenugreek, and baking spices that has a similar flavor profile to instant curry, as well as garam masala, to enhance the dish's spicy, perfumy notes. While packaged curry mixes are available in a wide range of spice levels, I opted to adjust for heat with a few fresh green chiles instead of more powdered ingredients.
I also tried swapping out the increasingly controversial palm oil for coconut oil, which was delicious but noticeably coconutty, before settling, as I usually do, on butter—a half stick of the grassfed kind. A fat that is solid when cool gets you closer in appearance and texture to the packaged version, but canola oil also makes a fine non-dairy substitute. Flour acts as the thickener here—the boxed curry base is often referred to as a "curry roux" after all—though corn or potato starch makes an excellent gluten-free alternative. The resulting paste is just as powerful as the instant kind, and if made in advance, just as convenient—frozen in ice cube trays and unmolded into a zip-top bag, it stays fresh for months.
Once you have a roux on hand, the rest of the ingredients are endlessly customizable, making curry an excellent clean-out-the-fridge supper. While potatoes and carrots are the traditional add-ins, the stew would lend itself well to any vegetable you might have lying around, whether a stray turnip, lone stalk of celery, or handful of greens. Just be sure tender, more watery vegetables are added at the end to prevent overcooking. With a rich sauce like this, I like to avoid fatty cuts of meat and go for lean London broil or shoulder steak instead—or pork chops, pounded thin and cut into strips. Tougher braising cuts would also work here, thinly sliced—the curry just needs to cook longer so they have enough time to get tender. Delicate seafood such as shrimp, on the other hand, should only be added to the sauce during the final minutes of cooking.
While instant curry has a magical just-add-water application, I like to use homemade dashi or mushroom stock if I'm making the stew from scratch—it yields a lighter, crisper flavor, and the umami boost makes up for the ground lost by the omission of MSG. I add enough dashi to give the curry a soupy consistency, perfect for tossing with slippery, quick-cooking udon, and finally adjust the seasoning with a splash of soy sauce or a touch of miso paste diluted with water.
Stock your pantry with the ingredients below, and you'll be well on your way to an almost-instant Japanese curry.
Curry Powder This mild powdered spice blend from Japanese brand S&B (they also make instant curry mix) contains sunny turmeric, warm baking spices, and aromatics. As with any powdered spices, buy only what you need and replace frequently, as preground spices lose their potency quickly after opening.
Garam Masala This Indian spice blend complements the more delicate curry powder while also adding heat.
Kombu Dried kelp is one of the key ingredients for dashi, a simple stock that adds depth and umami to myriad Japanese dishes.
Dried Shiitake Mushrooms Dried shiitake mushrooms are a useful ingredient to keep on hand for making dashi, or for adding, rehydrated, directly to soups and stews.
Udon Noodles Udon has a satisfying, dumpling-like doughiness that takes well to thin, gravy-like sauces and stews. Look for the wheat noodles in the freezer or refrigerator section at Asian markets or buy them online and cook according to the package instructions.
Ichimi Togarashi A sprinkling of these Japanese chile flakes adds a welcome pop of color and heat to noodle soups.
Ingredients
¼ cup (2 oz.) unsalted butter or coconut oil, divided
¼ cup all-purpose flour (1¼ oz.)
1 Tbsp. Oriental curry powder (such as S&B Brand)
1 Tbsp. garam masala
½ lb. lean beef (such as London broil or shoulder steak), cut into 2-by-¼-inch strips
4 fresh shiitake mushrooms, sliced ¼ inch thick
1 small white onion (4 oz.), sliced with the grain 1 inch thick
2 Tbsp. sake
2 medium carrots (3 oz.), peeled and cut in 1-inch pieces
1 small Yukon Gold potato, peeled and cut in 1-inch pieces
4 cups dashi stock or low-sodium mushroom broth
1 Tbsp. low-sodium soy sauce
2-4 green Thai chiles, cut in half on the bias (optional)
Kosher salt
4 (7-oz.) packages udon noodles, cooked according to package instructions and rinsed in cool water Thinly sliced scallions and togarashi, for serving (optional)
Instructions
Step 1
In a small pot over medium heat, melt 3 tablespoons butter. When the butter is nearly melted, whisk in the flour and cook, whisking frequently, until the mixture is lightly toasted and about the color of peanut butter, 5–6 minutes. Turn off the heat and immediately whisk in the curry powder and garam masala.
Step 2
In a medium pot, melt the remaining 1 tablespoon butter over medium-high heat. Add the beef, mushrooms, and onion and cook until the meat is slightly browned and mushrooms and onions begin to soften, 4–5 minutes. Add the sake and cook until nearly evaporated, about 30 seconds. Add the carrots, potato, stock, soy sauce, and chiles (if desired). Bring to a boil, then lower the heat to maintain a strong simmer and cook, stirring occasionally, until the vegetables are tender, 25–30 minutes. Stir in the curry mixture and continue cooking until thickened, 6–8 minutes more. Taste and season with salt as needed
Step 3
Divide the cooked noodles between 4 large soup bowls. Spoon the curry over the noodles and top with scallions and togarashi (if desired). Serve hot.