Introducing the Easy Automatic Dolma Slide
Slide your way to a better life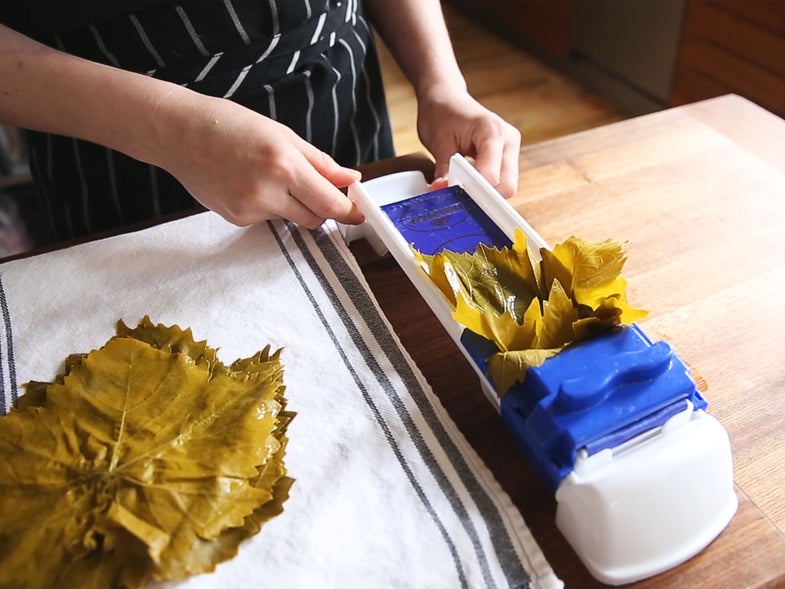 We may earn revenue from the products available on this page and participate in affiliate programs.
Hand-filling and -rolling grape leaves is deeply ingrained in Mediterranean culture, so sure, if you're a Greek and have inherited generations' worth of skill meticulously makng dolmas, more power to you. For the rest of us, there's the Dolma Slide.
SAVEUR's Ian Burke raves about this easy and affordable gadget. "Before the Dolma Slide, I was actually homeless. But after making my first beef dolma with apricots and tamarinds, I got a job, a girlfriend, and a brand new apartment!" Burke's dolmas are now so perfect, his landlord reportedly accepts rent in the form of his neatly-rolled rice-and-herb stuffed leaves.
But his isn't the only five-star rating for this life-changing mechanism—SAVEUR's Allie Mannheimer loves the Dolma Slide too. "It was the night of my 21st birthday, and nobody showed up to my party," says Mannheimer. "I was so bummed, until I remembered I had just received my Dolma Slide in the mail! I cranked out a few dolmadakia, and suddenly, my apartment was full of people! Thanks, Dolma Slide!"
It's hard to believe that you can pick up one of these bad boys for around ten bucks on Amazon. A few dollars for a life of dolma-fueled nights, tons of friends, and financial security? That's a big fat Greek 'yes.'