Recipes
Kimchi-Jjigae (Korean Kimchi Stew with Pork Belly and Tofu)
Spice and funk meet silky, fatty pork in Esther Choi's bubbly, one-pot stop to comfort.
Serves

serves 4

Cook

40 minutes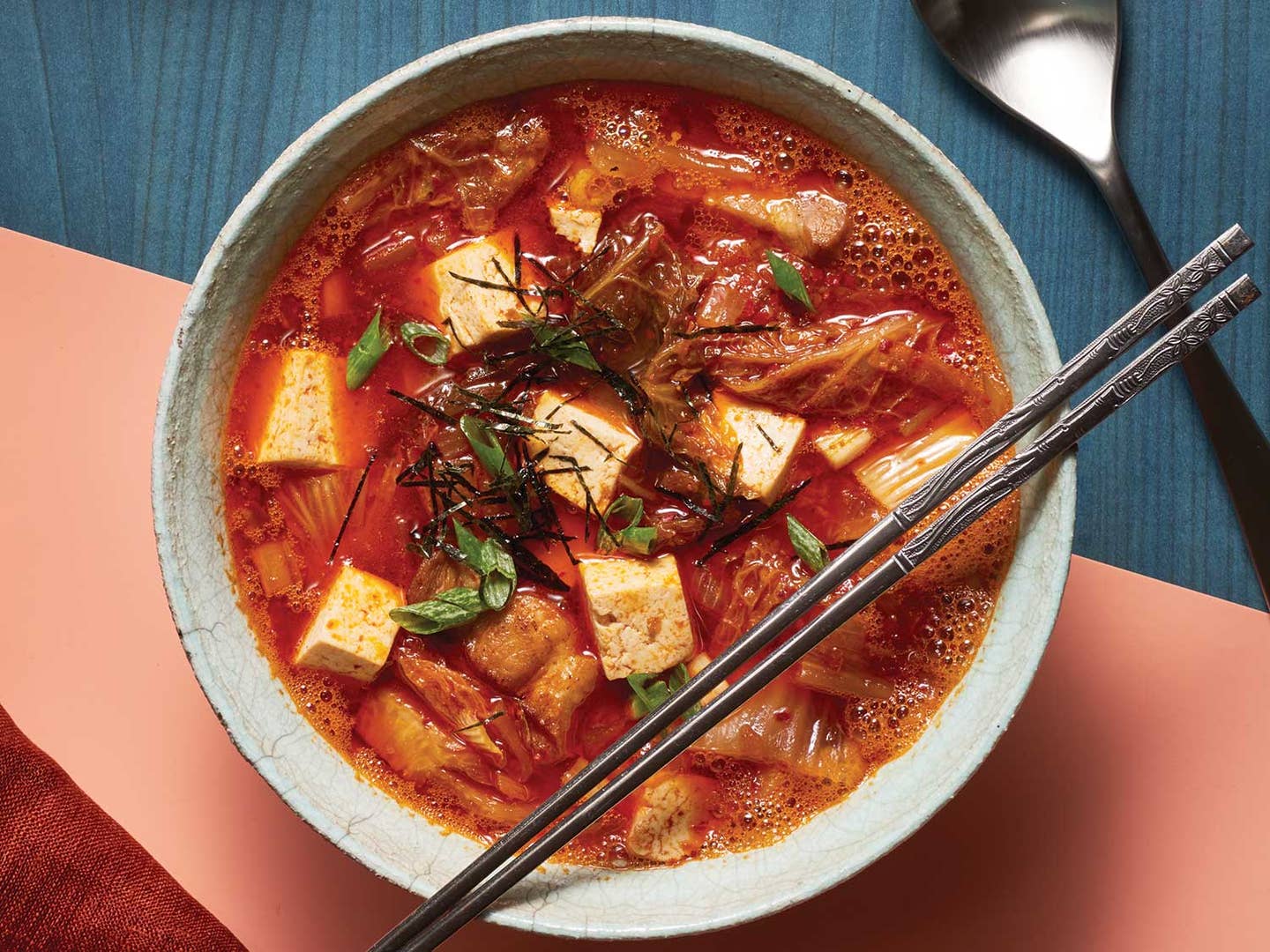 "This is the quintessential Korean household dish," says chef Esther Choi, who grew up eating kimchi-jjigae around four times a week. "It would be my last meal on Earth if I had to pick one." The warming, spicy stew is extremely versatile: According to custom, you can use any protein you want. In this version, meaty chunks of pork belly meld with the tart, fermented flavor of kimchi.
Ingredients
2 tbsp. unsalted butter
1 large garlic clove, coarsely chopped
1⁄2 lb. skinned pork belly, sliced into 1-inch chunks
1⁄2 small white onion (3 oz.), coarsely chopped
2 cups kimchi (16 oz.), coarsely chopped and juices reserved
8 oz. firm tofu, cut into 1-inch cubes (1 cup)
2 tsp. fish sauce
1 tsp. sesame oil
1 tsp. soy sauce
2 medium scallions, coarsely chopped
Thinly sliced toasted nori, for topping (optional)
Steamed white rice, for serving
Instructions
Step 1
In a medium pot set over medium heat, melt the butter. When the foam subsides, add the garlic and cook, stirring, until fragrant but not yet browned, 30–45 seconds. Add the pork belly and cook, stirring occasionally, until some of the fat has rendered and the meat is beginning to crisp around the edges, 4–5 minutes. Add the onion and cook, stirring occasionally, until softened slightly, about 2 minutes. Add the kimchi and its juices and 3 cups cold water. Bring to a boil, then lower the heat to maintain a strong simmer. Cook until the pork is just tender and the onions are soft, 10–12 minutes. Add the tofu, fish sauce, sesame oil, and soy sauce, and simmer until the tofu is heated through, 3–5 minutes more.
Step 2
Remove the pot from the heat. Divide the stew among 4 bowls, and top each with chopped scallions and a pinch of toasted nori. Serve with white rice on the side.