Take a Moment to Appreciate the Life-Affirming Food Moments of 2016
From the revival of a lost bread-baking craft to refugee success stories, here are the moments that gave food lovers hope this past year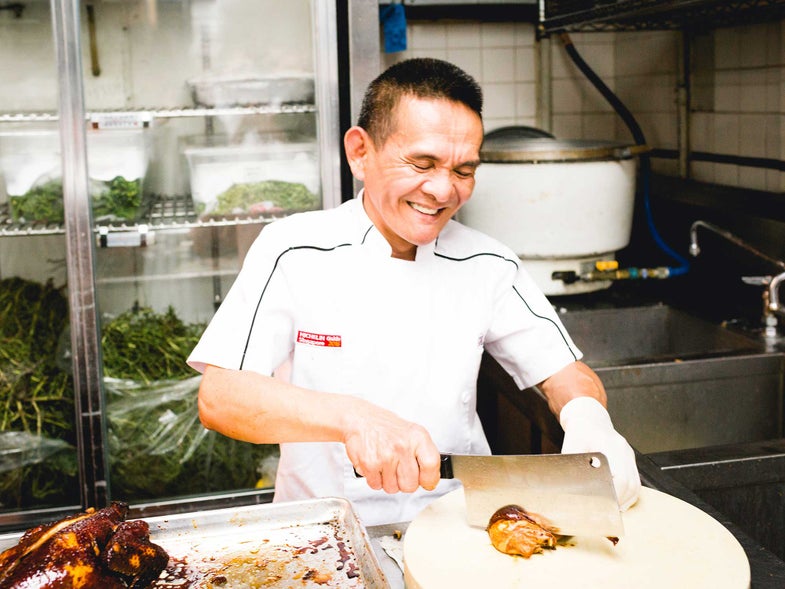 There's no denying 2016 was a rough year for America.We lost a startling number of our most beloved national icons, faced back-to-back domestic and international crises, and weathered one of the most bitter, polarizing elections in modern history. But in the food world, there were a few nuggets of hope sprinkled into the mix. Some of our favorite stories this year, both from SAVEUR and elsewhere, showed the ways food transcends boundaries of nations and beliefs, provides comfort in times of hardship, and empowers a better understanding of self-identity.
In 2016, we spent a lot of time traveling world to find and pay homage to those guardians of age-old culinary traditions. And while we honored the past, we also celebrated what's yet to come: Generation Z has come of age, and these tech-savvy teens are proving that the future of food is still bright. As we gather to say goodbye and good riddance to 2016, let's take a moment to celebrate these 16 positive food moments that restored our faith in humanity.
In Hamilton, Ontario, Karam Kitchen was born after Canadian Brittani Farrington volunteered to help throw a welcome dinner for displaced Syrian families. When three of the refugee women asked to cook, they made their homemade pitas and mutabal, a yogurt-thickened variation of baba ghannoush. Using Google Translate to communicate with the women, Farrington realized that they were interested in selling their food and launched a Kickstarter campaign to make that a reality.
Just a stone's throw away, in Toronto, Ontario, the hottest brunch ticket doesn't come from a Michelin-star restaurant, and it doesn't feature any Instagrammable pastry hybrid. It's a pop-up staffed by newly-arrived Syrian refugee women. We spoke to filmmaker Kelly Kieley, who's been documenting Newcomer Kitchen since the beginning of 2016, about what she's seen.
In an unprecedented move, Union Square Hospitality Group head honcho Danny Meyer announced start, as of 2017, all new parents will have 100 percent paid leave for the first four weeks after their child is born or adopted, and 60 percent for the following four weeks. It's a major step in the right direction for an industry that has proven particularly tough for women.
Oregon 18-year-old Kelsey Juliana was distressed by algae blooms affecting potable water in her home state, as well as loss of salmon stock due to low water levels. She joined forces with local nonprofit Our Children's Trust, and 20 other like-minded youths aged 9 to 19, to sue President Obama and the federal government. Their claim? That the next generation's right to a livable environment should be considered a fundamental one. The Juliana vs. United States case, cleared for trial by an Oregon judge, goes to trial in 2017.
Chan Hon Meng made waves worldwide when his Singapore-based food stall, Hong Kong Soya Sauce Chicken & Noodle, won a Michelin star earlier this year, earning him the distinction of serving the cheapest Michelin-star meal in the world at roughly $2. His stall joined nearby Hill Street Tai Hwa Pork Noodle as the first ever street vendors recognized by the famously elite-centric restaurant guide, becoming global ambassadors for street food culture.
As we grapple with how to support the Earth's growing population—expected to reach 10 billion by 2050—, food waste has become one of the world's most pressing concerns. According to National Geographic, "about a third of the planet's food goes to waste, often because of its looks. That's enough to feed two billion people." Enter Tristram Stuart, English author and advocate leading the charge to prevent and reduce the impact of food waste worldwide, using "ugly food."
At just 7 years old, Phoebe Brown knows what it's like to go hungry—her family's fallen on hard times before. But when she won $100 from a lottery card in Independence, Missouri, she spent all the money on groceries for her school's food drive.
Pittsburgh's Conflict Kitchen, a public art project-meets-restaurant, rotates its menus every few months to highlight the cuisine of a country or state that is "in conflict" with the United States—in hopes of promoting empathy and understanding through food. The restaurant is currently serving the traditional fare of the Haudenosaunee Confederacy, also known as the Iroquois Confederacy, which has historic ties to New York and Western Pennsylvania.
Chicago-based Recipe for Change provides culinary and fine arts education, job skills, and mentorship to both prison and post-release populations with the hope that an altered world-view and heightened sense of personal responsibility will keep participants from reentering the system once they've left. Our favorite part? Italian-born chef Bruno Abate's three-month curriculum includes thin-crust pizza making.
After Austinite Mikaila Ulmer was stung by a bee, she read up on the endangered insects, and wanted to do something to help them. Inspired by her granny's recipe, she created a honey-sweetened lemonade made with mint and flaxseed. After she received a $60,000 investment from ABC's Shark Tank, Ulmer took her product, called Me and the Bees Lemonade to a Whole Foods distributor. Today, it can be found at 50 Whole Foods and Wegmans locations nationwide, with a portion of profits going towards bee rescue organizations like Heifer International and the Texas Beekepers Association.
Though not a totally new story, we've been impressed by the women in east Mexico who provide food and water to the migrant workers who pass by atop trains on their way to the United States. Calling themselves "La Patronas," the women distribute roughly 300 packages a day.
According to the United Nations' Food and Agriculture Organization, around 42 percent of Europe's food waste takes place in people's homes. 1.43 million tons of food are thrown away annually. In Spain, the Yo No Desperdicio, or "I Don't Waste," app is a crowd-driven platform that allows user to exchange raw and cooked foods that are not expired.
At Hewn Bakery in Evanston, Illinois, Midwestern native and baker Ellen King planted a rare breed of wheat that hadn't been grown there since the early twentieth century. Her goal? To bake a grain-to-oven loaf the region hasn't tasted in nearly a century.
Hamdi Ulukaya, founder of Greek yogurt brand Chobani, has received death threats for his vocal support of and employment of refugees. Mr. Ulukaya, a Turkish immigrant, started the company after receiving a loan of $800,000 from the Small Business Administration, using the money to purchase a shuttered factory in upstate New York. That factory, and the company's additional facility in Twin Falls, Idaho, now employs around 300 refugees. Because of this, online groups are calling for a boycott of Chobani.
Food waste advocacy group Real Junk Food Project have launched "the warehouse," where customers can purchase good, edible food that's been discarded supermarkets and other businesses. In the spirit of using food waste to combat hunger, the food is priced on a "pay as you feel basis," and is meant to be affordable to families in need.
These are dark times we live in, but from Italy comes a magenta-tinted ray of light. The Dora Sarchese Vineyard in the Abruzzo region has unveiled the country's first round-the-clock wine fountain—and it's completely free.