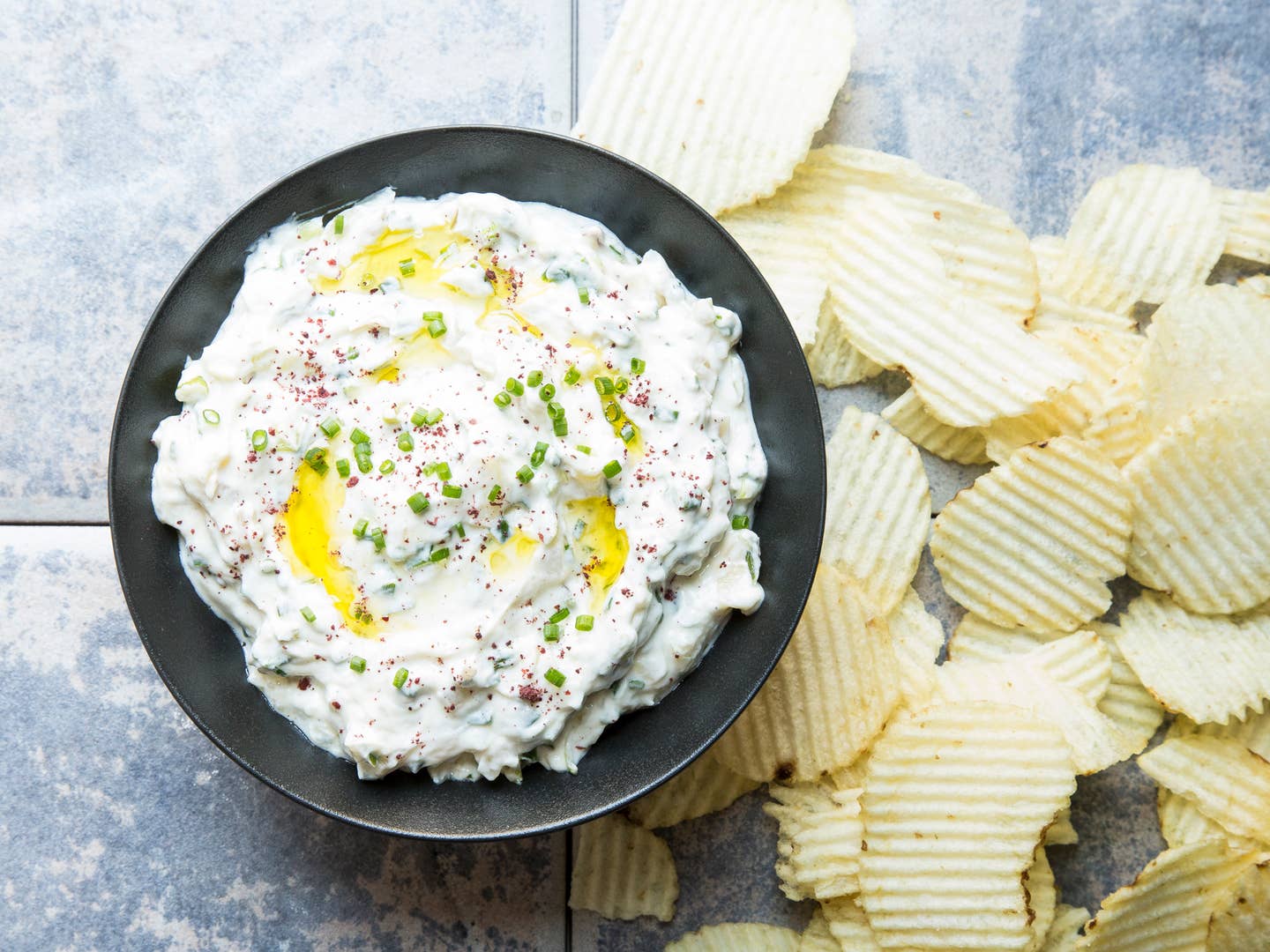 Recipes
A Lighter Kind of Onion Dip
Buy all the snacks you want for your beach trip—but DIY your dip
Once upon a summery weekend in Montauk, I was standing in the aisle of a grocery store with beach snacks on my mind and a few vegetables in hand, arguing despondently with my boyfriend about a jar of French onion dip. The bag of Ruffles he was clutching were fine with me—the beach cries out for chips, after all—but the red jar in his other hand was not coming with us. It just wasn't right.
I couldn't quite articulate why I was so opposed. Maybe it's because I grew up eating sour cream and onion chips, which require no dip; maybe it was the idea of eating something that so closely resembled mayonnaise while wearing a bathing suit; maybe it was that I didn't want something so commercial and processed interrupting my first South Fork beach excursion. I did, however, want the cool, tangy sweetness of an onion to surf atop our ruffled chips through the salty air.
I'd been reading a lot about Persian food at the time, and had mast-o-musir, a simple dish of strained yogurt and shallot left to sit and meld, on my mind. How hard could it be to whip up something speedy and similar? I grabbed some Greek yogurt, scallions, shallots, and chives, and loudly declared in the supermarket: We will make our own dip!
Back at our beach house, I improvised slightly: I cooked the shallots down a little, tossed in the scallions until they turned a brilliant green, then added chives at the last minute and killed the heat. I sprinkled on a good bit of salt and a little black pepper, letting the whole mixture cool a bit before mixing in the yogurt and throwing it all in the fridge (still in the yogurt container itself—ready for easy transit). Instead of an off-the-shelf experience, we had a new recipe to take home, reuse, and share. It's even become a party staple in our household: quick, easy, relatively healthy, and usually gone in a blink.
The thing about perfect beach snacks is that they need to be hassle-free, portable, and sand-resistant. But they also need to feel just a little bit special; there is something tremendously satisfying about spending time preparing to relax. So grab the chips, the peach rings, and the Coke, but do just a little extra work on the dip side of things, and you'll sink that much deeper into the sand.