Mango and Pumpkin Spice Cake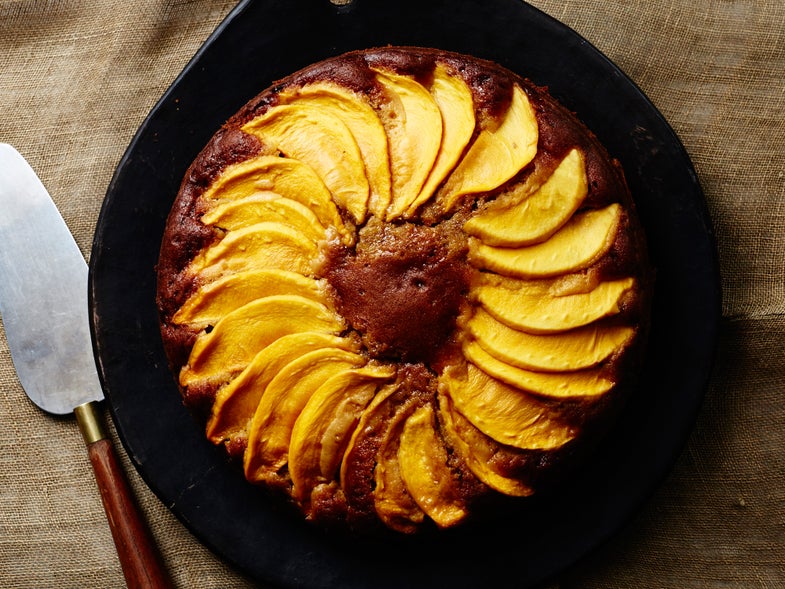 Fresh mango, mixed into the base and fanned on top of this warmly spiced pumpkin dessert—chef Pierre Thiam's version of his wife's classic pumpkin cake—adds a tropical brightness and dramatic presentation to his Thanksgiving table.
Featured in: A Brooklyn Thanksgiving with the Flavors of Senegal
Mango and Pumpkin Spice Cake
Grassy, tropical sweet mangoes add a new dimension of flavor to this warmly spiced pumpkin cake—a revelation at the end of a Thanksgiving meal.
Time: 2 hours, 20 minutes
Ingredients
Unsalted butter, for greasing
2 3⁄4 cups (12 3/8 oz.) all-purpose flour, plus more for dusting
2 tsp. ground cinnamon
2 tsp. ground ginger
1 tsp. baking soda
1 tsp. kosher salt
2 cups (14 oz.) sugar
1 cup canned or homemade pumpkin purée
1 cup vegetable oil
1 tsp. vanilla extract
4 large eggs
2 mangoes, peeled and pitted
Confectioners' sugar, for dusting
Instructions
Heat the oven to 325°. Grease and flour a 9-inch springform cake pan. In a large bowl, whisk the flour with the cinnamon, ginger, baking soda, and salt. In another bowl, whisk the sugar with the pumpkin, oil, vanilla, and eggs until smooth. Cut half of one mango into 1⁄2-inch cubes and stir into the batter. Scrape the batter into the prepared pan and smooth the top.
Cut the remaining 1 1⁄2 mangoes lengthwise into 1⁄4-inch-thick slices and fan the slices over the top of the cake in a circle. Bake the cake until a toothpick inserted in the center of the cake comes out clean, about 2 hours. Transfer the cake to a rack and let cool completely. Unmold the cake, transfer to a serving platter, and dust with confectioners' sugar before serving.