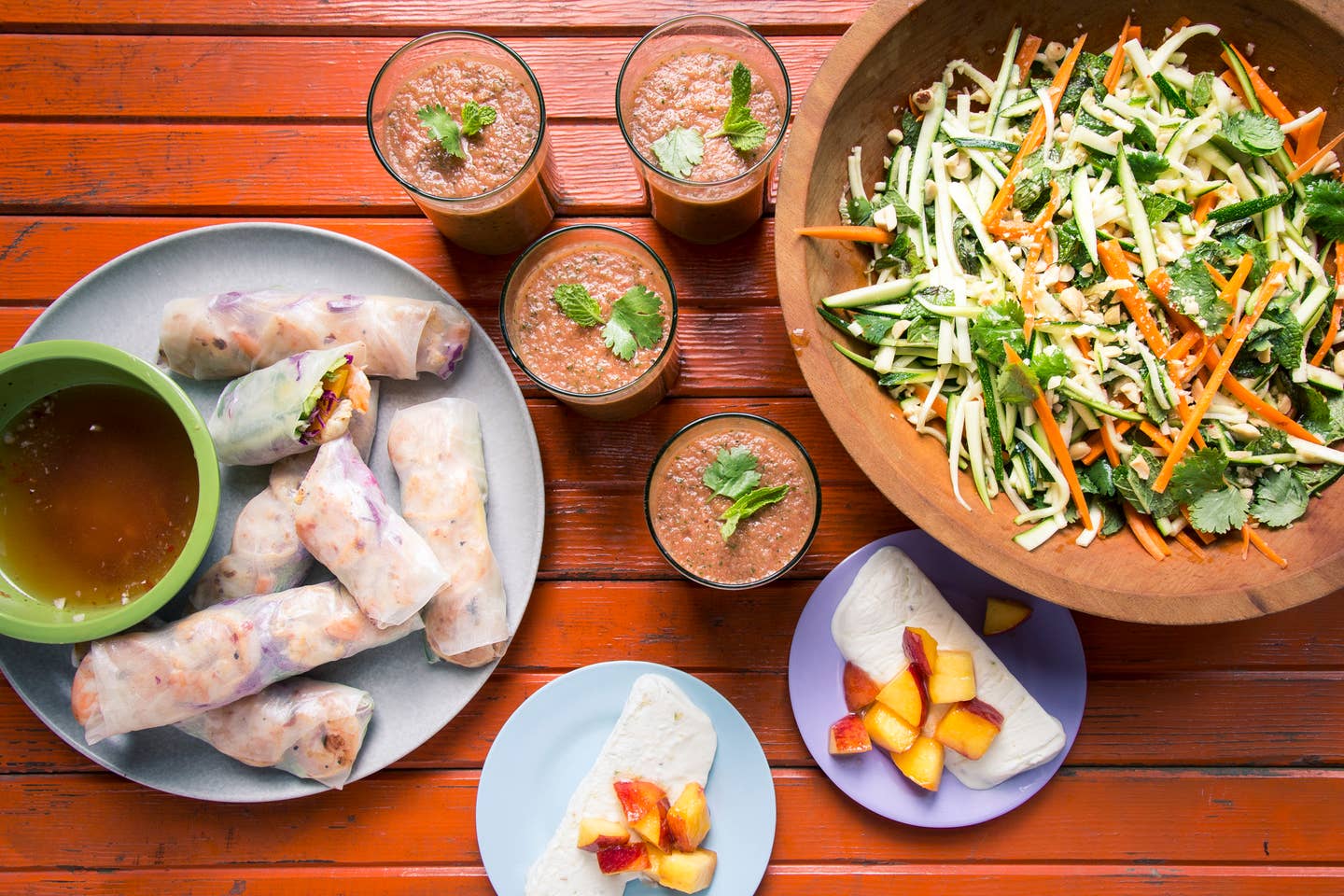 Recipes
The Dinner Party: A No-Cook Summer Menu
A Thai-inspired, no-oven required menu beats the heat in the dog-days of summer
During the height of summer, the last thing I want to do is turn on my oven. My old-fashioned gas oven has the ability to turn my apartment into a sauna in no time flat, so when it's hot outside, I'd rather serve foods that require minimal cooking—or none at all. Given that the produce this time of year is at its peak, it's the perfect time to throw together a menu made up of seasonal salads, chilled soups, simple fruit desserts, and appetizers that can be easily assembled.
To celebrate the midsummer bounty, I've planned a flavorful dinner party menu that doesn't require you to turn on the oven once. It starts with a gazpacho made from watermelon and jalapeño, with lots of mint and cilantro, and summer rolls with mango, avocado, red cabbage, and grilled shrimp with a chile dipping sauce. For the main course, I created a riff on spicy green mango salad, subbing in shredded zucchini for the mango, and garnishing it with roasted peanuts and fresh herbs. And for dessert, there's a coconut milk semifreddo with pistachios and fresh peaches. Aside from grilling the shrimp, nothing in this menu needs to be cooked—and everything can be assembled in advance and served chilled.
You'll need to stock up on a few Thai staples (fish sauce, rice wine vinegar, chile paste, rice paper wrappers, coconut milk) that you should be able to find at any grocery store, but the rest of the menu is mostly fresh produce. This meal is fun to serve in courses, starting with the spring rolls, then the gazpacho, followed by the spicy zucchini salad, and finishing with the semifreddo. Or, just serve the savory dishes family-style, with dessert at the end. It will be delicious either way!
Two Days Before: Shop for the ingredients and stock up on wine; a German riesling or an Austrian gruner veltliner with nice acidity and a hint of sweetness will pair well with the spice while not competing with the Thai flavors.
The Day Before: Make the pistachio semifreddo and freeze overnight. Make the gazpacho.
The Morning Of: Set the table. Shred the zucchini and make the sauce for the salad; keep them separate and store in the refrigerator. Grill the shrimp and chill. And don't forget to chill the wine.
A Few Hours Before: Assemble the spring rolls; cover with plastic wrap tightly and chill. Make the dipping sauce.
An Hour Before: Slice the peaches, add sugar, and let macerate. Have wine glasses out and an ice bucket for wine ready for when guests arrive.
Just Before Guests Arrive: Place spring rolls and dipping sauce on a platter (if you're serving as an appetizer). Place the wine on ice. Light candles and turn on music.
When Ready To Eat: Spoon gazpacho into bowls and garnish with cilantro and mint. Toss zucchini salad with sauce and garnish with peanuts and herbs. 20 minutes before dessert, remove the semifreddo from the freezer.
And for music, tune in to Anna's dinner party playlist here.