Recipes
Grilled Shrimp Summer Rolls with Chile-Lime Dipping Sauce
Serves

serves 4

Cook

45 minutes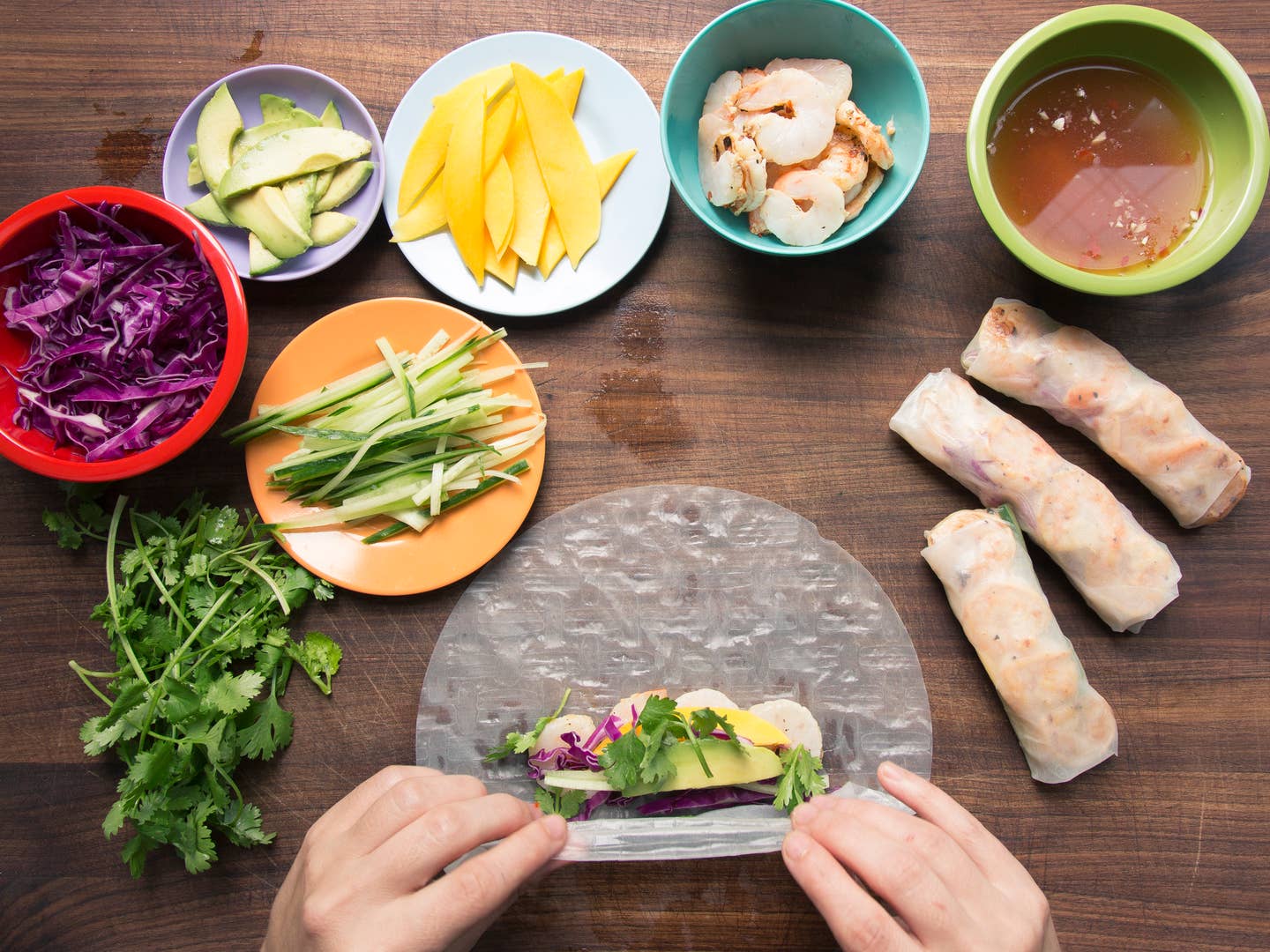 Juicy mango, buttery avocado, and lightly charred sweet shrimp get packed into rice paper along with crispy cabbage and cucumber for a summer appetizer that hits all the right textural notes. Prep the spicy, tart dipping sauce ahead to give the flavors time to meld.
Ingredients
3 1⁄2 tbsp. fresh lime juice
2 tbsp. rice wine vinegar
1 tbsp. fish sauce
1 tbsp. sugar
1 tsp. sambal oelek (Thai chile paste)
1 clove garlic, minced
24 medium shrimp, peeled, deveined, and tail removed (about 1 lb.)
1 tbsp. toasted sesame oil
1⁄2 tsp. crushed red chile flakes
Kosher salt and freshly ground black pepper
12 round (8-inch) rice paper spring roll wrappers
1 avocado, halved, pitted, peeled, and thinly sliced
1 mango, peeled, pitted, and thinly sliced lenthwise
1 cucumber, julienned
1 cup shredded red cabbage (about 3 oz.)
1 cup packed cilantro leaves
Instructions
Step 1
In a small bowl, stir 2 tablespoons lime juice with the vinegar, fish sauce, sugar, sambal oelek, garlic, and 2 tablespoons water until the sugar dissolves to make the dipping sauce.
Step 2
Light a grill. In a large bowl, toss the shrimp with 1 1⁄2 tablespoons lime juice, the sesame oil, and chile flakes, and season with salt and pepper. Place the shrimp on the grill, and cook, turning once, until pink and cooked through, about 3 minutes. Transfer the shrimp to a cutting board and slice in half lengthwise.
Step 3
Fill a large bowl with lukewarm water. Working one at a time, dip a rice paper wrapper in the water for 8 to 10 seconds, turning it to wet completely, and then lay the wrapper flat on a damp kitchen towel. Lay 4 pieces of shrimp, cut side up, along bottom third of wrapper, leaving a 1-inch border along bottom and sides. Layer 1 avocado slice, 1 mango slice, and a few pieces of cucumber, cabbage, and cilantro leaves on top.
Step 4
Using both hands, lift the bottom of the wrapper up and over the filling, press down gently, and roll the wrapper completely around the filling into a tight cylinder, folding the sides of the wrapper halfway through rolling. Place the summer roll on a serving platter, and cover with another damp towel. Repeat making summer rolls with the remaining wrappers, shrimp, avocado, mango, cucumber, cabbage, and cilantro leaves. Serve immediately with dipping sauce.
How to Make Grilled Shrimp Summer Rolls