Recipes
Coconut and Pistachio Semifreddo with Fresh Peaches
Serves

serves 6-8

Cook

7 hours 30 minutes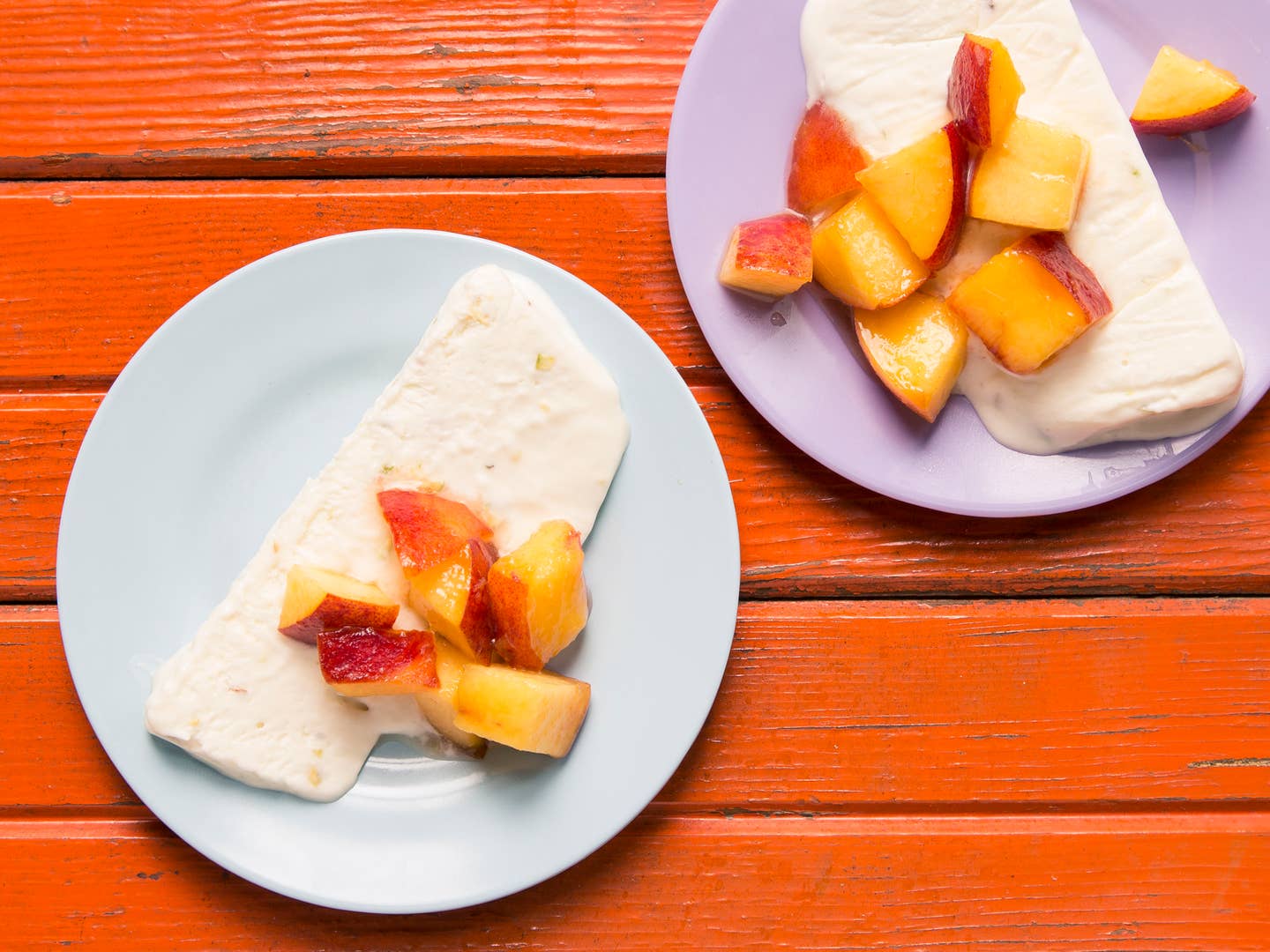 Anna Watson Carl relies on sweetened condensed milk to add richness to this frozen dessert flavored with coconut milk, lime zest, and toasty pistachios. Simply macerated peaches provide a fresh, fruity counterpart.
Ingredients
1 (14-oz.) can sweetened condensed milk
1 (13.5-oz.) can unsweetened coconut milk
1 tbsp. lime zest
1⁄4 tsp. kosher salt
1 1⁄2 cups heavy cream
1⁄2 cup unsalted, roasted pistachios, roughly chopped
2 peaches, halved, pitted, and diced
2 tbsp. sugar
Instructions
Step 1
Line a 9-by-5-inch loaf pan with plastic wrap, letting the excess hang 2 inches over either side. In a small saucepan, combine the condensed and coconut milks, and bring to a boil over medium-high heat. Cook, stirring, until thickened and reduced to 2 cups, about 10 minutes. Remove the pan from the heat and stir in the lime zest and salt. Let the milks cool to room temperature.
Step 2
Using an electric hand mixer or a whisk, beat the cream in a large bowl until it forms stiff peaks. Gently pour the reduced milks into the whipped cream and fold until evenly combined, and then fold in the pistachios. Wrap the loaf pan in plastic wrap and freeze until firm, at least 6 hours or overnight.
Step 3
One hour before you plan to serve the semifreddo, toss the peaches with the sugar in a bowl, and let stand, tossing occasionally, until the sugar dissolves and the peaches are juicy, about 1 hour.
Step 4
To serve, remove the semifreddo from the freezer and then use the plastic wrap to unmold it from the loaf pan. Cut the semifreddo into 1⁄2-inch slices, and serve with the peaches.