Recipes
Palestinian Roast Chicken with Sumac and Red Onions (Mussakhan)
Serves

serves 6

Cook

2 hours 20 minutes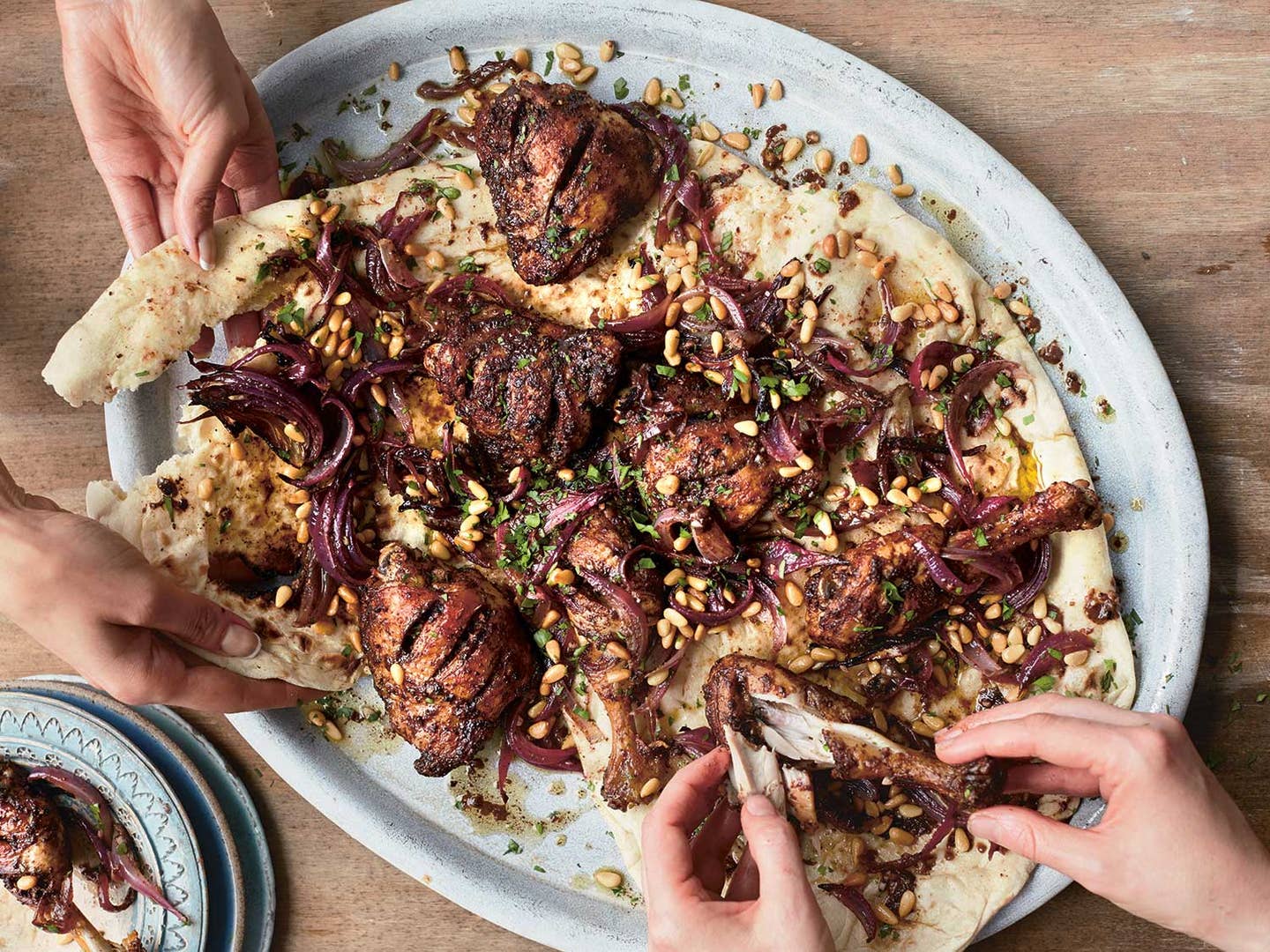 Mussakhan is a classic Palestinian dish traditionally laid out on a giant piece of bread, where the flavorful roasting juices laced with allspice, sumac, and cumin can be poured over the top. It is meant to be placed on the table so that everyone can pull off sections of bread and chicken. If you can't find large sheets of Arabic taboon bread, individual loaves of naan are a fine substitute. If you prefer to skip the bread entirely, the chicken is just as delicious on its own, or served with rice or a salad.
Ingredients
2 1⁄4 lb. skin-on chicken legs, thighs and drumsticks separated
1⁄4 cup extra-virgin olive oil, divided, plus more for drizzling
1 tbsp. plus 1½ tsp. ground sumac, plus more for sprinkling
1⁄2 tsp. ground allspice
1⁄2 tsp. ground cumin
1⁄4 tsp. ground cinnamon
3 tbsp. fresh lemon juice
4 medium garlic cloves, coarsely crushed in a mortar and pestle (1 Tbsp.)
1 1⁄2 tsp. kosher salt, plus more as needed
1⁄4 tsp. freshly ground black pepper, plus more as needed
2 large red onions, halved then thinly sliced (2⅔ cups)
2 tbsp. pine nuts
Naan or Arabic taboon bread, for serving
1⁄4 cup coarsely chopped flat-leaf parsley
Instructions
Step 1
Use a paring knife to slash the flesh of each piece of chicken against the grain a few times, then transfer the meat to a large bowl or plastic container. Add 3 tablespoons of olive oil, the sumac, allspice, cumin, cinnamon, lemon juice, garlic, salt, and pepper. Mix well, using your hands to rub the marinade into the meat. Add the onion and toss with the chicken, then cover and refrigerate for 1–3 hours.
Step 2
When you are ready to cook the chicken, set a rack in the top third of the oven and preheat to 350°F.
Step 3
Line a large rimmed baking sheet with aluminum foil, then add the chicken, skin-side up. Scatter the onion around the pan, discarding any extra marinade in the bottom of the bowl. Roast until the chicken skin is deep golden and its juices run clear when the chicken is pierced with a paring knife at its thickest parts, 50–60 minutes.
Step 4
Remove the baking sheet, then tent the chicken with aluminum foil and let rest while you prepare the toppings. Leave the oven on. Place the bread on a clean baking sheet and transfer to the oven to warm it through and lightly toast it.
Step 5
Meanwhile, line a small, heat-resistant plate with a paper towel and set it by the stove. In a small pot over medium-low heat, add the remaining tablespoon of olive oil and the pine nuts. Cook, stirring constantly, until the nuts are fragrant and light golden brown, about 2 minutes. Transfer the nuts to the prepared plate to drain and cool slightly.
Step 6
Remove the bread and transfer to a large serving platter. Top it with the chicken pieces and onion, sprinkle with the pine nuts, a little sumac, and the chopped parsley, then drizzle with any remaining roasting juices and more olive oil as needed to moisten the bread. Serve hot, with more bread on the side if desired.