Recipes
Pasta with Octopus Ragu and Stracciatella
Serves

serves 4-6

Cook

4 hours 30 minutes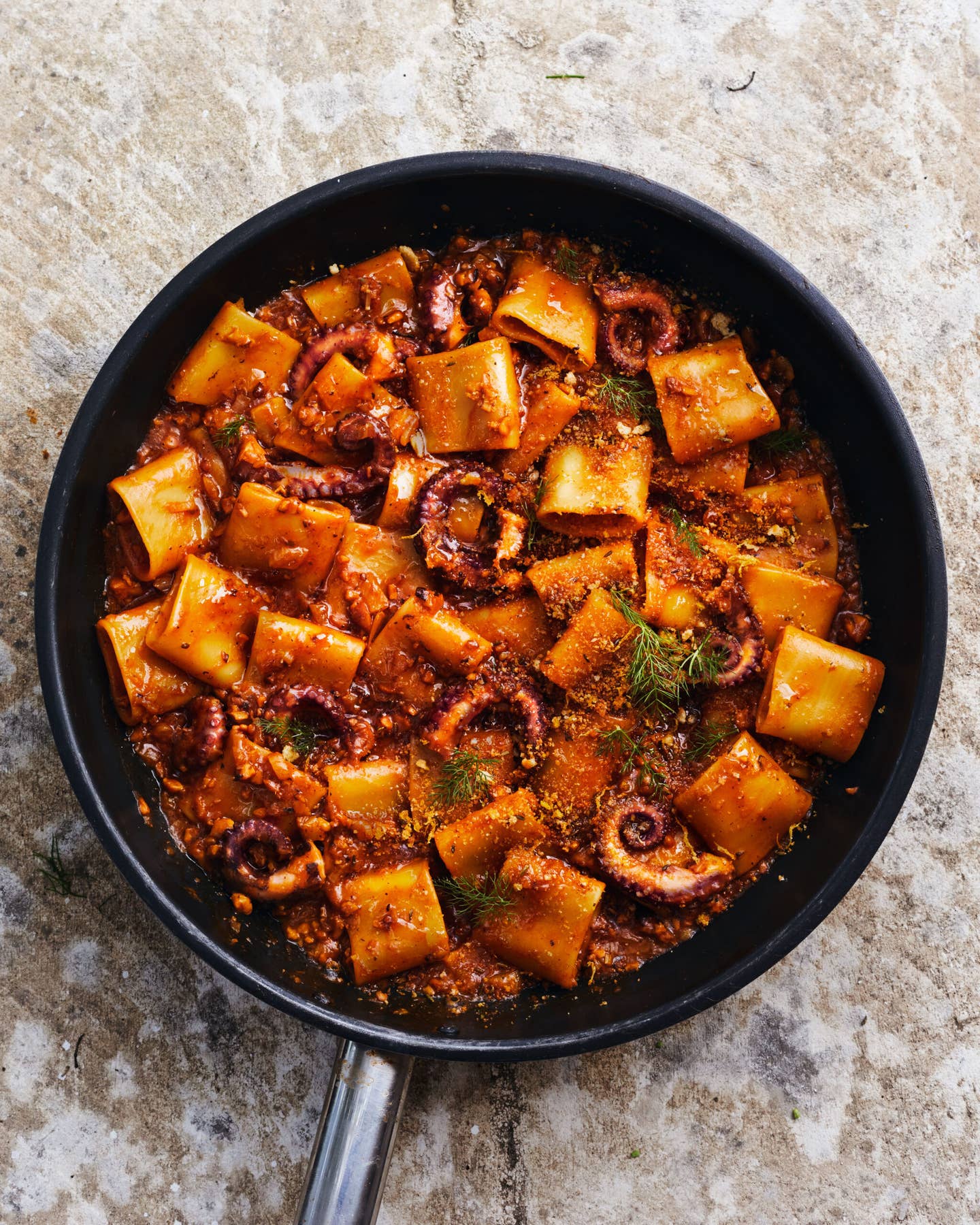 Giorgia Goggi mixes this slow-cooked tomato sauce with octopus and saffron into paccheri pasta di Gragnano, a thick, air-dried Italian macaroni. But any robust pasta shape will do.
Ingredients
3 medium yellow onions (1¾ lb.), divided
2 medium celery stalks (6 oz.), divided
2 large carrots (1 lb. 2 oz.), chopped
6 cherry tomatoes (2 oz.)
3 dried red chiles, divided
1⁄2 fennel bulb (8 oz.), minced, plus the fronds of the whole bulb reserved
2 1⁄3 lb. octopus (3 baby octopuses, or the equivalent in tentacle meat), cleaned
5 lemon leaves or 1 wide strip of lemon zest
2 bay leaves
Freshly ground black pepper
5 tbsp. extra-virgin olive oil
2 tbsp. dry white wine
2 medium garlic cloves, smashed
3 oil-packed anchovy fillets
3 tbsp. tomato paste
1⁄2 tsp. loosely packed saffron
1⁄4 cup fine bread crumbs (2 oz.)
14 oz. dried paccheri pasta
Finely grated lemon zest, for garnish
9 oz. (1 cup) fresh stracciatella (soft Italian buffalo cheese)
Instructions
Step 1
Coarsely chop 2 onions and 1 celery stalk; add to a large pot. Add the carrots, cherry tomatoes, 2 chiles, and most of the fennel fronds (reserve a few pieces for garnishing). Add enough cold water to reach 10 inches up the sides of the pot; bring to a boil. Add the octopus, lemon leaves or zest, and 1 bay leaf; lower the heat to maintain a simmer. Cook until the flesh is tender when pierced in its thickest part, 30–50 minutes. Transfer the octopus to a platter to cool. Drain and reserve the broth, discarding the vegetables.
Step 2
Remove and discard the octopus beaks, and mince the heads and thick parts of the tentacles. Keep the thin, curly ends intact. Set aside. Finely mince the remaining onion and celery.
Step 3
In a medium pot over medium heat, add 3 tablespoons olive oil. Add the minced onion, celery, and fennel, the remaining chile and bay leaf, and the garlic; cook, stirring occasionally, until softened, 8–10 minutes. Add the octopus, wine, anchovies, tomato paste, and saffron; bring to a strong simmer. Cook, stirring frequently and adding about ¾ cup of the reserved broth whenever the sauce starts to look dry (about every 15 minutes), until the ragù has a rich, saucy consistency, about 2 hours. (Sauce will also thicken when you add the pasta.) Keep warm.
Step 4
Meanwhile, in a medium skillet over medium heat, add the bread crumbs and 2 tablespoons oil. Cook, stirring, until toasted, 5–7 minutes.
Step 5
In a large pot of boiling, salted water, cook the paccheri until nearly al dente. Reserve a cup of cooking water, then drain. Transfer the pasta to the ragu. Return to medium heat, and cook, stirring constantly, until the pasta is coated and al dente, 1–2 minutes. (Add some pasta water if the sauce seems pasty.) Divide among 4–6 bowls. Top with dollops of stracciatella. Sprinkle with zest, bread crumbs, pepper, and fennel fronds.