Potatoes with Chestnuts and Clams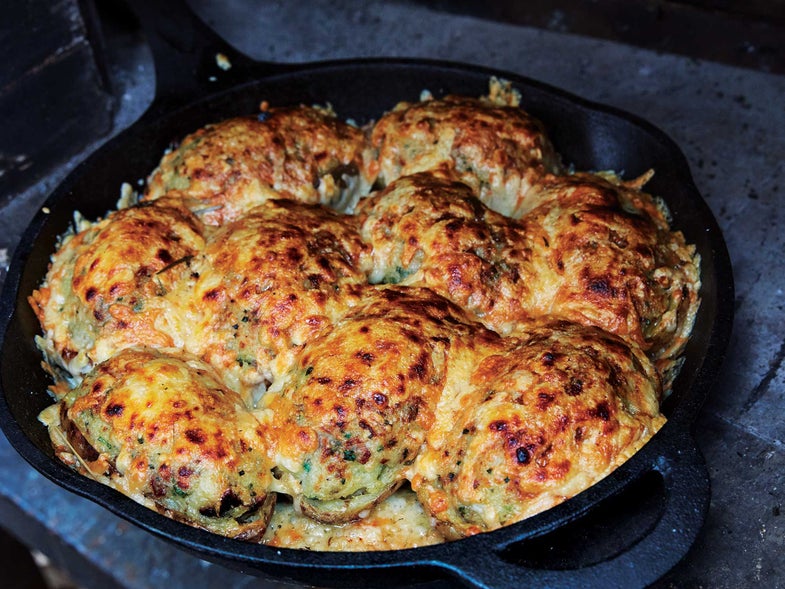 These stuffed potatoes, which tenderize first in foil packets then crisp up in cast iron atop the coals (or in the oven), are packed with a mix of roasted chestnuts, bacon, and juicy whole clams. "Clams and potatoes are a match made in heaven," says Joe Beef's Dave McMillan of the unusual, yet welcome addition of seafood to potatoes. "Just think about clam chowder."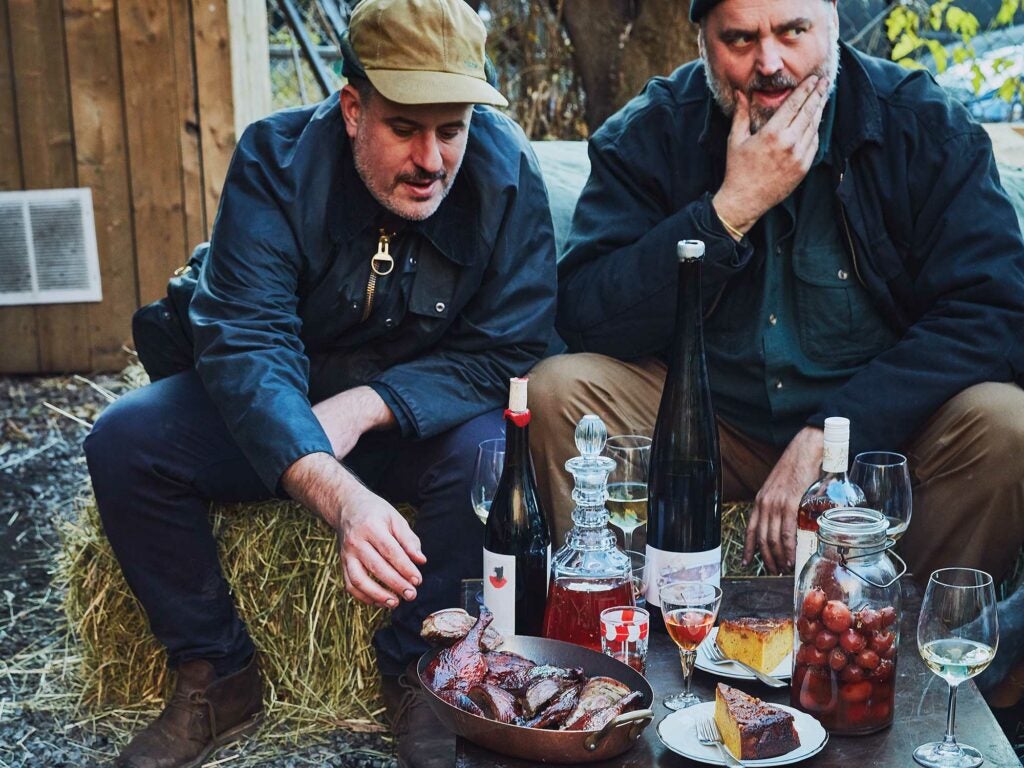 Red Morin and Dave McMillan make an effort to keep their work as relevant outside the kitchen—they have plans for a small apple orchard near their restaurants—as inside.
What You Will Need
Yield: serves 8
Time: 2 hours 40 minutes
Ingredients
4 medium Yukon Gold potatoes (2 1/2 lb.), scrubbed clean
20 chestnuts
4 tbsp. unsalted butter
4 slices (2 oz.) bacon, chopped
2 shallots, minced (1/3 cup)
1 garlic clove, minced (1 tsp.)
20 littleneck clams
1⁄4 cup heavy cream
1⁄4 cup chives, minced
Kosher salt and freshly ground black pepper, to taste
1 cup grated smoked cheddar (3 3/4 oz.)
Instructions
In a fireplace or fire pit, build a fire; let the flames die down so only glowing embers remain. Alternatively, preheat an oven to 425°.
Prick the potatoes with a fork, then wrap individually in foil and place close to or just touching the coals, or on a baking sheet in the oven. Bake, rotating every 10–15 minutes using tongs, until the potatoes are tender but not completely soft, about 50 minutes. Remove, open the foil, and set aside to cool slightly.
Meanwhile, set the butter out to soften. Using a paring knife, score the chestnuts on their flat sides with an X mark and place in a chestnut pan or ovenproof skillet. Nestle the pan atop the embers and cover to roast the chestnuts, or transfer the pan uncovered to the oven. Roast until tender, about 25 minutes. Remove and set aside. When cool enough to handle, peel, then crumble or chop the chestnuts into a large bowl.
Halve the potatoes lengthwise, then scoop out the flesh into the bowl with the chestnuts, leaving a 1⁄4-inch-thick border of flesh remaining on the skins; reserve the flesh and skins.
In a medium Dutch oven or heavy-bottomed pot over medium-high heat, melt 2 tablespoons butter. Add the bacon and cook, stirring frequently, until crispy, about 6 minutes. Add the shallots and cook, stirring, 2 minutes more. Add the garlic, clams, and cream. Cover and cook until the clams open, about 20 minutes. Discard any that do not open.
Pick the clams from their shells and add to the potato-chestnut mixture. Pour the cream sauce into the mixture, then stir in the chives and remaining 2 tablespoons softened butter. Taste and adjust the seasoning as needed.
Divide the mixture between the potato skins, and place the skins on a baking sheet. If the potato flesh is not completely creamy, bake for 15–20 minutes. Once fully tender, cover potatoes with the smoked cheddar and bake until the cheese is bubbling, 5–10 minutes.