Recipes
Chinese Lion's Head Meatballs
This hearty, comforting braise made with pork and bok choy is on the table in under an hour.
Serves

Serves 4–6

Cook

55 minutes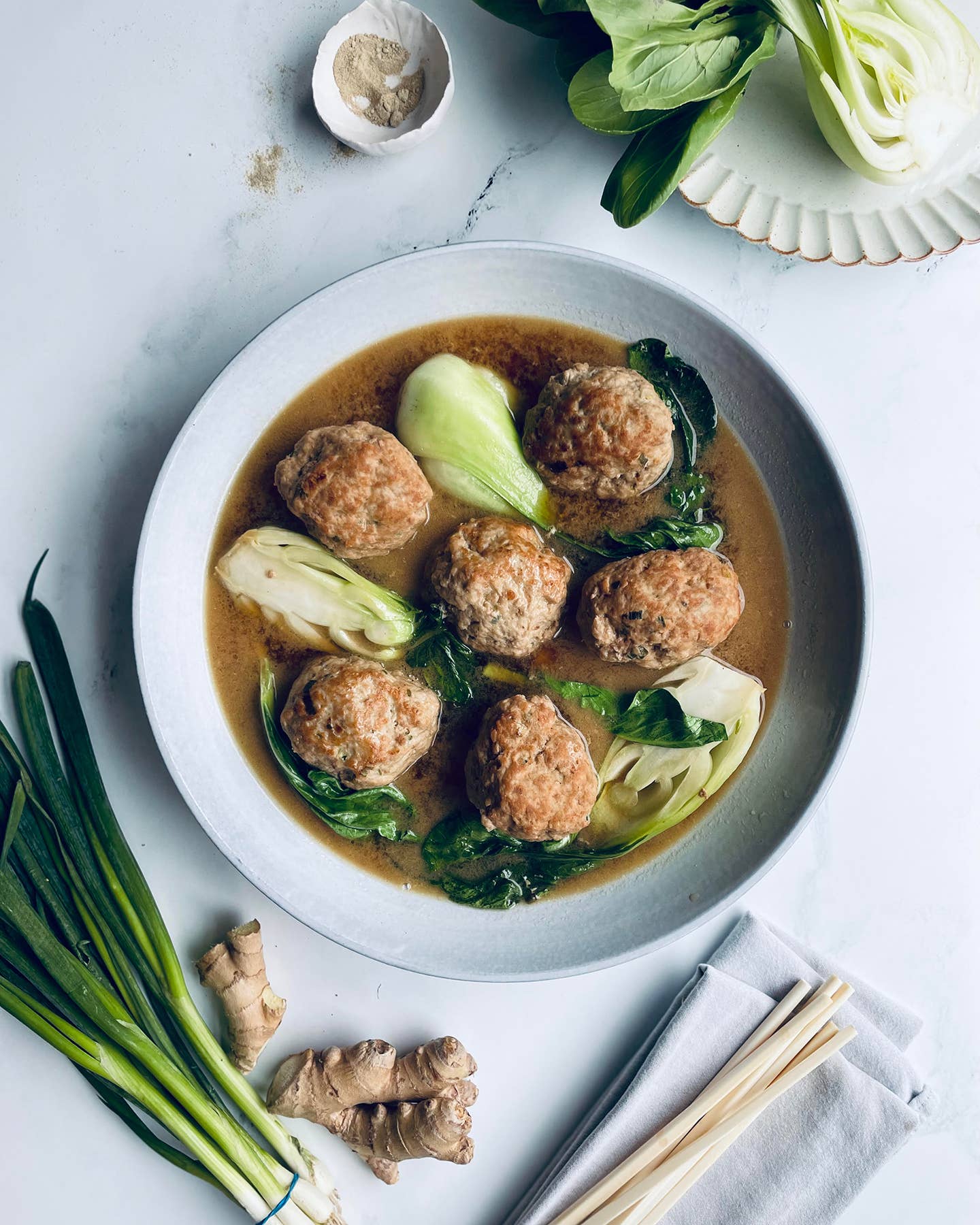 When fashion designer Peter Som unearthed his late grandmother's spiral-bound recipe notebook, this Chinese lion's head meatball recipe is the first thing he made. To give the meat a tender, pleasingly bouncy texture, be sure to stir the mixture for at least five minutes.
Ingredients
For the meatballs:
1 lb. ground pork, preferably 70–80 percent lean
2 scallions, trimmed and finely chopped
1 large egg
¼ cup panko
2 Tbsp. Shaoxing wine
2 Tbsp. soy sauce
1 Tbsp. cornstarch
2 tsp. sugar
1 tsp. finely grated ginger
1 tsp. kosher salt
½ tsp. ground white pepper
2 Tbsp. vegetable oil
For the broth:
3 cup chicken stock
½ cup Shaoxing wine
¼ cup soy sauce
1 Tbsp. sugar
½ tsp. cornstarch, dissolved in 1 Tbsp. warm water
½ tsp. ground white pepper
2 scallions, trimmed and halved lengthwise
One 1-in. piece of ginger, sliced paper-thin
1 lb. bok choy, root end trimmed and halved lengthwise, or coarsely chopped napa cabbage
Steamed jasmine rice, for serving (optional)
Instructions
Step 1
Make the meatballs: To a bowl, add the pork, scallions, egg, panko, wine, soy sauce, cornstarch, sugar, ginger, salt, and white pepper. Use your hands to combine, then use a wooden spoon to stir vigorously until the pork mixture is smooth and the consistency of thick frosting, about 5 minutes. Lightly oil or wet your hands to prevent sticking, and roll six 4-ounce balls (a scant ½ cup each), placing them on a plate beside the stove.
Step 2
To a large deep skillet or wide pot set over medium-high heat, add the oil. When it's shimmering and hot, working in batches if necessary, fry the meatballs, turning occasionally, until browned on all sides (they will lose some of their roundness), about 11 minutes. Transfer to a plate, then wipe out the pan and return it to the stove.
Step 3
Make the broth: To the empty skillet, add the chicken stock, wine, soy sauce, sugar, cornstarch, white pepper, scallions, and ginger and bring to a boil. Add the meatballs to the broth, cover, and turn the heat to medium-low. Simmer until cooked through and swollen slightly, about 8 minutes. Scatter the cabbage or bok choy over the meatballs and continue to cook, covered, until wilted, about 8 minutes more.
Step 4
To serve, use tongs to transfer the meatballs and greens to a large serving bowl, then carefully pour over the broth. (Alternatively, serve directly from the pot.) Accompany with rice if desired.