Recipes
Congee
Finish this comforting breakfast porridge with a medley of crispy, fresh, and spicy toppings.
Serves

serves 4

Cook

20 minutes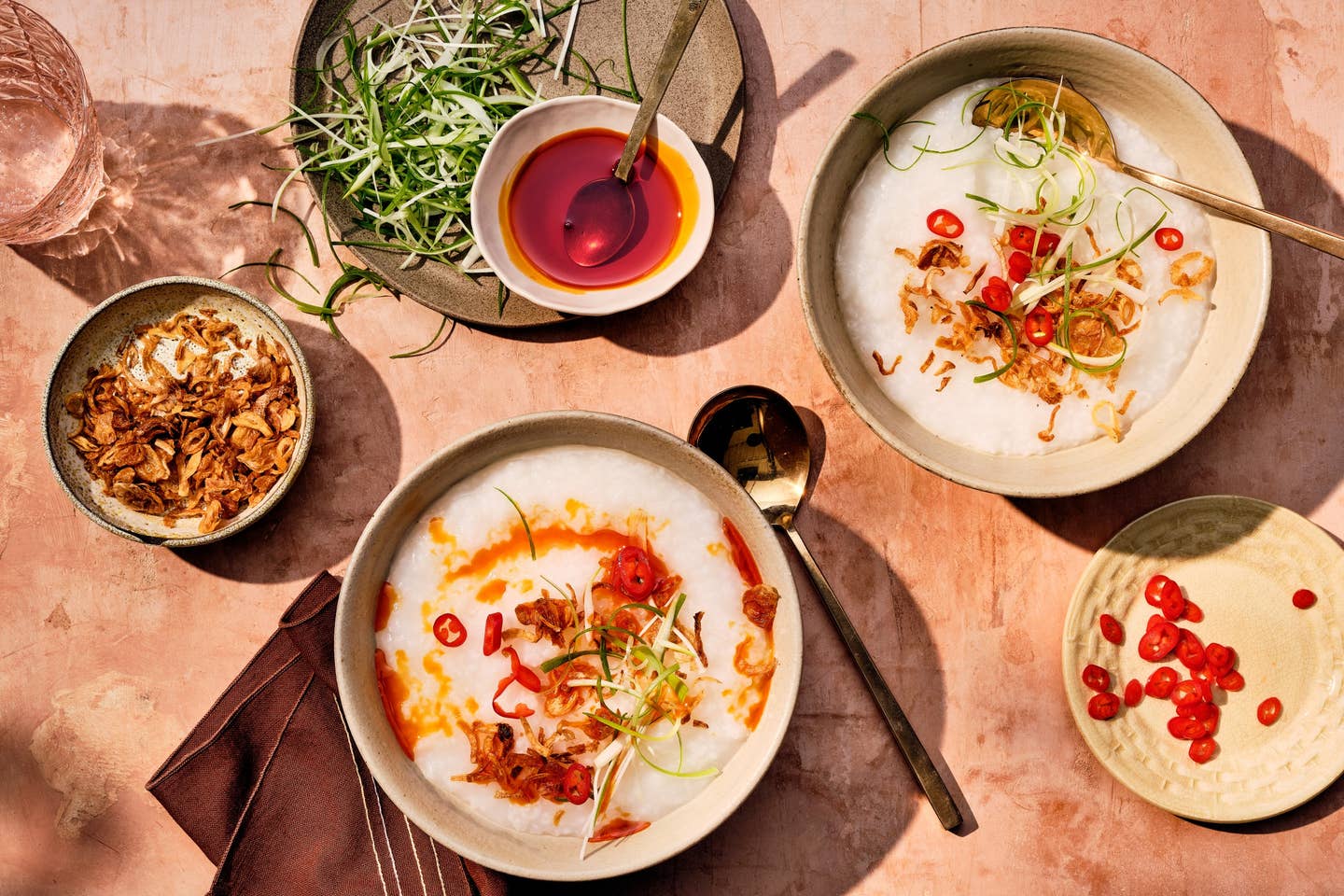 In her book, Essentials of Asian Cuisine: Fundamentals and Favorite Recipes, cookbook author Corinne Trang describes congee as a "way to stretch a meal in times of need." Typically eaten for breakfast in China and other parts of Asia, this comforting recipe, which first appeared alongside Sushma Subramanian's 2012 story "Feed a Fever," is often mixed with meat, poultry, or seafood and gets a jolt of flavor from its garnish of scallions, chiles, and shallots.
The ease and affordability of this dish makes it a comforting sick-day staple.
Ingredients
½ cups long-grain white rice
1 tsp. kosher salt
Chinese chile oil, crispy shallots (store-bought or homemade), red bird's eye chiles, and thinly sliced scallions, for garnish
Instructions
Step 1
In a sieve, rinse the rice under cold running water. Drain thoroughly, then transfer to a medium Dutch oven. Cover with 8 cups of cool water, sprinkle in the salt, then bring to a boil over high heat. Turn heat to medium-low, and cook, partially covered and stirring occasionally, until the rice takes on the consistency of porridge, about 1½ hours.
Step 2
When ready to serve, divide the congee between 4 bowls and top each with the chile oil, crispy shallots, chiles, and scallions.
We tried them all, from simple, one-button rice cookers to the fancy models with all the bells and whistles.