Recipes
Danger Dogs
Ordinary franks become alluringly delicious when wrapped in bacon and topped with jalapeños, bell peppers, and onions.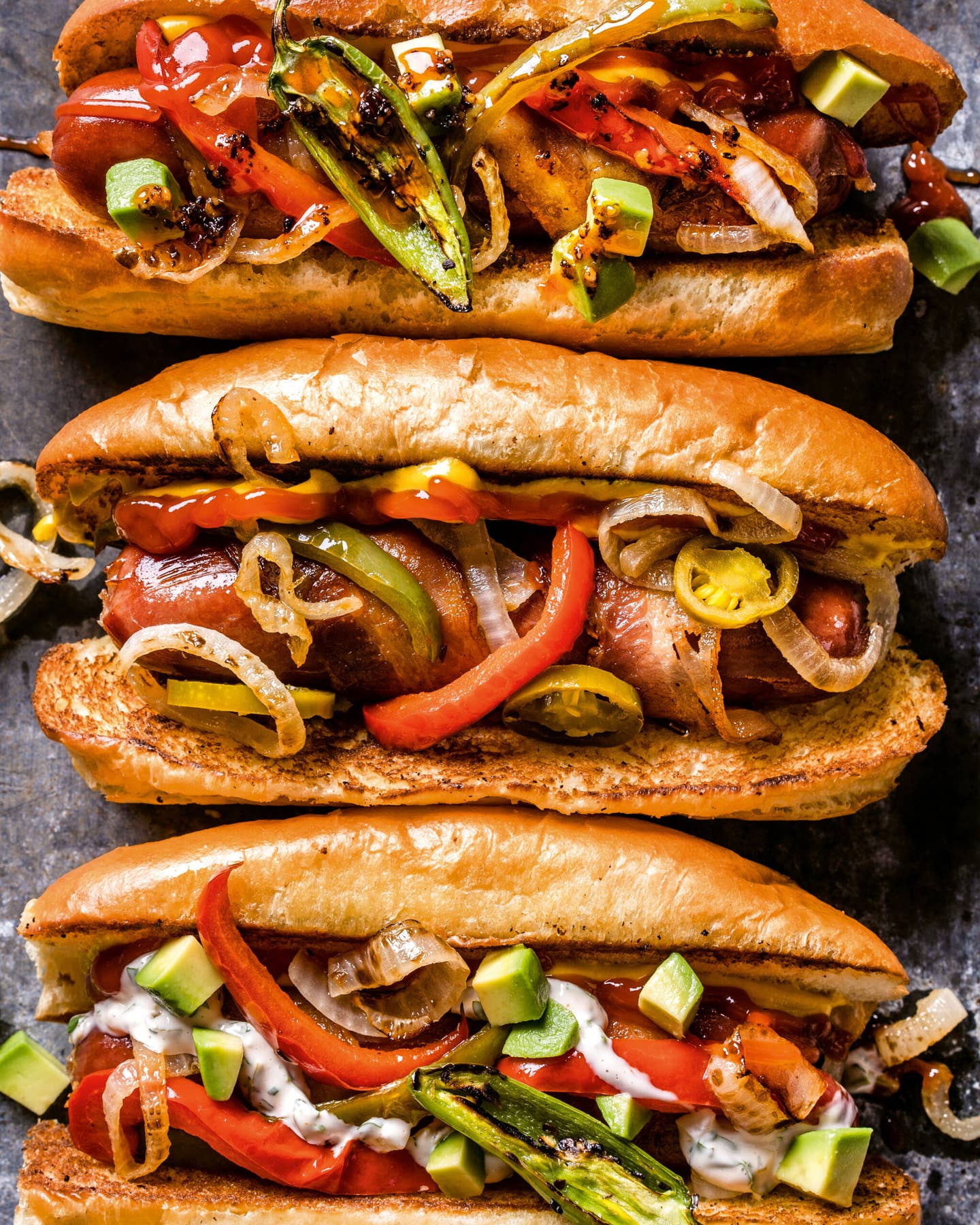 This recipe is brought to you by SAVEUR Cookbook Club, our passionate community of food-loving readers from around the globe celebrating our favorite authors and recipes. Join us as we cook through cookbooks new and old, and share your food pics and vids on social media with the hashtags #SAVEURCookbookClub and #EatTheWorld.
On weekends and game nights in Los Angeles, a common sight outside stadiums and bars is a shopping cart with a sheet pan wired to the top. Heated from the bottom, the pan acts as a makeshift griddle, where street cooks sizzle jalapeños, onions, peppers, and hot dogs wrapped in—yes—bacon. Angelenos call them Danger Dogs, streetside Dodger Dogs, Sonoran Hot Dogs, or Tijuana Dogs. Whatever you call them, they're insanely delicious and great for a party. This recipe from Danny Trejo's new cookbook, Trejo's Cantina, is a classic representation of the popular street food that will be a hit anywhere you take them. Make the caramelized onion-pepper mix in advance, and complement it with your other favorite wiener toppings.
Ingredients
For the onions and peppers:
2 Tbsp. vegetable oil
1 medium onion, thinly sliced (1 1/2 cups)
½ medium green bell pepper, thinly sliced (2/3 cup)
½ medium red bell pepper, thinly sliced (2/3 cup)
Kosher salt
For the danger dogs:
2 jalapeños, quartered lengthwise
6 hot dogs
6 bacon slices
6 hot dog buns
2 Tbsp. vegetable oil
Instructions
Step 1
Make the onions and peppers: To a large skillet, add the oil and onion and cook, stirring occasionally, until softened and beginning to brown, about 7 minutes. Add the green and red bell peppers and cook, stirring occasionally, until everything is soft and deep golden brown, 10–12 minutes. Transfer to a bowl, season to taste with salt, and set aside.
Step 2
To the empty skillet, add the jalapeños skin-side down and cook over medium heat, without moving, until charred, about 5 minutes. Turn them over and cook until tender, about 5 minutes more. Transfer to a bowl and set aside. Return the skillet to the stove and turn off the heat.
Step 3
Make the danger dogs: Tightly wrap the hot dogs in bacon from end to end. To the empty skillet, add the oil and turn the heat to medium. When it's hot and shimmering, add the hot dogs and cook until browned on the bottom, about 5 minutes. Using tongs, give each hot dog a quarter turn and cook for another 5 minutes. Repeat on the remaining two sides until the hot dogs are crisp all over. * 
Step 4
To serve, spoon the reserved onions and peppers into the buns, then top each with one jalapeño slice. Top with the hot dogs and serve immediately.
*Note: If you're doubling or tripling this recipe, cook the danger dogs in a 400°F oven, rotating occasionally, until the bacon is crisp, 20–30 minutes.