Recipes
Emilia-Romagna-Style Eel Risotto
Freshwater fish and wine flavor this silky Italian rice dish.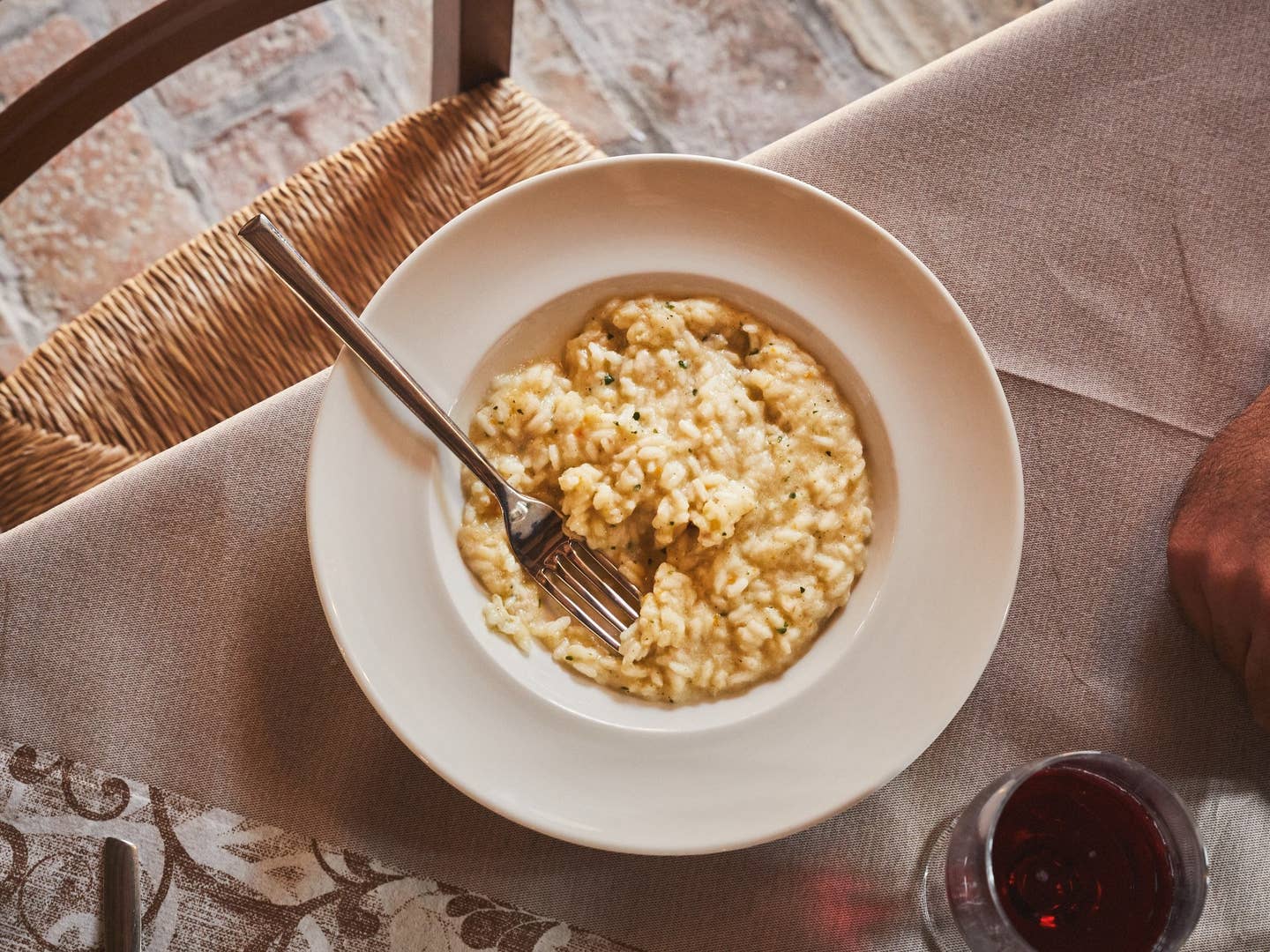 This northern Italian eel risotto recipe, adapted from one made by Fillipo at Il Bettolino Di Foce is simple both in ingredients and in technique, allowing the earthy flavors of the slender river fish to shine.
Ask your local fishmonger to bleed and "deslime" fresh eel for you, or order cleaned, frozen eel online from American Unagi.
Ingredients
1 medium yellow onion, peeled and halved
One 1¼-lb. eel fillet, cut crosswise into 3-in. pieces
2 bay leaves
1 tbsp. extra-virgin olive oil
1 tbsp. unsalted butter
2 medium celery stalks, finely chopped (½ cup)
1 small carrot, peeled and finely chopped (⅓ cup)
1 cup dry white wine
1½ cups carnaroli rice
½ tsp. kosher salt
2 oz. parmesan or pecorino cheese, grated
Instructions
Step 1
In a medium pot set over medium heat, add 4¼ cups water, the onion, eel, and bay leaves. Bring to a simmer and cook, skimming off any scum that rises to the top, until the eel is tender and cooked through, about 30 minutes. Using tongs, transfer the eel to a plate, remove and discard the skin, flake the flesh into small pieces, and set aside.
Step 2
Set a fine mesh strainer in a heatproof bowl. Strain the eel-cooking liquid, discarding the solids. Set the stock aside.
Step 3
To a large skillet over medium heat, add the olive oil and butter. Once hot and bubbling, add the celery and carrots and cook, stirring frequently, until translucent and soft, 7–8 minutes. Add the rice and cook, stirring frequently, until lightly toasted, about 5 minutes more. Pour in the wine, bring to a boil, and cook, allowing the alcohol to evaporate, about 2 minutes. Stir in the salt. Begin adding the reserved stock, a ladle at a time, stirring constantly and allowing the rice to almost completely absorb the liquid before adding more. When the rice is about halfway done, with a firm bite in the center (about 10 minutes), stir in the reserved eel. Continue gradually adding the stock and cooking until the rice is tender and just barely al dente. Stir in the parmesan and season to taste with more salt. Remove from the heat and allow the risotto to rest for 5 minutes before serving.