Recipes
Hungarian Goulash
Sweet paprika confers a deep, rich color to this savory soup.
Serves

serves 6

Cook

1 hour 45 minutes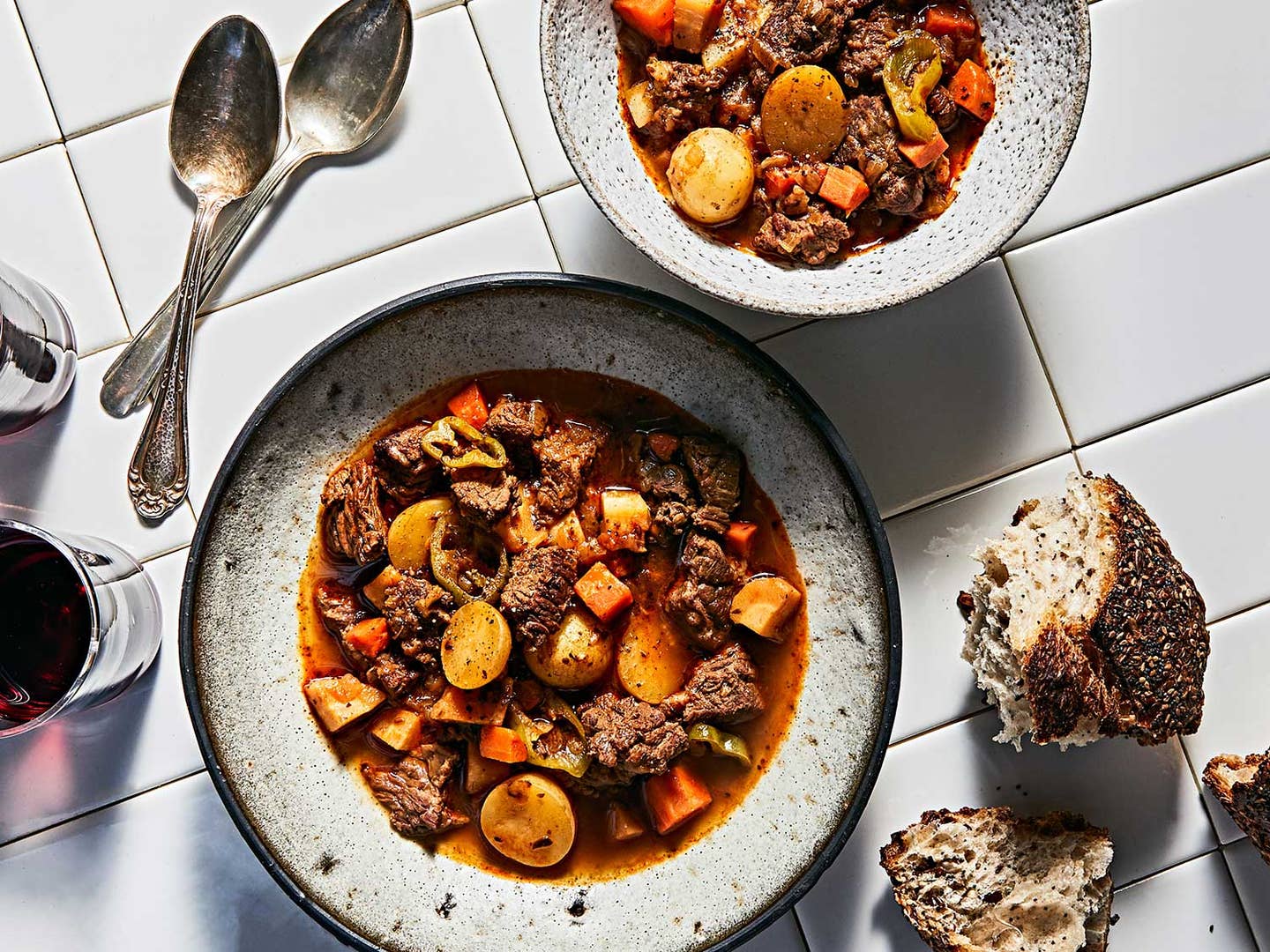 The recipe for this savory soup comes from Katalin Bánfalvi, food writer Carolyn Bánfalvi's mother-in-law, who lives in the village of Bõny in northwestern Hungary. Hungarian sweet paprika confers a singularly deep, rich color and flavor. Serve with rye bread, sour cream, and fresh dill on the side, if desired.
Ingredients
¼ cups vegetable oil
2 medium yellow onions, coarsely chopped
1½ lb. trimmed beef chuck, cut into ½-in. chunks
Kosher salt and freshly ground black pepper
¼ cups Hungarian sweet paprika
2 tsp. caraway seeds
2 tsp. dried marjoram
2 garlic cloves, finely chopped
2 medium carrots, cut into ½-in. chunks
2 medium parsnips, cut into ½-in. chunks
1½ lb. medium new potatoes, peeled and cut into ½-in. chunks
1 medium tomato, coarsely chopped
1 Italian frying pepper, coarsely chopped
Instructions
Step 1
To a large Dutch oven set over medium heat, add the oil and onions and cook, stirring occasionally, until soft and translucent, about 10 minutes. Turn the heat to high, add the beef, and season generously with salt and black pepper. Cook, stirring frequently, until the meat is lightly browned, about 6 minutes. Stir in the paprika, caraway, marjoram, and garlic, and cook until fragrant, about 30 seconds. Add the carrots, parsnips, and 5 cups of water. When the liquid boils, turn the heat to medium-low and cook, covered, until the beef is nearly tender, 40–50 minutes.
Step 2
Uncover the pot, add the potatoes, and cook until tender when pierced with a fork, about 25 minutes. Add the tomato and frying pepper, cook 10 minutes more, and serve.