Recipes
Kofta Chalau (Afghan-Style Meatballs with Saffron, Split Peas, and Sour Plums)
A savory homestyle dish in a rich and golden gravy.
Serves

serves 4

Cook

1 hour 45 minutes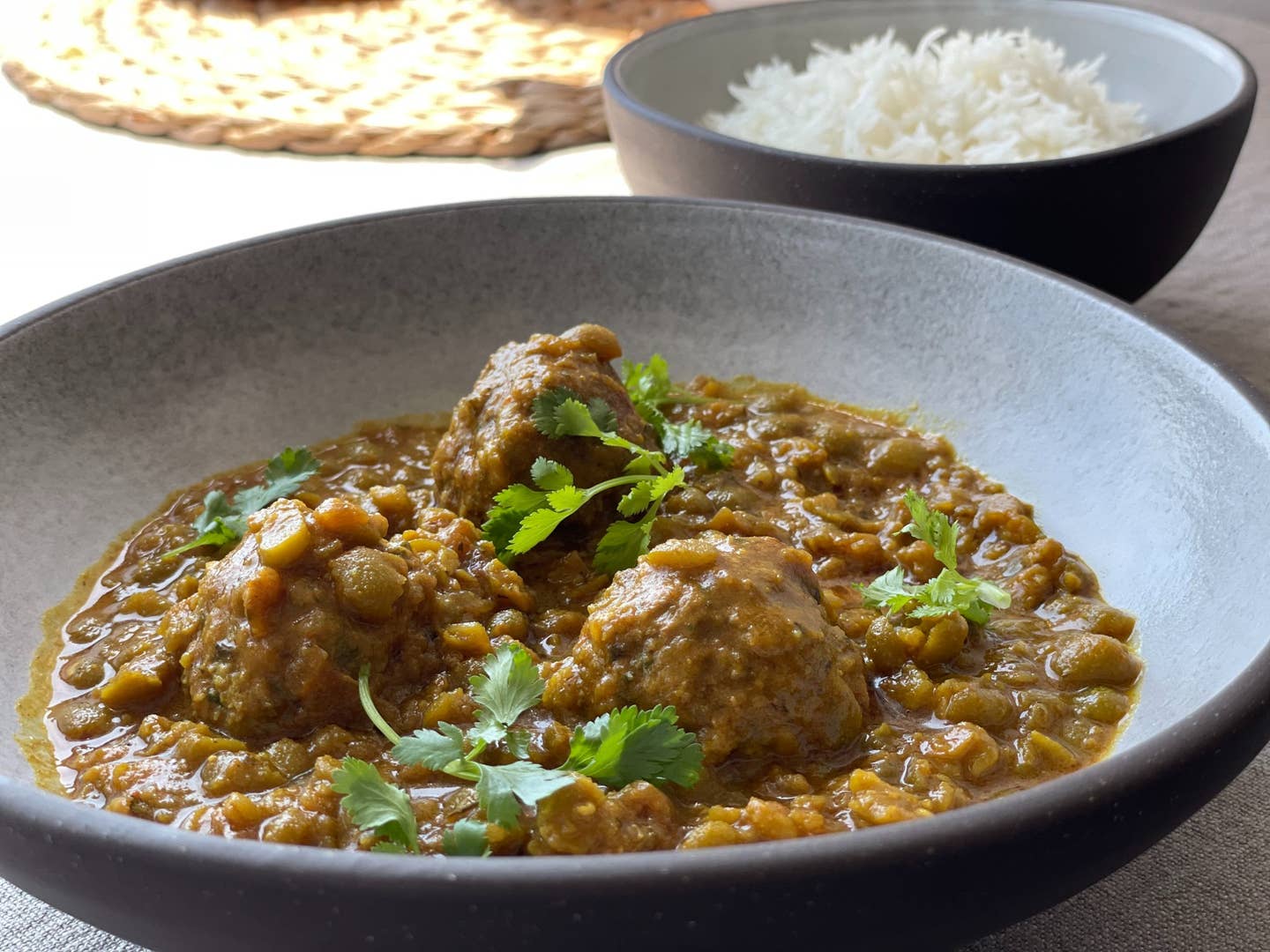 Afghan saffron dealer Tahmina Ghaffer prepares this rich and fragrant stew when she misses her family. She says her mother always adds dried sour plums, which can be found at well-stocked Middle Eastern and Asian markets and spice shops. Saffron intensifies the flavor and aroma of the finished dish, so don't be tempted to omit it. Find Ghaffer's own "super negin" saffron—the highest grade of the spice—online.
Ingredients
For the korma:
1 cup yellow split peas
1 generous pinch of saffron (about 15 threads)
1⁄2 cup vegetable oil
1 large yellow onion, finely chopped (1½ cups)
2 large garlic cloves, finely chopped (1 Tbsp.)
1 tbsp. paprika
1 tbsp. ground turmeric
2 tsp. tomato paste
1 tsp. cayenne pepper
1 tsp. dried mint
1 tsp. kosher salt
1⁄2 tsp. ground coriander
4 dried sour plums
For the kofta:
1 medium yellow onion, coarsely chopped (1¼ cups)
3 large garlic cloves, coarsely chopped (1 Tbsp. plus 1½ tsp.)
1 1⁄2 cups coarsely chopped cilantro
1 lb. ground beef or lamb
1 tbsp. ground coriander
2 tsp. ground turmeric
1 tsp. ground cumin
1 tsp. kosher salt
1⁄2 tsp. freshly ground black pepper
1⁄2 tsp. cayenne pepper
Steamed basmati rice or tahdig, for serving
Instructions
Step 1
Make the korma: In a medium pot over medium-high heat, bring 4 cups of water to a boil; add the split peas and cook until they begin to soften but still have a bit of bite to them, about 20 minutes. Strain, discarding the cooking liquid, and set aside.
Step 2
Meanwhile, to a small bowl, add 2 tablespoons of boiling water and the saffron and set aside to steep.
Step 3
In a large wide pot over medium heat, heat the vegetable oil. Add the onion and cook, stirring occasionally until golden brown, 12–14 minutes. Add the garlic and cook until fragrant, about 1 minute. Add the paprika, turmeric, tomato paste, cayenne, mint, salt and cayenne, and cook while stirring until lightly toasted and aromatic, about 30 seconds. Stir in 2 cups of cool water, bring to a simmer, and cook, stirring occasionally, until the liquid reduces slightly and begins to thicken, 15–20 minutes.
Step 4
Meanwhile, make the kofta: To the bowl of a food processor, add the onion, garlic, and cilantro and blend until finely minced. Transfer to a medium bowl, then add the ground beef, coriander, turmeric, cumin, salt, black pepper and cayenne; using your hands, mix well to combine, then divide and form the mixture into ten 1-inch meatballs. Carefully add the kofta and the sour plums to the korma and cook, stirring occasionally, until the kofta begin to firm up, about 15 minutes. Stir in the reserved split peas and the saffron water and continue cooking until the peas are cooked through but not mushy, about 15 minutes more. Remove from heat and serve hot, over steamed basmati rice or tahdig.