Recipes
Mum's Red Prawn Curry
Tomatoes and tamarind brighten this warming Parsi seafood stew.
Serves

serves 4

Cook

2 hours 15 minutes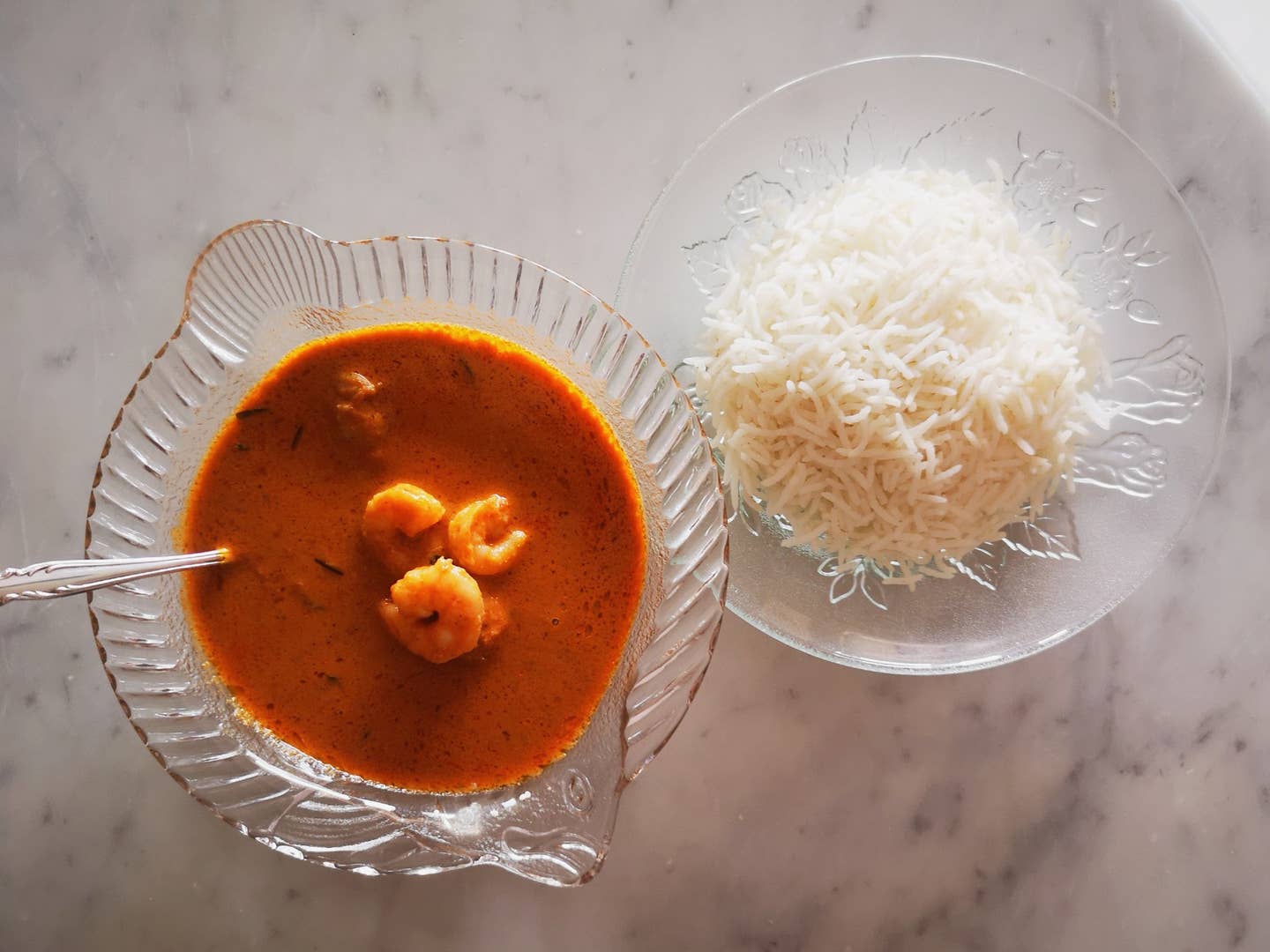 Meher Mirza's mother's burnished Parsi curry is thickened and enriched with poppy seeds and gram flour. The gravy's sourness is coaxed from tomatoes and tamarind rather than the more popular kokum fruit, while cashews, pounded to a paste, add a creaminess that slakes the scald of fresh and dried chiles. This prawn curry is always served with fresh lime and kachumber—a salad of fresh onions, cucumber, and tomato jounced with vinegar and salt and scalpel-sharp green chile.
Ingredients
1 lb. fresh prawns, shell on (15 pieces)
1 tbsp. turmeric powder
1 tbsp. Indian red chile powder
Kosher salt
½ cups plus 1 Tbsp. canola oil, divided
2 tbsp. plus 1½ tsp. coriander seeds
1½ tsp. cumin seeds
1½ tsp. sesame seeds
1 tsp. poppy seeds
½ tsp. fenugreek seeds
1½ cups freshly grated coconut, or substitute frozen, thawed grated coconut
12 almonds, unroasted (¼ cup)
2 large garlic cloves, peeled
1 tbsp. chickpea flour, lightly toasted
2 large plum tomatoes, coarsely grated (1 cup)
2 cups coconut milk
1 tbsp. tamarind pulp, soaked in boiling water till soft, and strained (1 Tbsp. plus 1½ tsp.), divided
2 large red onions, finely minced (3 cups)
4 small curry leaves
2 small green bird's eye chiles, thinly sliced
2 tbsp. coconut cream
15 dried Kashmiri red chiles, seeds removed
Steamed basmati rice, for serving
Lime wedges, for serving
Instructions
Step 1
Remove the head and the shell of the prawns, reserving for a stock. In a medium bowl combine the prawns, turmeric, chile powder and 1 teaspoon of salt. Refrigerate for at least 1 (and up to 24) hours.
Step 2
Meanwhile, make the prawn stock: In a large skillet over medium high heat, add 3 tablespoons of oil. Once hot, add the prawn shells and fry until aromatic and the shells are pink. Transfer to the bowl of a food processor and grind until the shells are broken up. To a medium pot, add the shells and 2 quarts of water and bring to a boil over medium heat. Lower the heat to simmer, skim and discard any foam that has formed along the surface, and cook until concentrated and flavorful, about 1 hour. Set a fine mesh sieve in a large, heatproof bowl, strain the stock; discard the shells.
Step 3
In a small skillet, individually dry roast the coriander, cumin, sesame, poppy seeds and fenugreek, stirring frequently until aromatic, around 2–3 minute each. Transfer each spice to a mortar as you work, and then use a pestle to grind them all together to a fine powder.
Step 4
In a large deep skillet over medium heat, heat 3 tablespoons of oil. Add the prawns and lightly fry them on both sides until they have just turned color and the spices have slightly darkened, 1½ minute on each side. Transfer to a bowl and set aside. In the same skillet, over medium heat, add 3 more tablespoons of oil and the grated coconut. Cook, stirring frequently, until the coconut is fragrant and golden, 3–4 minutes. Transfer to the bowl of a food processor along with the almonds, garlic, and the reserved ground spices and process, adding cool water, a tablespoon at a time (up to a half a cup), to create a fine and creamy paste. Set aside.
Step 5
Return the skillet to medium heat, then add the remaining 3 tablespoons of oil. When hot, add the onions and cook, stirring occasionally, until golden brown, 14–15 minutes. Add the tomatoes and continue cooking until the mixture is evenly dark red, 7–8 minutes. Add the reserved coconut-spice paste, the chickpea flour, and the kashmiri chiles and cook, stirring occasionally until the mixture is oily and very fragrant, about 5 minutes. Add the prawns, then stir in 1½ cup of the reserved prawn stock, the coconut milk, and 1 teaspoon tamarind paste. Add the curry leaves and the green chiles, bring to a simmer, then cover and cook until thickened slightly, 8–9 minutes. Remove from heat, stir in the coconut cream, season to taste with salt, and set aside for a couple of hours or overnight to let the flavours meld. Serve at room temperature with basmati rice and lime wedges for squeezing.