Recipes
Jamaican Sweet Potato Pone
This cozy Caribbean cake is intoxicatingly fragrant with cinnamon, ginger, and coconut.
Serves

12–16

Cook

2 hours 55 minutes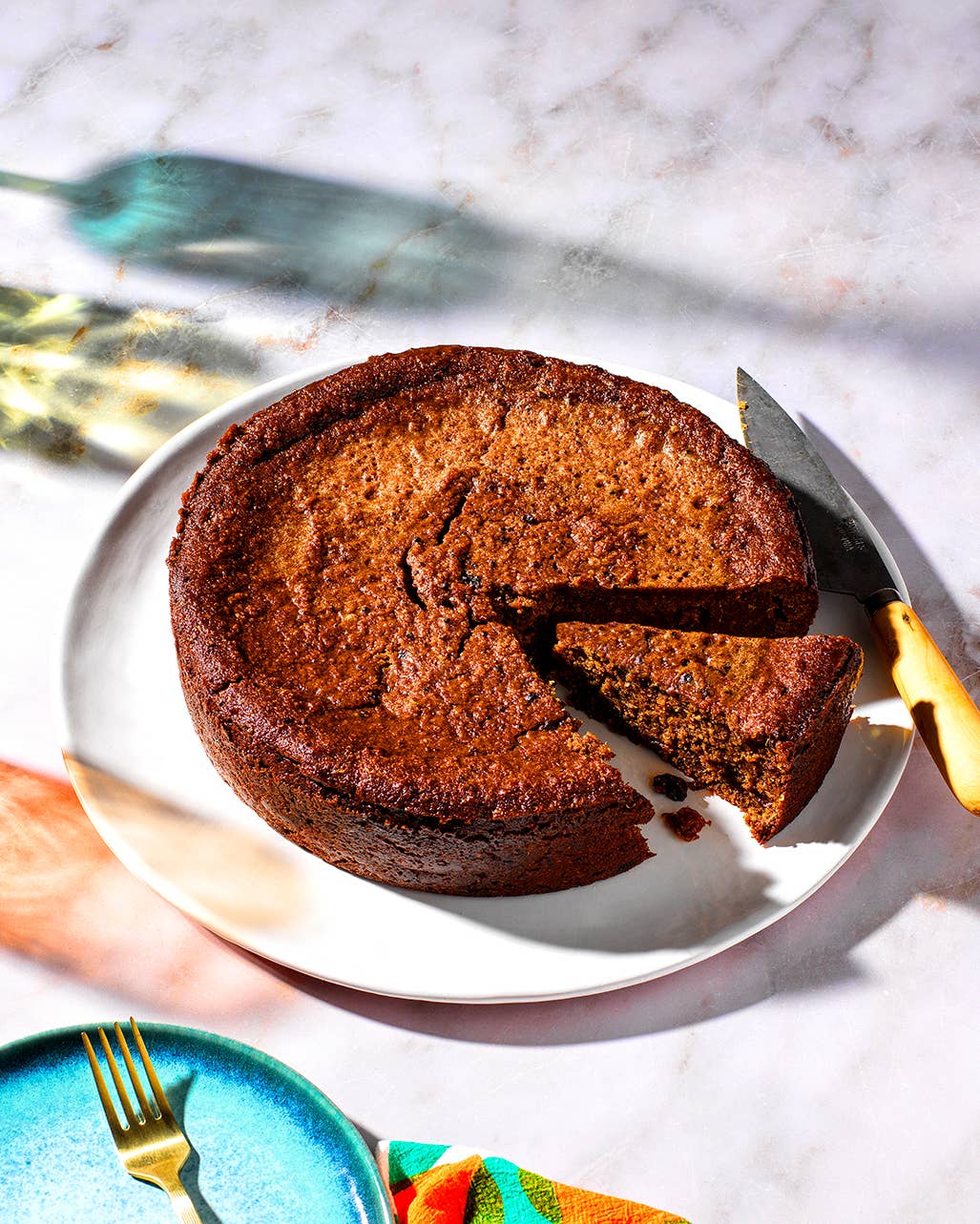 Making Jamaican sweet potato pudding, or "pone," the traditional way is rather involved: It requires hand-grating mountains of tubers—white Asian sweet potatoes and yellow African yams—and making coconut milk from scratch. Then comes the baking, in a Dutch oven buried in the glowing embers of a coal stove, with ash atop the lid for insulation. Due to the cooking method, the dessert is fondly called "hell a top, hell a bottom, and hallelujah in the middle."
But these days, most Jamaicans—myself included—don't have time to make pone the old-fashioned way. Cue: my family's recipe, which mirrors how many Jamaicans make the pudding at home today. We omit the yellow yams, use store-bought coconut milk, and bake it all up in a standard baking tin—and none of the flavor is sacrificed. We also soak the cake in a moreish coconutty custard, which makes every bite a carnival.
The type of sweet potato is crucial here. Seek out the white-fleshed Asian (sometimes called Japanese) variety we use in Jamaica, not the standard orange ones. The latter's high water content results in a sludgy (versus sliceable) pone.
Ingredients
For the pone:
4 Tbsp. unsalted butter, melted, plus more for greasing
1 cup (4.6 oz.) all-purpose flour
2 cups (three 5.4-oz. cans) unsweetened coconut cream
½ cup unsweetened shredded coconut (see footnote)
3 Tbsp. finely grated ginger
3 Tbsp. vanilla extract
2 tsp. ground cinnamon
1 tsp. ground allspice
1 tsp. freshly grated nutmeg
½ tsp. fine salt
1¼ cups (10 oz.) packed dark brown sugar
½ cup raisins
1 cup (5 oz.) fine cornmeal
1½ lb. Japanese white sweet potatoes, peeled and cut into 1-in. chunks
¼ cup blackstrap molasses
For the custard:
½ cup coconut milk
2 Tbsp. packed dark brown sugar
1 Tbsp. (½ oz.) unsalted butter, melted
½ tsp. ground allspice
½ tsp. ground cinnamon
½ tsp. ground ginger
½ tsp. freshly grated nutmeg
½ tsp. vanilla extract
⅛ tsp. fine salt
Instructions
Step 1
Make the pone: Position a rack in the center of the oven and preheat to 350 ̊F. Butter a 9-inch round cake pan, line the bottom with parchment, and set aside. In a small pot, whisk together the coconut cream, dried coconut, ginger, vanilla, cinnamon, allspice, nutmeg, and salt and bring to a simmer. Remove from the heat and set aside. 
Step 2
In a medium bowl, stir together the brown sugar, raisins, cornmeal, and flour and set aside.
Step 3
In a blender or food processor, pulse (do not run continuously) half of the sweet potatoes with half of the coconut cream mixture until nearly smooth but still grainy. Scrape into a large bowl. Repeat with the remaining sweet potatoes and the rest of the coconut mixture.
Step 4
Using a silicone spatula, stir the sugar mixture into the sweet potato mixture until combined. Stir in the molasses and butter. Scrape into the prepared cake pan and bake until deep golden brown and a toothpick inserted in the center comes out clean, about 1 hour 30 minutes. Remove the cake from the oven and turn the heat to 400˚F.  
Step 5
Meanwhile, make the custard: In a bowl, whisk the coconut milk, brown sugar, butter, allspice, cinnamon, ginger, nutmeg, vanilla, and salt until the sugar is dissolved. Pour over the hot cake, then bake until the custard has hardened slightly, about 15 minutes. Cool completely.
Step 6
To serve, run a knife around the edge of the cake, then invert onto a plate.
Note: Use regular shredded coconut, not desiccated/ground or coconut chips.