Recipes
Stir-Fried Tofu Skin and Tomato
Underrated fried tofu skin stands in for eggs in Hannah Che's silky rendition of the classic Chinese dish.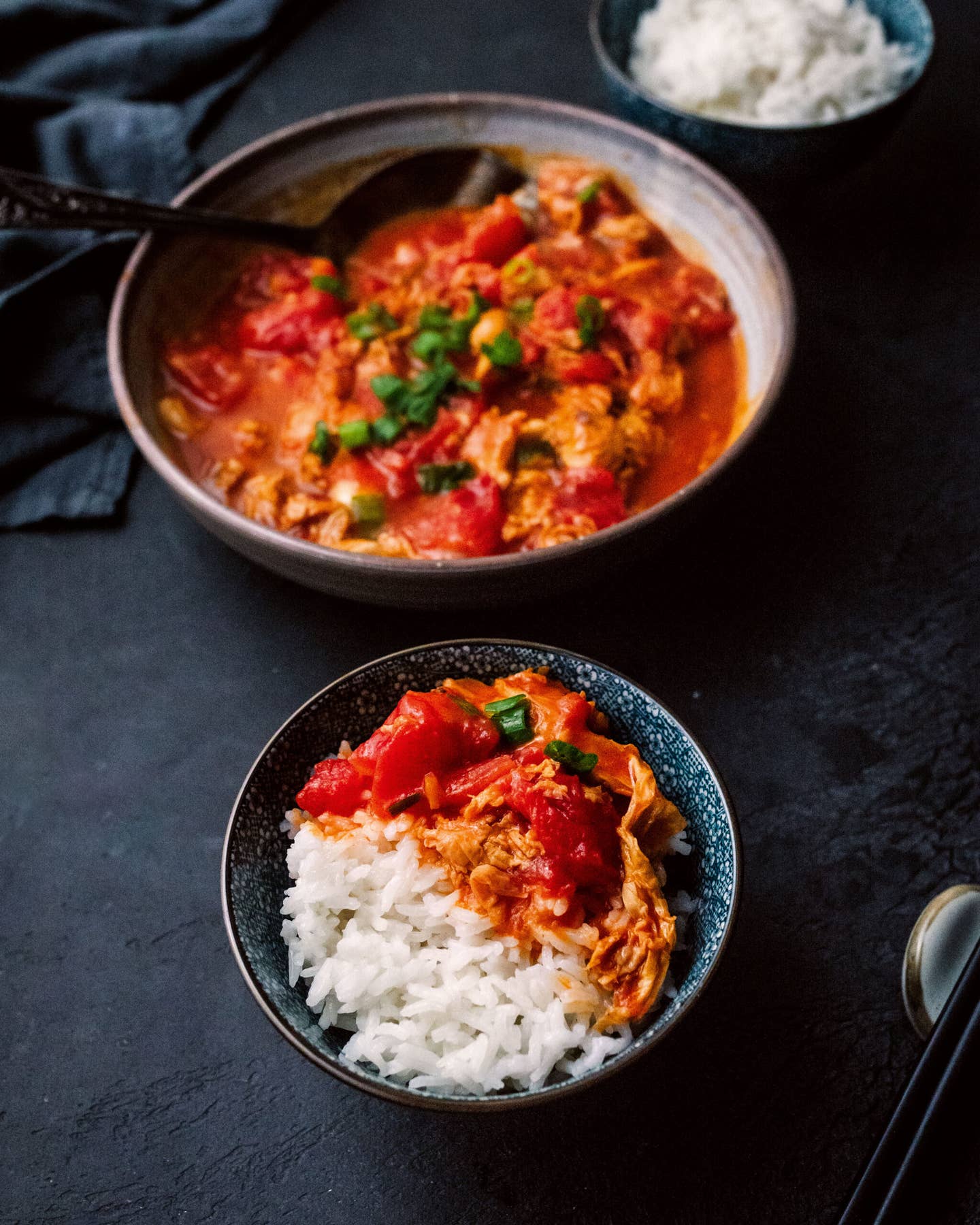 This recipe is brought to you by SAVEUR Cookbook Club, our passionate community of food-loving readers from around the globe celebrating our favorite authors and recipes. Join us as we cook through a new book every two months, and share your food pics and vids on social media with the hashtags #SAVEURCookbookClub and #EatTheWorld.
One of the easiest and most universally beloved Chinese stir-fries is fanqie chao dan—a gentle mixture of jammy tomatoes and rich scrambled eggs which creates a satisfying marriage of sweetness, acidity, and natural umami. After Hannah Che, author of The Vegan Chinese Kitchen, transitioned to a plant-based diet, she thought she'd have to give up the comforting dish forever—that is, until she spotted a vegan version on the menu at a vegetarian restaurant in Suzhou.
Chinese chefs will tell you the secret ingredient for fanqie chao dan is ketchup, which concentrates the tomato flavor in the dish—especially important if your tomatoes aren't completely ripe and sweet. If you prefer a soupier dish add more stock, or leave out the potato starch slurry. Look for fresh or frozen tofu skin in your local Asian supermarket or online (it often comes rolled into a stick shape).
Adapted with permission from The Vegan Chinese Kitchen by Hannah Che © 2022. Photographs by Hannah Che. Published by Clarkson Potter, a division of Penguin Random House, LLC.
Ingredients
1 lb. ripe tomatoes, cored and coarsely chopped
5 oz. fresh or thawed, frozen tofu skin, torn into 3-in. pieces
½ tsp. potato starch (optional)
3 Tbsp. vegetable oil, divided
3 garlic cloves, thinly sliced
1 scallion, thinly sliced, greens and whites separated
½ cup unsalted vegetable or mushroom stock
2 Tbsp. ketchup
2 tsp. sugar
2 tsp. soy sauce
½ tsp. kosher salt, plus more to taste
½ tsp. toasted sesame oil
Instructions
Step 1
In a small bowl, stir together the potato starch and 1 tablespoon of cold water. (Skip this step if you prefer a runnier sauce.)
Step 2
Heat a wok or large skillet over high heat. Add 2 tablespoons of the vegetable oil, swirling to coat the sides of the wok. Add the tofu skin pieces and stir-fry until they puff up slightly and turn golden, about 3 minutes. Transfer to a bowl and set aside. Turn the heat down to medium-high and add the remaining tablespoon of vegetable oil; heat until the oil is shimmering, then add the garlic and scallion whites and stir-fry until  fragrant. Stir in the tomatoes and cook, stirring continuously, until they soften and release their juices, about 1 minute. Stir in the fried tofu skin, stock, ketchup, sugar, soy sauce, and salt. Bring to a boil, turn the heat down to low and cook until about half of the liquid has evaporated, 2–3 minutes. Season to taste with kosher salt, then, if using the potato starch, turn the heat back up to high, whisk the slurry, and cook just until the sauce thickens, about 2 minutes. Remove from the heat, garnish with scallion greens and a drizzle of sesame oil, and serve hot.