Recipes
Yogurt and Chips
This Iranian comfort food creates craveable contrast in textures with creamy yogurt and salty, crunchy potato chips.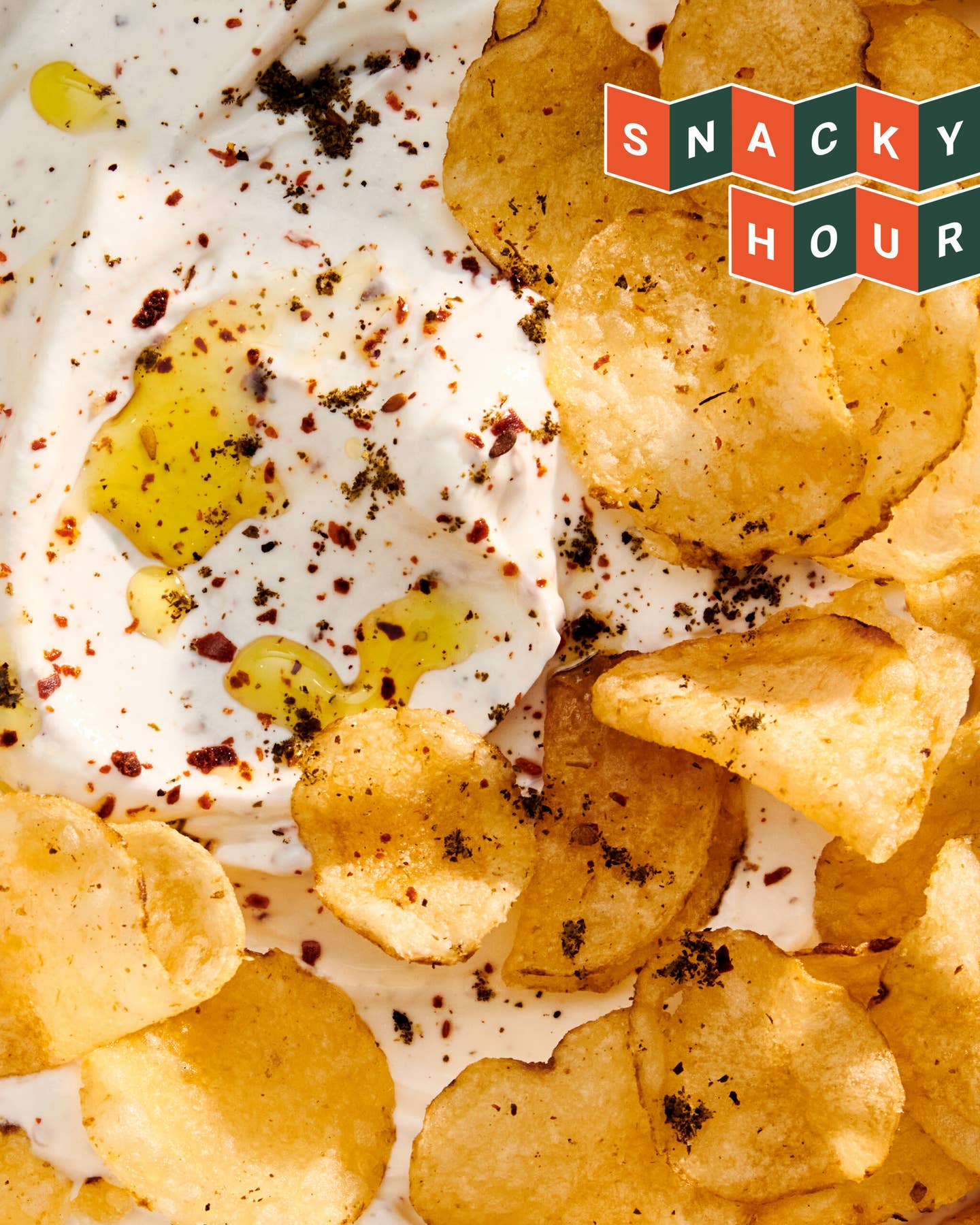 It's always Snacky Hour somewhere, at least according to snack-obsessed SAVEUR senior editor Ellen Fort. Follow along as she discovers the best bites that fall outside the confines of breakfast, lunch, or dinner. Savory, salty, spicy, sweet, sour: everything's fair game during Snacky Hour.
Salty, crunchy potato chips are absolutely drenched with yogurt in this Iranian snack that couldn't be easier to make. Homa Dashtaki, author of Yogurt and Whey: Recipes of an Iranian Immigrant Life and founder of Brooklyn-based yogurt company White Moustache, calls it "indecently delicious," suggesting that it's equally at home served as an appetizer at a dinner party as it is consumed in front of the TV. Dashtaki recommends opting for a plain, unstrained yogurt rather than a thick Greek-style yogurt—to ensure maximum coating on the chips. For this recipe, I took inspiration from Dashtaki's recipe for shankleesh labneh, and added in za'atar, salt, and Aleppo pepper for a little spice. I like to add a splash of good olive oil and another sprinkle of Aleppo at the end for good measure.—Ellen Fort
Ingredients
4 cups plain yogurt
1 8-oz. bag potato chips
2 tsp. kosher salt
1 1/2 tsp. Aleppo pepper powder, plus more to taste
1 tsp. za'atar
Extra virgin olive oil, to taste
Instructions
Step 1
In a medium bowl, stir together the yogurt and Aleppo pepper powder, then stir in the salt and za'atar.
Step 2
To medium bowl, add the chips. Pour the seasoned yogurt over the chips to completely coat them. Drizzle with olive oil and Aleppo pepper to taste. Serve immediately.