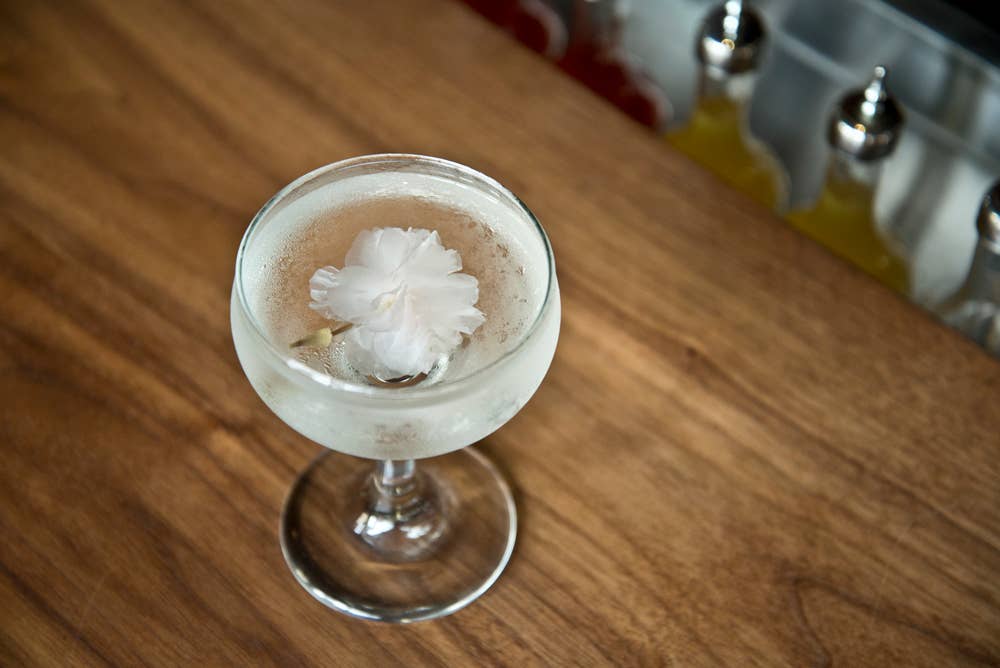 Drinks
The Pour: Cocktail Rehab for the Saketini
In downtown Manhattan, the dopey Asian fusion drink is remade with poetic elegance
If wasabi mashed potatoes—the nineties anachronism that cleaved a sushi-tray condiment to a staple American side—has a liquid equivalent it would be the saketini. The drink married two once raging, now faded trends: Asian fusion cuisine and the bastardization of martinis (remember bright green appletinis and their neon-hued ilk?). Asian fusion food, as has been recounted ad nauseam, reemerged under different, less dated terminology to become one of the contemporary cooking's biggest influences. Asian-inspired cocktails, however, saw no such world-dominating comeback. While chefs in trend-setting restaurants all over the globe were folding miso into butter and teasing out umami depths in broth with dashi, bartenders were mining pre-Prohibition American cocktail books, boosting whiskey, gin, and bitters, not anything out of the Far East kitchen.
As interest in the craft cocktail world expanded beyond classics, Asian ingredients gained a small foothold—a shiso leaf here, a few drops of yuzu there—but nothing like the revival of sherry, mezcal, and shrubs. Today, you can find sake cocktails sparingly at a handful of modern cocktail bars, such as Billy Sunday in Chicago, which offers the William Jack, LTD (nama genshu sake mixed with brandy, alpine liqueur, jackfruit, and lime juice). And they also grace the cocktail lists at the same restaurants that brought back Asian mash-up food, including the standard bearer Momofuku Ssäm Bar, where you can sip on a seven-spice sour (sake, yuzu, lime, and the seven-chile shichimi togarashi) alongside your pork belly buns. Even at Ssäm Bar, though, there is only one Asian-inspired drink on the menu. But at a new drinks den in the Manhattan's Lower East Side, Asian-inflected cocktails are more than a side note and the saketini—under a different, less dated name—is the headliner.
"Asian-themed cocktails, the lychee martinis and so on, are kind of outmoded," says Kenta Goto, the proprietor of Bar Goto. "I wanted to update the idea." Though a native of Tokyo, Goto never lifted a jigger back home, only learning how to bartend when he came to New York City—notably spending seven years at the seminal cocktail lounge, Pegu Club, where he was head bartender. His creative, meticulously balanced drinks at Bar Goto reflect those East and West influences: the milk punch features matcha, and a riff on the bloody mary swaps out worcestershire for miso.
"Most saketinis use whatever sake is available and are shaken with cheap vodka until they're too watered down," says Goto. "No one really put care into them." For his own version of the drink, called the Sakura Martini, Goto uses the Komatsu Tatewaki Junmai Tarusake, which is aged in cedar barrels and lends a hint of woodiness to the drink. He stirs the full, rich sake with Plymouth gin, a softer, gentler style of the spirit, and a salted cherry blossom—replacing the briny martini garnish of an olive with Japan's national flower. To echo the cherry idea, he also mixes in a touch of maraschino liqueur, balancing out the drink with an almost imperceptible sweetness. The Sakura Martini is soft, aromatic, and dangerously, dangerously smooth. "I just wanted to put a little more thought into it," says Goto. Just like a certain generation of chefs diving deep into Japanese cupboard did a number of years ago.