Recipes
Salmon Rillettes
Dorie Greenspan's make-ahead seafood starter.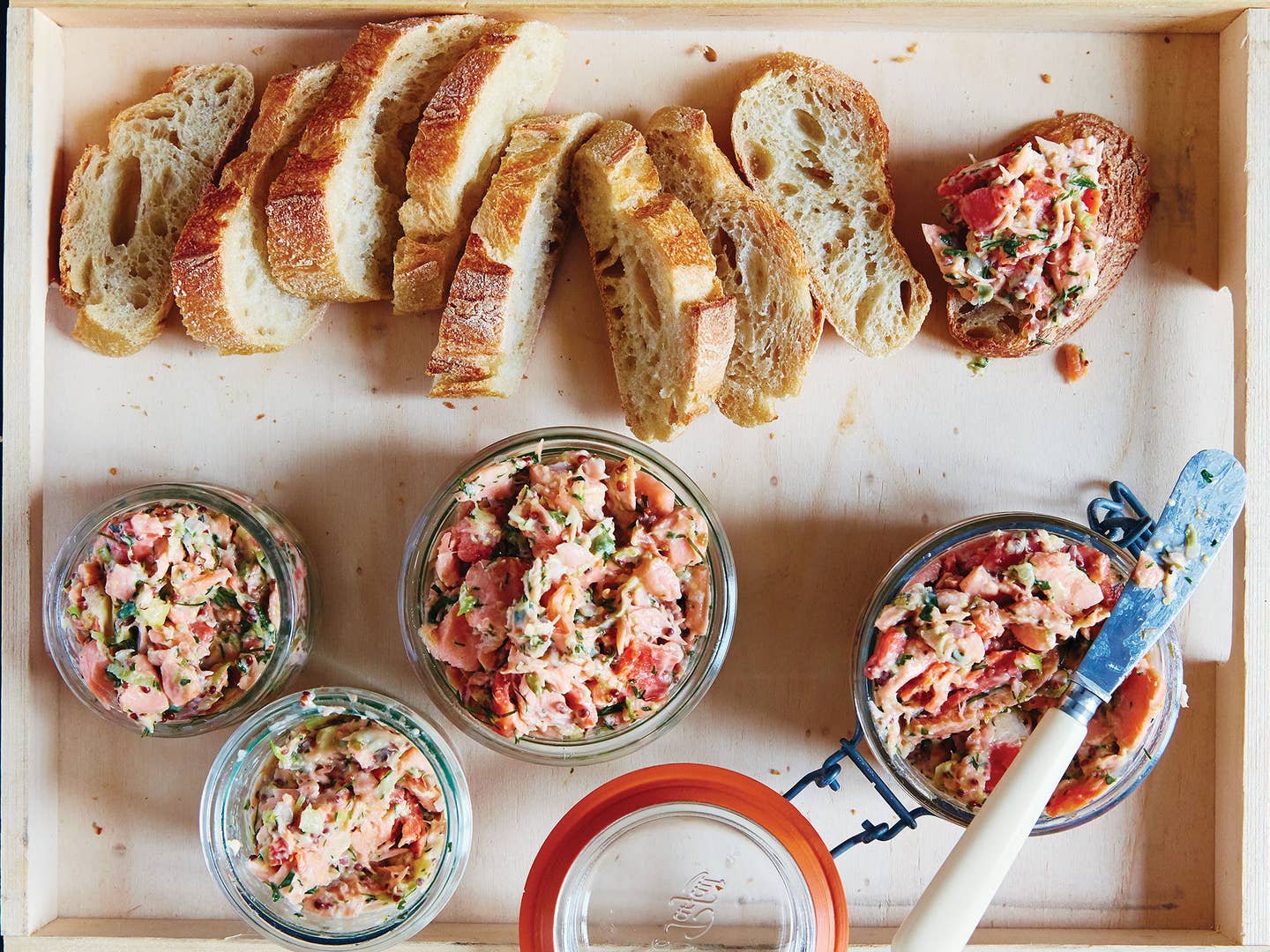 Perfect for a fancy picnic, or as part of a lavish holiday feast, this French spread, from American cookbook author Dorie Greenspan, is made with both poached and smoked salmon for textural contrast. Pack it into jars the night before you plan to serve—the flavors improve with time.
Ingredients
2 scallions, white and light green parts minced (1/4 cup), dark green parts reserved
1 medium lemon, zested
1⁄2 cup dry white wine
Kosher salt
8 oz. salmon fillet (preferably wild Alaskan), skin and bones removed
2 tbsp. unsalted butter, softened
1 small shallot, finely chopped, rinsed, and dried
Freshly ground black pepper
1⁄4 lb. smoked salmon, cut into thin strips or small squares
1⁄4 cups mayonnaise
2 tbsp. grainy Dijon mustard
1 tbsp. capers, rinsed, patted dry, and finely chopped
1⁄2 tsp. honey
2 tbsp. finely chopped fresh dill
1 tbsp. finely chopped cilantro
Crackers or sliced baguette, for serving
Instructions
Step 1
To a medium pot, add the dark scallion parts, a thin slice of the lemon, the wine, ½ cup water, and a pinch of salt; bring to a boil over high heat, then add the salmon fillet, lower the heat to maintain a gentle simmer, cover, and cook for 1 minute. Remove the pan from the heat and set aside (still covered) for 10 minutes. Use a slotted spoon to transfer the salmon to a plate and refrigerate for 20 minutes or up to 24 hours (cover if refrigerating longer than an hour). Discard the cooking liquid.
Step 2
Juice the remaining lemon and set the juice aside. In a medium bowl, beat the butter with a silicone spatula until smooth and spreadable. Add the lemon zest, 1 tablespoon of the lemon juice, the scallions, and shallot, and season lightly with salt and black pepper. Stir to combine, then stir in the smoked salmon. In a small bowl, stir together the mayonnaise, mustard, capers, honey, 1 1⁄2 teaspoons lemon juice, and a pinch of black pepper; add to the smoked salmon mixture and stir well to combine. Remove the cooked salmon from the fridge and cut it into bite-size pieces. Gently stir the cooked salmon into the smoked salmon mixture, keeping the pieces as chunky as possible. Taste and adjust the seasoning with additional salt, pepper, and lemon juice, if needed. Fold in the chopped dill and cilantro, then transfer the rillettes to a serving bowl or jar. Serve immediately, or preferably cover and refrigerate 6 hours or up to 3 days. Serve with sliced baguette or crackers.