The Best Caviar Doesn't Have to Cost the Most, and You Can Order it Right Now
Put away the pearl spoons and relax about roe.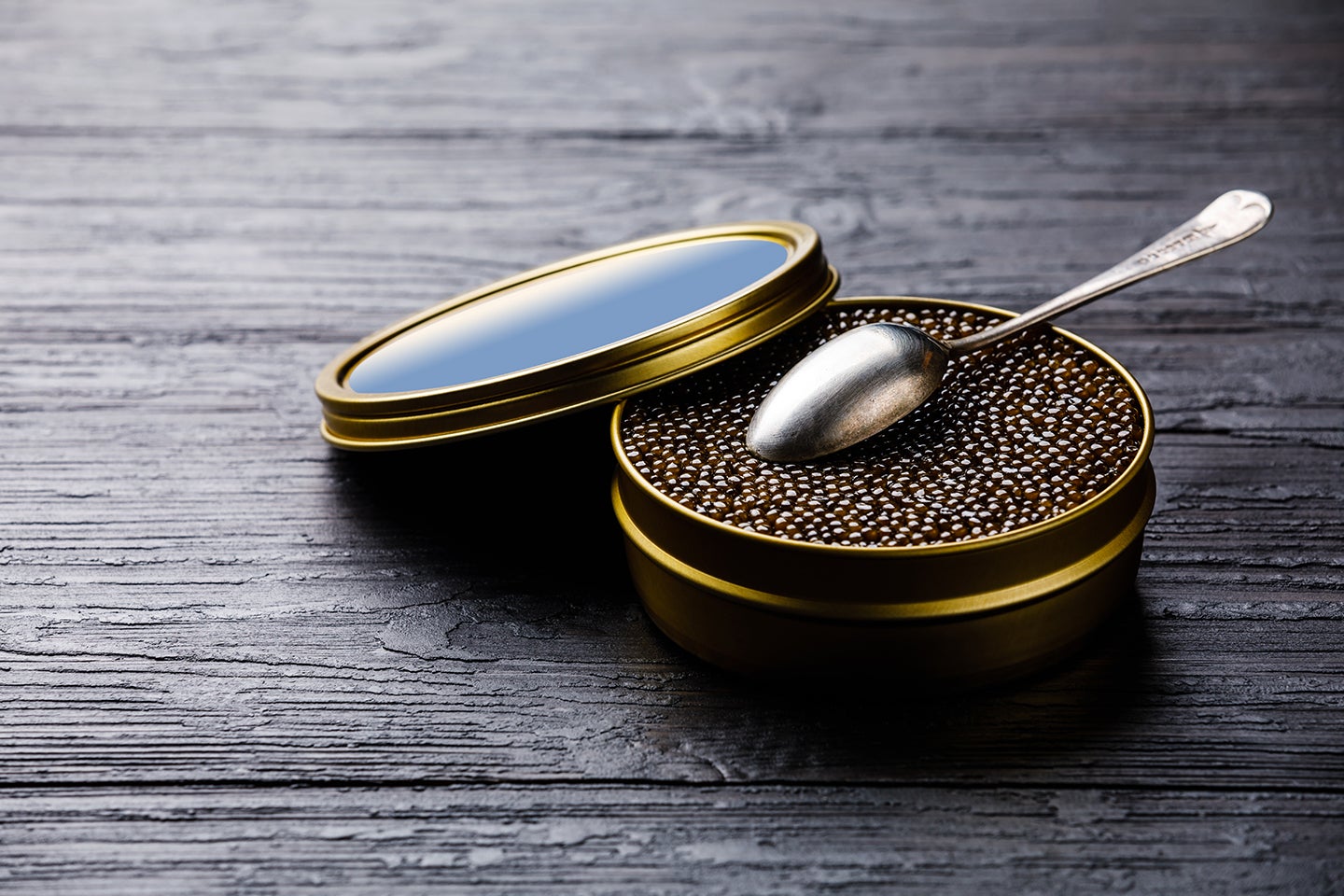 The first taste of caviar for Bonnie Morales, chef and owner of Portland's renowned Kachka and its sibling restaurants, was not from a mother-of-pearl spoon or presented tableside. It was served to her at home as a child, spread on buttered white toast by her Belarusian immigrant parents. "It's so nutrient dense, much like chicken eggs, but even more so, and full of really healthy fats," she explains. "So as a result, it's often considered to be a food for children." And, before you ask, she's not trying to convince anyone to go broke feeding tins of fish eggs to toddlers. It's instead about showing how normalized the salty snack is among Russians. "Anytime you want to show hospitality, there is caviar on the table," she says.
Americans tend to put caviar on a pedestal because of its cost, and Morales notes that when she started serving it at Kachka, people weren't enjoying the wonderful texture and intense flavors as intended due to that reverence. And that's a shame, laments Morales. "You're kind of cheating yourself when you're worried about every little bead."
Writer Seung Hee Lee, like Morales, prefers a casual approach to caviar. Lee trained in royal Korean court cuisine before moving to the United States, where she translated her traditional cooking with local ingredients and tools in her book Everyday Korean. While she calls herself a caviar purist in some sense—she likes to drink champagne with hers and first tasted it in fine-dining settings—she fell in love with it when she realized, "if we just eat it at home, it's cheaper."
Restaurant servings don't add much more than presentation, and it costs significantly more in that context. Instead, have one tin (or a few) in your price range delivered at home, and give yourself the space to really enjoy it. Lee rejects the idea that caviar should be eaten in certain ways or with specific foods, and encourages anyone to just dig in and experiment. "Whatever needs crushed sea salt," she says, "you can put caviar on it." But if you're looking to figure out exactly which kind you should put where, we've put together a list of our six favorites. 
Features to Keep in Mind
Types of Caviar
There's a reason caviar tends to be pricey: Sturgeon are huge animals with long lifespans, and it can take years or even decades for them to mature to the point that they lay eggs. The processing phase is similarly drawn out; the roe must be harvested and washed, sieved, and then salted and packaged. And while caviar is traditionally made from the roe of Caspian sturgeon, certain types of that fish—particularly the massive Beluga—are critically endangered. Overfishing has threatened the continued health of the species, and so the term "caviar" is now more broadly applied to salted and preserved eggs from related fish farmed elsewhere around the world. 
The finest-quality caviar is said to come from fish caught or raised in the coldest of waters, from late fall to early spring, but purveyor Alexandre Petrossian—who sources the roe for his family's eponymous shop from China, Bulgaria, Israel, Uruguay, Madagascar, and the United States—believes that there's much to be gained from a global approach. "Every territory has brought something new to our understanding of caviar," he explains. "One day we might return to farming in the Caspian Sea, but the circumstances would have to be much different than they are today."
The "big three" sturgeon varieties are the traditional Caspian types—Sevruga, Osetra, and Beluga—which sustainable caviar producers strive to replicate.
Sevruga, the smallest and most plentiful of the species, weigh between 50 and 75 pounds, are about three feet long, and mature in seven years, producing small, gray, subtly flavored, creamy eggs.
Osetra, the second largest sturgeon, weigh 150 to 300 pounds, grow four to six feet long, mature in 12 to 15 years, and produce medium-size, gray-brown to nearly golden, peppery eggs. One fish in 100 will deliver large, dark gold eggs—the pricey imperial osetra.
Beluga, the largest and rarest of the species, can weigh up to 3,000 pounds, grow to 12 feet in length, and live for up to 50 years. Beluga eggs are unavailable in the U.S., though some farms have created hybrid Beluga breeds in order to approximate the breed's coveted large, gray eggs, which have a very delicate skin and clear flavor. Since Beluga imports are banned, and Sevruga are pretty hard to come by, Osetra is the most commonly seen of these. 
But there are many more types of caviar you're likely to see—and eat—more of in the U.S. these days.
Siberian, these smallish, approximately 150-pound sturgeon tend to mature early, meaning they produce a lot of eggs and fish, making them ideal for aquaculture. The small, dark, glossy eggs are among the most affordable types of caviar, and the smaller, softer beads carry strong flavors of the sea.
Kaluga, the giant freshwater sturgeon, is nearly extinct in the wild, but the farmed version produces caviar with excellent texture. The firm, mid-sized bead ranges in color, but nearly always has the coveted "pop," along with complex briny and buttery flavors. 
White, California's native species, is now farmed around the U.S. and represents much of the domestic caviar scene. The creamy eggs are small, delicate, and on the dark side, and have a bold flavor that stays consistent throughout the bite.
Farmed vs. Wild Caviar
The reality is that you are unlikely to find wild caviar. Though there are people who still covet the traditional version, the long lifespan of sturgeon and declining populations makes it an unsustainable or unaffordable option for anyone involved, diner or producer. An interesting thing about this, notes Morales, is that it has led sturgeon farmers to breed for what they think customers want to see—features like bigger eggs, lighter colors, and taut beads—but that doesn't necessarily result in the best taste.
Pressed and Pasteurized Caviar
While the caviars here are all cured fresh, other styles are available. Pressed caviar takes the broken and burst eggs and (naturally) presses it into a kind of jammy spread. Pasteurized caviar treats the eggs with a bit of heat, making them shelf stable, but they lose a little of the vaunted "pop" texture and fresh flavor. 
Our Top Picks
Eye-catching, complex, and buttery, this sustainably-farmed caviar from the Netherlands delivers on all the best parts of eating caviar. The strikingly large, green-gold and light black beads pop satisfyingly in the mouth, giving way to a silky, well-structured texture that unleashes a rich brininess on the tongue. Packaged without preservatives or additives, it maintains the desired complexity and evolution of flavors without hitting the upper echelon of caviar prices. 
Paying more for caviar won't always deliver a better product, and paying less doesn't automatically mean you'll like it less, which means that you can find great caviar for under $100 per ounce. While there are caviar options for the strict budget, like hackleback, and cheaper Siberian sturgeon options, this Osietra Supreme walks the line between high-end taste and reasonable price. Farmed in Poland, the firm, medium-sized beads carry a pleasant minerality and muted saltiness. 
Aside from producing these two excellent, reasonably-priced caviars, Pearl Street deserves special mention for taking sustainability seriously, even through shipping. Tins arrive in soft packaging, insulated with wool as a compostable alternative to styrofoam, and chilled by biodegradable ice packs.
On top of that, their prices are reasonable by the ounce—$77 for the Ossetra and $100 for the Keluga, both of which held their own in tastings against similar styles. Pearl Street offers both in 12-gram serving sizes ($31 and $44, respectively), giving newbies a chance to try it before shelling out the big bucks. Even better, their Pearl Duo buys both of those for just $72, plus fancy accessories: a tin opener, mother-of-pearl spoon in a little pouch, and a snack pack, which includes their surprisingly good crème fraîche, potato chips, and chives. It has basically everything you need for a little private caviar tasting. 
With Beluga imports banned, many sturgeon farmers and caviar producers aim to get as close as they can to the coveted wild flavor of its eggs. This Beluga-Siberian hybrid farmed in Italy shows off the big pearls for which Beluga is known, but with the dark inkiness of Siberian. Its beads taste of deep umami flavor that evolves into a caramel finish, complemented by that signature texture and complexity. 
Island Creek, famous for its oysters, also puts the same rigorous seafood sourcing standards into its caviar, and particularly its North Carolina osetra. While imported caviars can use sodium tetraborate to help with preservation, it's not permitted in U.S. food production. Morales sees this as a plus, as it tends to round out the edges and sweeten caviar, leading to blandness. "If it tastes like nothing and it smells like nothing,"  she says, "It's probably because it's hiding something."
Island Creek's osetra stands out for its small, firm texture, big brininess, and roller coaster of flavors in every bite—just the thing that sodium tetraborate can hinder. It's a rollicking caviar with good pop that shows off sea saltiness without overwhelming its subtler, almost fruity notes.
Another standout American caviar from one of Morales' favorite producers, Tsar Nicoulai has been sustainably farming white sturgeon not far from its natural habitat in California for almost four decades. The Select shows off medium beads with a gentle pop and miso-like complexity, which comes through prominently thanks to low saltiness or "malossol," meaning little salt. This light hand preserves the eggs themselves and their natural flavor.
Ask the Experts
How should I store caviar?
As cold as possible in the refrigerator, says Morales. She recommends avoiding the door, which can be warmer. Lee suggests putting an ice pack in a Pyrex or similar container, then putting the caviar on top to keep it very cold. Before you break into them, most jars or tins will last a few months. But once they're opened, quality will start to decline, so have plans to eat it pretty quickly.
What's the best way to serve caviar?
Morales often sees people in scarcity mode, eating just a few beads at a time, but she recommends making sure to have enough for a full mouthful, and to try eating it straight off the back of your hand. This helps warm the caviar to just the right temperature and allows you to really taste it on its own. At Kachka's happy hour, she serves it spread on challah with butter, which she prefers to the traditional crème fraîche topping, since the acid of the latter cuts, rather than enhances, the richness.
Lee likes a traditional approach, with blini and crème fraîche or on oysters, but also puts it in chawanmushi, on scallion pancakes, or even in a tortilla smeared with cream cheese. "The highbrow-lowbrow combo is where my heart is at," she says. 
Morales also adds that it's less about what you serve it with and more about how. People focus on crushed ice, she says, and it's one of her pet peeves. The cold dulls the taste, so she recommends pulling it out a few minutes before eating and letting it come to room temperature.
Which drinks should I serve with caviar?
As noted above, Lee always drinks champagne with hers, particularly leaning toward blends or an option with high acid, which she likes to balance the saltiness. Her suggestions include the Pol Roger Sir Winston Churchill, Krug, and bottles from Frederic Savart. She also recommends super-cold, premium Korean soju, which is similar to one of Morales' choice drinks for caviar, sake. But Morales's favorite is vodka. "It's super neutral and cleansing, so it helps you really taste the caviar."
Every product is independently selected and vetted by editors. Things you buy through our links may earn us a commission.