Shopping & Reviews
Always Have a Warm Meal Ready with the 5 Best Slow Cookers
Bonus: You can even use them to sous vide.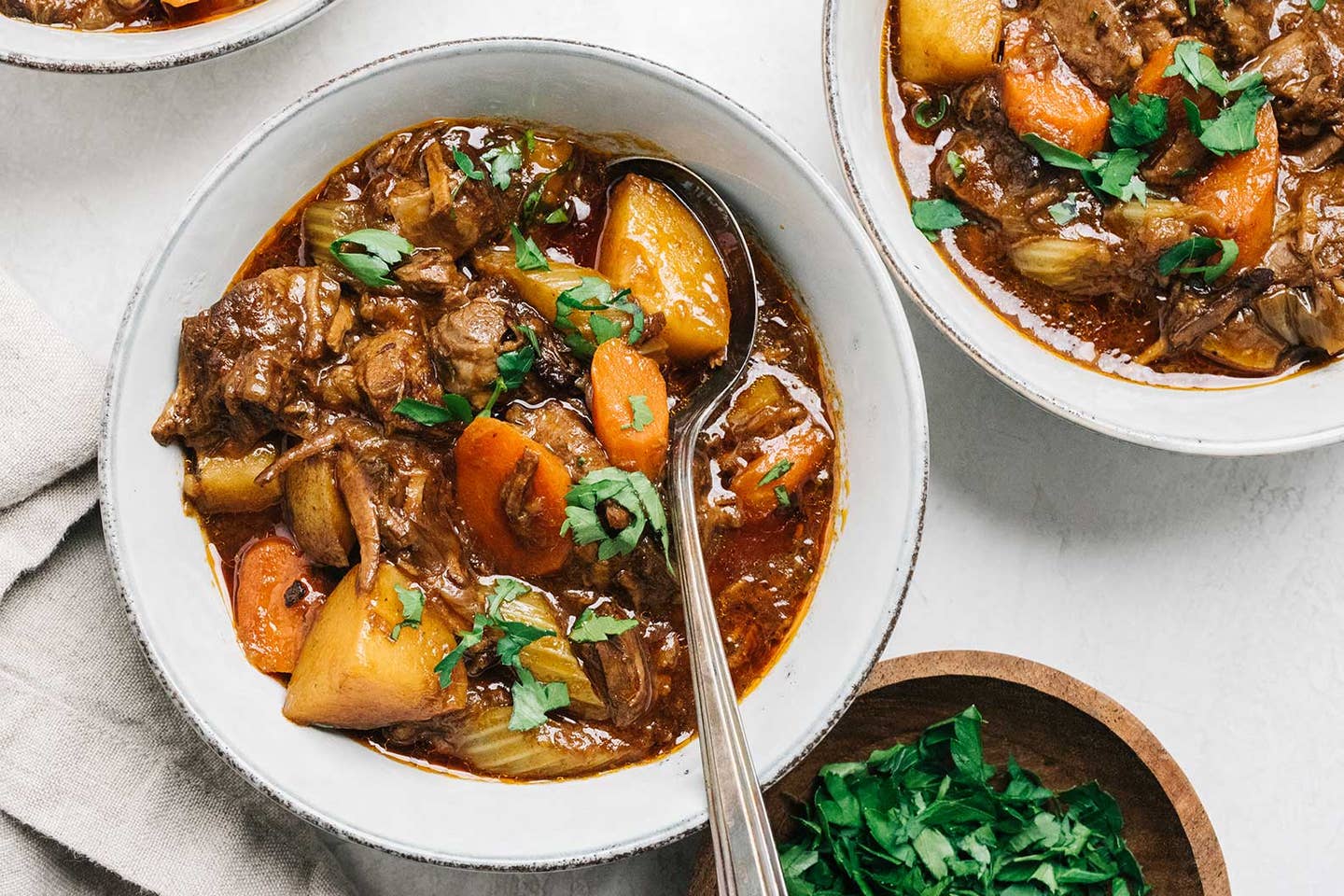 The dropping temperatures and crisp air make it clear: Slow cooker season is officially upon us. The beloved appliance is a countertop staple in cold weather, making all our favorite comfort meals like hearty pork sauerkraut and stew or decadent French onion soup with maximum flavor and minimal fuss. Slow cookers operate similarly to a Dutch oven, relying on electric coils instead of a stovetop to conduct even heat for low-and-slow cooking. 
"I love the tender texture and rich flavor that comes from dishes cooked low and slow," says food writer Marisel Salazar, a self-proclaimed slow cooker fanatic. "Plus, from a dollar and cents viewpoint, slow cookers use less electricity than an oven—something I am mindful of as a single person living in New York City." 
But not all slow cookers are created equal. The market is saturated with models promising efficiency and versatility. How can you narrow these choices down to the contraption that works best for your kitchen and needs? We researched the options and consulted Salazar to round up five of the best slow cooker contenders on the market, each a worthwhile investment in a different culinary category. Check out the final list below, as well as the features and specifications you should look for before making a purchase. 
Low and slow was the original goal of slow cooking. While it's still essential, advances in technology have made nearly every slow cooker into a multi-functional device. Sure, you can still tenderize a hefty pork shoulder, but you can also explore quicker techniques like roasting brisket, sous vide, and even baking moist chocolate cake. 
Other than size and capability, a slow cooker's shape, heating process, and materials are what vary (and matter!) most. "An oval shape means it can hold large cuts of meat better and naturally contour to their shape in order to increase circulation and even cooking," says Salazar. "A circular shape is great for 'shapeless' dishes like stews and porridge. I personally go for an oval since it can accommodate both, but if you are tight on counter or cabinet space and don't really cook large proteins, the circular shape is probably best for you."
Heat source is another important distinction. When it comes to heating sources, "Slow cookers may be heated from the base, bottom-up, or around the sides, too," says Salazar. "Ideally, you would go for a slow cooker where the heat goes up the side of the base. That way you won't have to stir as frequently and it prevents scorching."
Lastly, be sure to check your machine's materials. "Generally, the best slow cookers come with either ceramic or porcelain inserts that are easily removable to hand-wash after each use," explains Salazar. "Most also have a glass lid so you can check out what's going on inside without having to remove it. Doing this lets precious steam escape, which we need for cooking!" 
Are you looking to slow cook a hulking roast or just a simple soup? Are you feeding yourself or an entire family? These are the questions you'll want to keep in mind before investing your hard-earned money in a device that will last you for literal decades. Slow cookers are particularly wonderful because they can cook in bulk, providing you and your family an abundance of leftovers that taste better each day after the next. But if you cook solo or have limited counter space, smaller models might be more appropriate. A six-quart model should suffice for larger families while three to four quarts will work for an individual.
Some slow cookers can even connect to your smartphone to be programmed and controlled from outside of your home. But how important is a digital control panel versus something a bit more old school? It's entirely up to personal preference and budget (newer tech = higher price tag).
Best Overall
The Instant Pot can slow cook, pressure cook, sauté, cook rice, make yogurt, warm food, sous vide, and even sterilize itself. Frankly, there isn't much the beloved Instant Pot can't do, which is why it is, perhaps, the most practical option if you're hoping to save space and appliances. Its reasonable price tag and one-year warranty have sparked consistently positive reviews from home cooks around the world, making it top our list and many other "best of" lists year after year. 
Best Value
If you're looking for a slow cooker with most of Instant Pot's bells and whistles but a smaller price tag, this Black+Decker model is for you. Complete with a temperature probe for meats (which Instant Pot doesn't have!), as well as a sous vide function, you'll be enjoying many of our Best Overall's luxuries for nearly half the price. The only downside is that it does not have pressure or rice cooking capabilities, so if time is of the essence or rice is a mealtime staple, this is probably not the best option for you. 
Best for Small Spaces
At only 1.5 quarts, the Elite Gourmet model is as adorable as it is useful. It's a no-frills, one-knob adjustable heat setup, but it gets the job done by either keeping your food warm or cooking it on low or high heat over an extended period of time. This makes it the best option for solo cooks or those with limited kitchen space who simply want to prepare slow cooker basics like soups, chilis, and stews. Its 9-inch diameter also makes it easy to store on a shelf when not in use, or leave out on the countertop while still leaving room for a cutting board. 
Best in Versatility
If you somehow want a slow cooker that does even more than the Instant Pot, consider the Ninja's Foodi. It has all the same features plus a dehydrator, broiler, and basket tray to keep larger cuts of protein like whole chickens secure and intact, no matter how much its meat wants to fall off the bone. Sure, the price makes this device more on the luxe side (and the reason why it didn't get top honors), but you get what you pay for. At 8 quarts, it's also one of the largest slow cookers on this list, making it a great option for tailgaters or anyone who enjoys feeding a crowd. But buyer beware—this one's quite bulky! 
Best in Dependability
We'd be remiss to not include the O.G. slow cooker: The Crock-Pot. It's the model that started it all, with a name synonymous with the words "slow cooker," but it's also received a few upgrades since launching in 1940. This heavy-duty model has an airtight lid to really discourage you from opening it and a detailed digital control system. Unlike other slow cookers where you have to keep a somewhat close eye on time and temperature, you can simply press buttons like "steam, beans/chili, boil," and even "dessert" and the Crock-Pot will know exactly how long to heat your ingredients and at what heat level—an upgrade to its original one-knob model. 
Q: What foods cannot be cooked in slow cookers?
"Adding straight dairy or cheese to a slow cooker can cause them to curdle," says Salazar. "It can be fine in cases where it is an ingredient mixed into a dish, but be careful." She also prefers to cook grains like rice or couscous in a designated pot or rice cooker to keep the texture uniform. "As far as veggies go, slow cookers are great for sturdy vegetables like root vegetables but terrible for softer, more delicate ones," she adds. "And in terms of proteins, do not cook seafood in a slow cooker. Seafood generally cooks rather quickly. A slow cooker will make it rubbery."
Q: Do I have to put water in the bottom of a slow cooker? 
Only if your recipe calls for it! "Adding water to the base alone can actually damage your machine if it gets between the dish and the heating unit since a slow cooker is heated by coils hidden in its core and not by hot water," says Salazar.
Q: What's the difference between "high" and "low" settings?
"According to Crock-Pot, three to four hours on high is seven to eight hours on low. So what's the difference between high and low? It's the amount of time it takes to reach the simmer point," says Salazar. "Once that temperature is hit, the slow cooker itself stabilizes at that temperature which allows for the ingredients to be cooked. So why wouldn't everyone want their food to cook more quickly? Timing or your schedule for one thing. Maybe you won't get back to your dish in four hours, but will be back in eight."
Either way, keeping your slow cooker on "low" or "warm" for extended periods of time should not overcook your food.