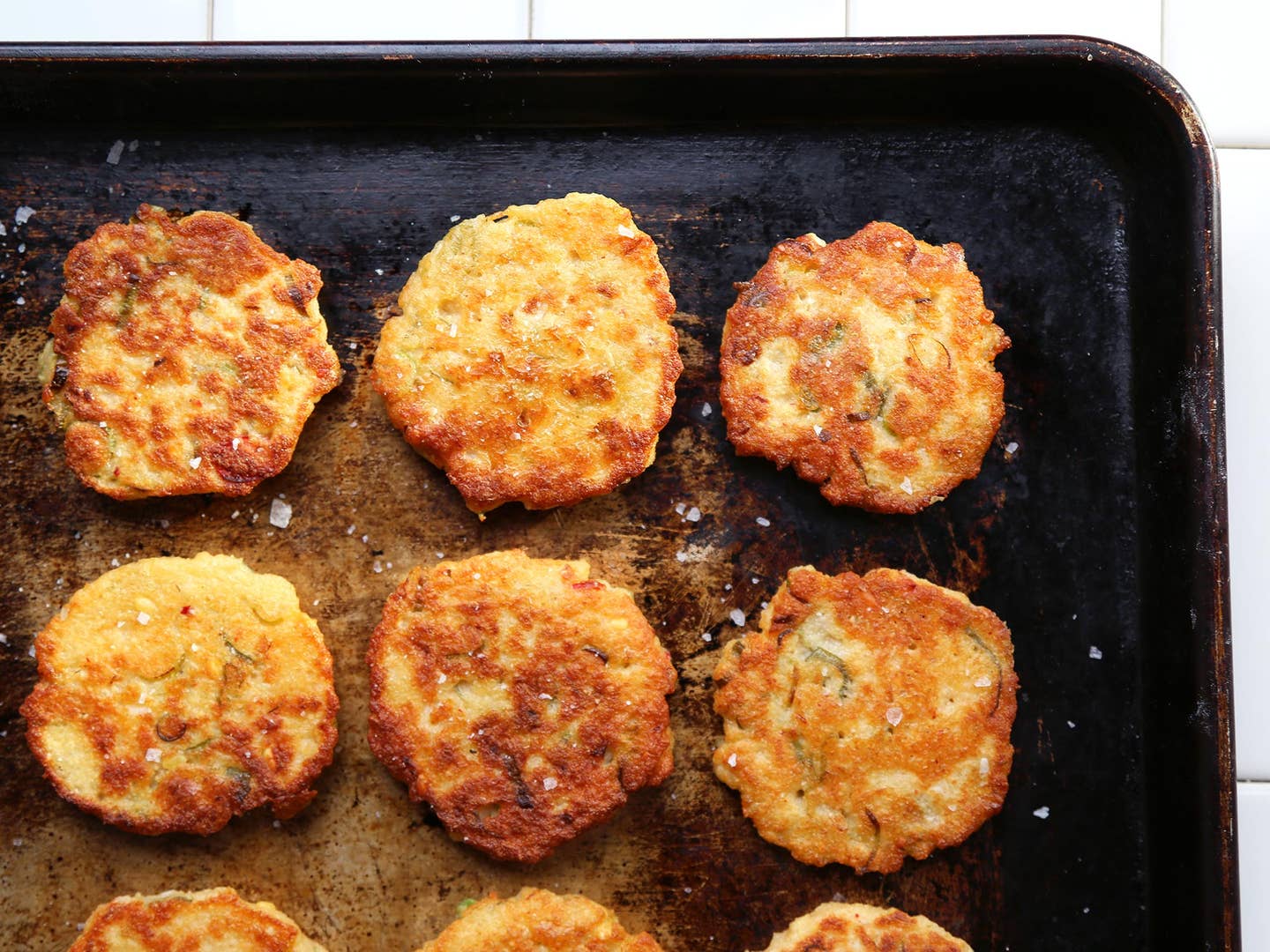 Recipes
We Can't Stop Making These Fermented Savory Pancakes
Whip up a big batch of batter and you have a week's worth of meals
When chef Sohui Kim of The Good Fork in Brooklyn stopped by the SAVEUR Test Kitchen to celebrate the launch of her new cookbook, we didn't expect these little savory pancakes to win our hearts as much as they did. She gussied up her fermented mung bean batter with caramelized onion and added toppings of shiso leaves and trout roe to make them extraordinary. A little nutty, a little twangy, crisp outside and chewy within—we love these things.
I've made the pancakes several times since then, leaving out the party favors, and can say with authority that they are good even in their most pared-down form. They're versatile: They fit right in next to other dressed-up party snacks, but they also make a low-effort and highly satisfying meal for any time of day.
The recipe is flexible, and the batter couldn't be easier to put together. If you like extra funkiness, add more kimchi. If you're not crazy about spice, cut down on the peppers. If you want these to be vegan, use a vegetarian kimchi. The batter can be used right away, but if you let it hang out in your fridge it'll ferment and develop more flavor and good-for-your-gut bacteria. I've let the batter sit for up to a week, and have only had progressively better pancakes. Make a batch, keep it in the fridge, and you've got yourself a kind of insurance policy for great meals all weak.
Since falling in love with this recipe, I've thought about more ways to enjoy these. I want a stack of them topped with a fried egg; or straight-up with a pile of well-dressed greens on the side; or with some grated zucchini folded into the batter; or mixed together with slivered scallions, scallops, and shrimp for a spin on Korean jeon.
And there's no reason to keep these cute and small and dainty. Want a giant one? Go for it. Top them with whatever you like.