Recipes
Spaghetti with Anchovies, Olives, and Capers (Spaghetti e Acciughe)
Serves

serves 4-6

Cook

20 minutes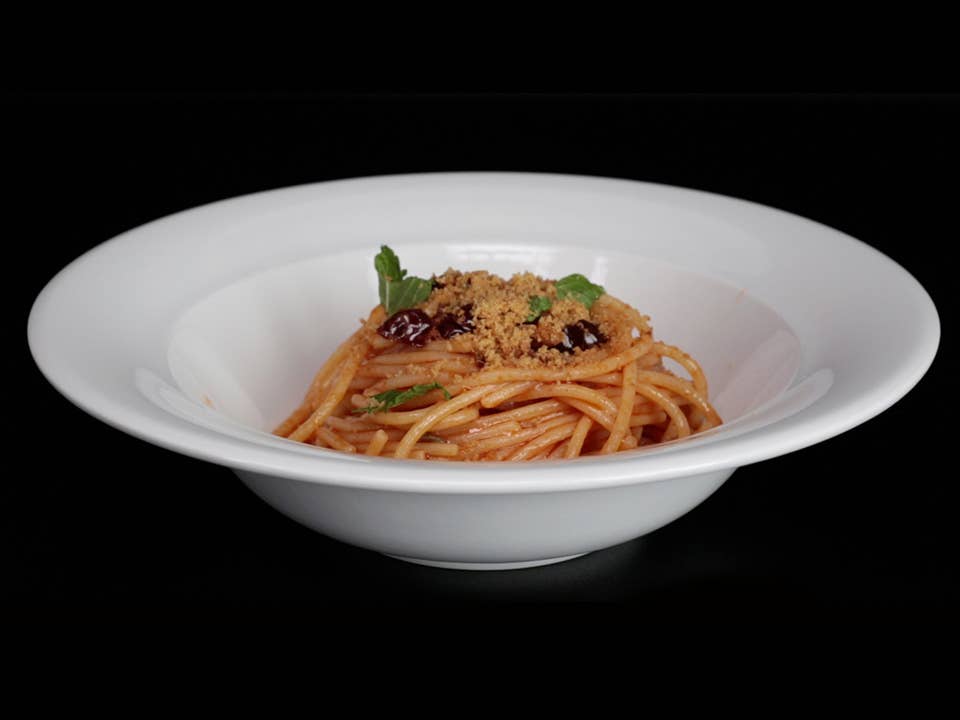 A quick and simple dish, with a crunchy note and a savory one. The great innovation of this dish is the mint and the orange zest.
Ingredients
14 oz. Garofalo Spaghetti
1 1⁄2 oz. Extra Virgin Olive Oil
1 1⁄2 oz. Breadcrumbs (large)
12 Italian Olives
4 Anchovies in oil
1 Garlic Clove
4 1⁄2 oz. Tomato Sauce
2 tbsp. White Wine Vinegar
1 small sprigs Rosemary
8-10 Mint leaves
Orange Zest to taste
Salt
Instructions
Step 1
Put plenty of water in a large pot and bring to a boil. While the water is getting hot, pit the olives on a cutting board and then press them with the blade of the knife. Once you've removed the pits, cut the olives into pieces, without chopping them too small. Chop the capers and anchovies finely, and crush the garlic with the blade of the knife. Put salt in the water and when it is boiling, cook the pasta for approximately 9 minutes.
Step 2
While the pasta is cooking, put the pan on the stove with a drizzle of olive oil, garlic, capers and olives. Heat it up and pour in the white wine vinegar. Let the vinegar evaporate and then add the tomato sauce. Cook for 4 minutes, then remove the garlic and take the pan off the burner.
Step 3
In a different non-stick pan heat a drizzle of olive oil and add the rosemary and the anchovies. When the anchovies have melted, add the bread crumbs and let everything toast for 3 minutes.
Step 4
Take the pan with the bread crumbs off the stove and put the pan with the tomato sauce back and strain the pasta into it. Mix it together and if necessary add some of the pasta cooking water. Turn off the heat and add mint, mincing it with your fingers.
Step 5
Serve in pasta bowls, adding a tablespoon of the flavored breadcrumbs, as well as some orange zest grated directly onto the pasta.
[bonnier-video='a:3:{s:4:"code";s:32:"QwY2lqdzoJfRpvPh-6ONHaNHYyLiDP7T";s:6:"player";s:32:"464f719a18194b6a837cec58873eb216";s:7:"options";a:8:{s:5:"adset";s:0:"";s:9:"container";s:32:"464f719a18194b6a837cHaNHYyLiDP7T";s:5:"width";s:4:"1280";s:6:"height";s:3:"720";s:8:"autoplay";s:5:"false";s:4:"loop";s:5:"false";s:4:"mute";s:5:"false";s:9:"title_bar";a:3:{s:4:"show";s:5:"title";s:10:"background";s:7:"#000000";s:4:"font";s:7:"#ffffff";}}}']