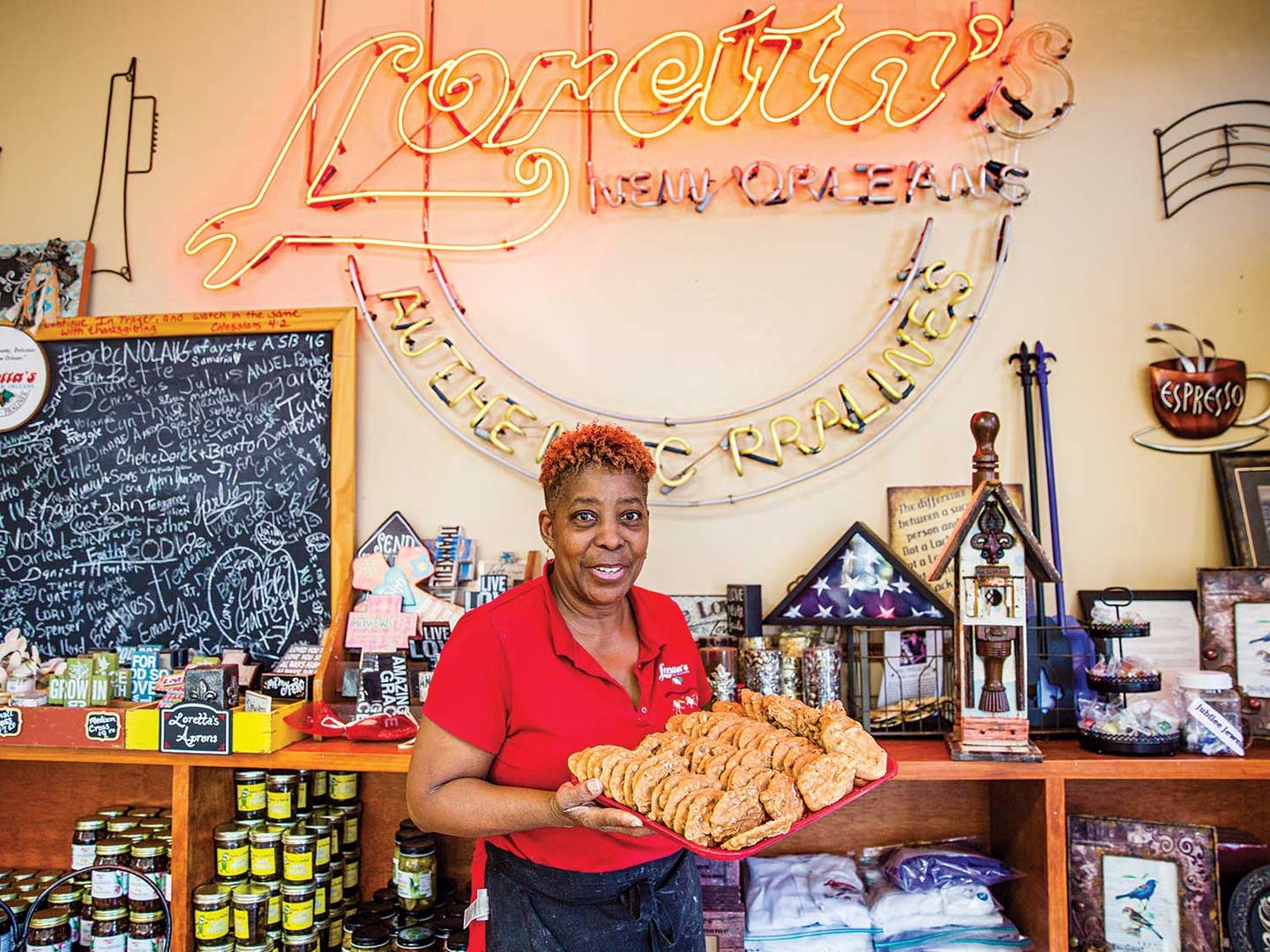 Recipes
Pralines: How They Cook 'Em in New Orleans
The 18th century treats have become Big Easy icons. Here's how to get them right.
Thirty-five years ago, when Loretta Harrison opened Loretta's Authentic Pralines in New Orleans' old Jax Brewery building, she became the first African-American woman to own and operate a praline company in the Crescent City—a distinction she characterizes as relative. "While mine may have been the first brick-and-mortar store here," Harrison says, "many other entrepreneurial black women preceded me."
Indeed, free women of color have been selling pralines in the French Quarter since before the Civil War. The history is, of course, complicated. Though street-­vending granted these early "pralinières" a means to support themselves, it also required a certain degree of subservient posturing. In Gumbo Ya-Ya, a book of Louisiana folklore published in 1945, the authors noted that "the delicious Creole confections…have been vended by ­Negresses of the 'Mammy' type." This kind of racist ­iconography would persist, with at least one local praline brand employing such shameful imagery into this century.
Like so much of New Orleans' signature cuisine, the praline has its origins in France, or more specifically, in the kitchen of 18th-century diplomat César, duc de ­Choiseul, comte du Plessis-Praslin, whose chef is said to have invented the eponymous sweet to help his employer woo women. During the late 1720s, Ursuline nuns imported this French version—an almond coated in caramelized sugar—to the Louisiana Territory, where slaves in the colonists' kitchens were likely responsible for adding butter, cream, and the region's native pecan to make the recipe what it is today.
Harrison was 8 years old when she made her first praline. "My mother taught all of her daughters to cook," she recalls. "The pralines were something I was drawn to early." After graduating from college, Harrison kept honing her skills, occasionally hawking the candies to earn extra money. Then, in 1978, the New Orleans Jazz and Heritage Festival put out the call for a praline vendor. She won the contract, sold 1,500 pralines in two weekends, and continues to supply Jazz Fest to this day, in addition to overseeing two retail outlets—one in the Quarter's French Market, the other in the Faubourg Marigny district.
Harrison steadfastly refuses to divulge the particulars of her family's recipe, but she's happy to dole out general advice. "Watch the pot like you would watch a baby. You cannot walk away, or the sugar may start to burn." She can tell, just by looking, the moment her pralines are ready to come off the heat. "I've made, literally, millions of them," Harrison explains. For those of us with less experience, she recommends a candy thermometer. The mixture must reach the soft-ball stage, approximately 235° F, to yield the ideal New Orleans melt-in-your-mouth consistency.
One final warning: "Don't cook more than you're able to pour," Harrison urges, or the sugar will harden in the pot. Even right before Jazz Fest, this pro won't attempt more than 300 pralines in a single batch. Along with close attention, patience is required to get the final product just right. "A lot of people say it's too much work, but I love it. Pralines are our history, the history of this city. I was going to be a lawyer before going into business for myself. My son just graduated from law school, so I definitely got the sweeter deal in the end."
Editor-at-large Catherine Tillman Whalen, who splits her time between New Orleans and Baltimore, served as Saveur's assistant editor and then associate editor from 1996 to 1999.