Recipes
New Orleans-Style Pralines
Serves

makes 30

Cook

35 minutes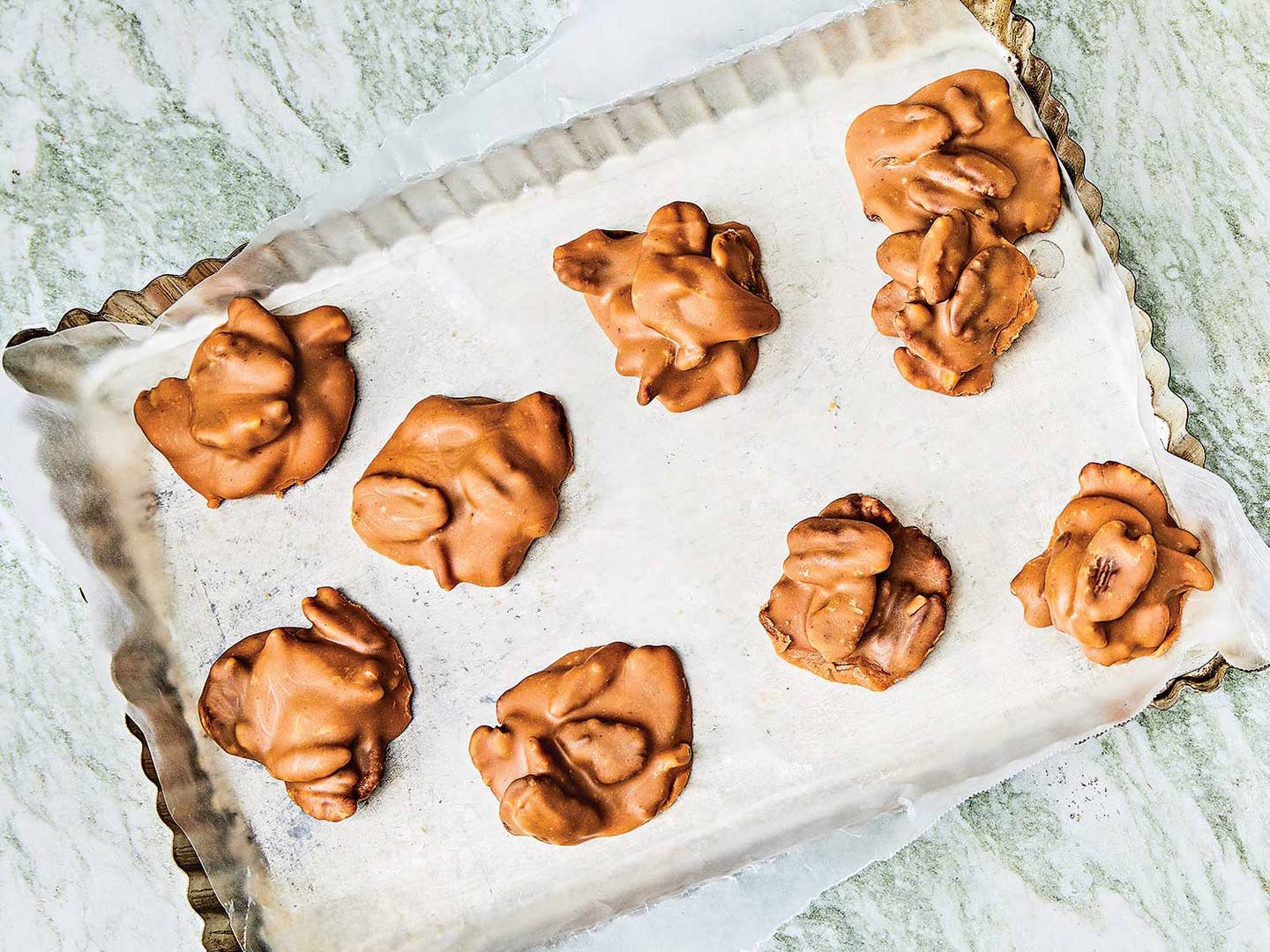 This combination of white sugar, half-and-half, and butter makes a ­classic creamy praline. Measure all of your ingredients ahead of time; the process moves quickly.
Ingredients
2½ cups sugar, divided
1 cup half-and-half
1 Tbsp. unsalted butter
Pinch of kosher salt
2 cups pecan halves
1⁄4 vanilla extract
Instructions
Step 1
Line two large baking sheets with wax paper and set aside. In a large skillet over medium heat, add 2 cups sugar, the half-and-half, butter, and salt; bring to a boil, stirring occasionally to combine.
Step 2
Meanwhile, in a medium stainless-steel pot, add the remaining ½ cup sugar and 1 tablespoon water. Stir well, then bring to a boil over high heat. Cook without stirring until the sugar mixture turns a deep, golden caramel, about 2 minutes.
Step 3
Working quickly and carefully, turn off the stove and pour all of the half-and-half mixture, as well as the pecans and vanilla extract, into the pot of caramel. Using a wooden spoon, stir vigorously to combine, then return to medium-high heat.
Step 4
Attach a candy thermometer to the pot and continue cooking, stirring occasionally, until the mixture reaches the soft-ball stage ( 235°F), 5–7 minutes. Remove from heat and remove the thermometer.
Step 5
Stir continuously until the mixture thickens and turns glossy (7–9 minutes). Use a large spoon to scoop rounded tablespoons of the mixture onto the baking sheets, leaving at least 1 inch between each praline. Cool completely before serving at room temperature.