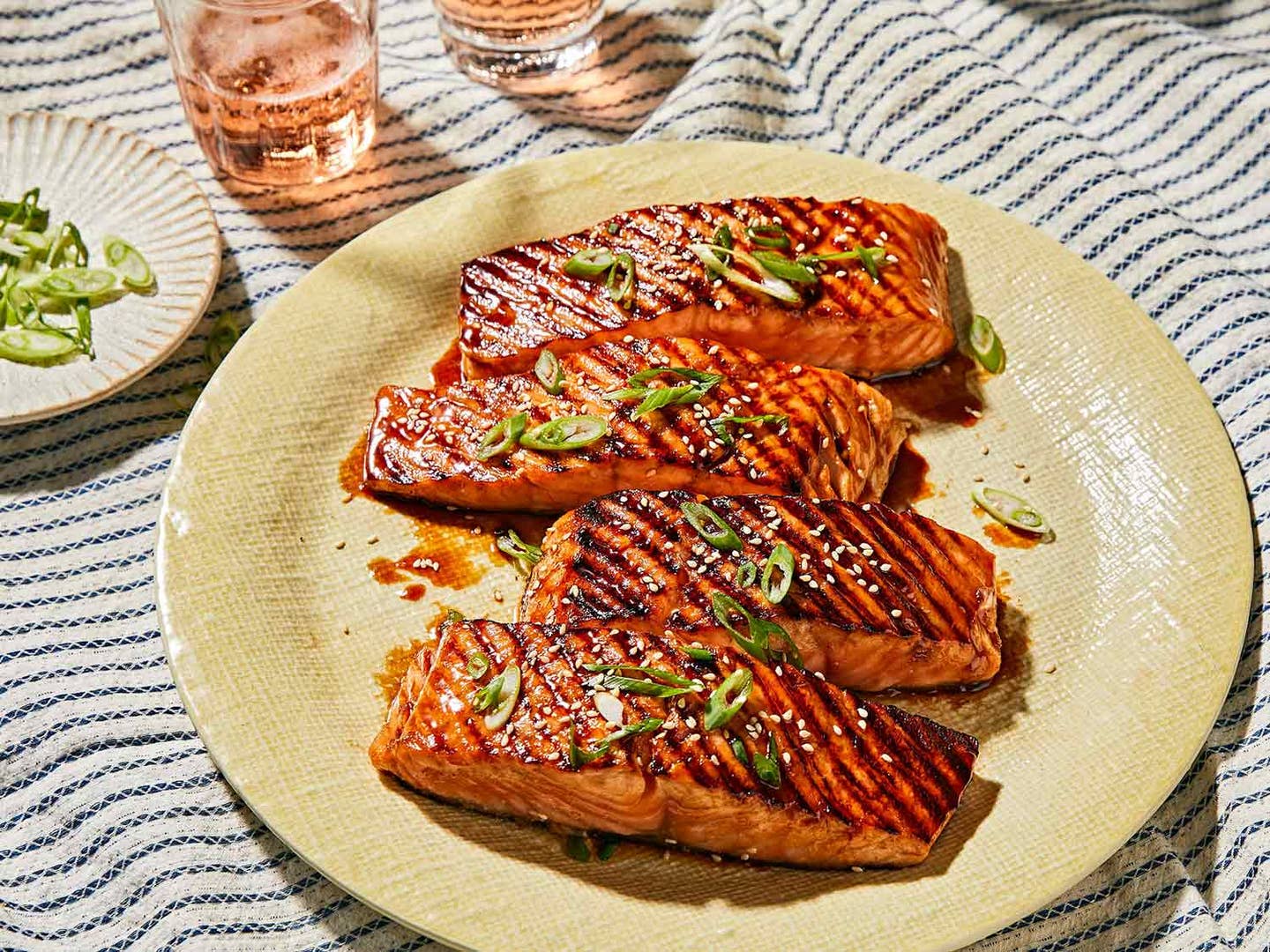 Recipes
Salmon Teriyaki Gets Back To Its Roots
In Japan, "teriyaki" is not a sauce.
Teriyaki "sauce" is a regular fixture on the American grocery store condiment aisle. Nestled among the hoisin, soy, and oyster sauce offerings, and often touted as a marinade, the stuff is typically very sweet, frequently thickened with starch. While respectable bottled versions do exist, news flash: In Japan, teriyaki is not a sauce at all.
"Teri" translates as glaze or luster, "yaki" means to roast or grill. The word originally referred to a cooking method that involved coating fish or meat with soy sauce and sake or mirin, and then roasting the protein over an open flame. Teriyaki's roots reach all the way back to Japan's Edo period in the 17th century, when fish and small birds were prepared this way, as were eels, over hot coals.
The 1949 Japanese Cookbook, part of a series published by Japan's Travel Bureau to introduce Westerners to the country's culture, features several such recipes. Most call for only soy sauce and mirin, with the occasional addition of sake and a bit of sugar. The book's author, Aya Kagawa, notes that "the special point of this way of cooking is the harmony of the taste of meat and the flavorings." While the soy seasons the protein, the sugars in the mirin and sake caramelize over the heat. Adds Kagawa, "An oven may be used, but for fish, broiling over a charcoal fire is better."
So what of that sweeter brown concoction so common in the United States today? This may have originated with Japanese immigrants in Hawaii, who added pineapple juice to the soy-and-mirin mix. As Japanese food became more popularized throughout North America in the 1960s, this sugary blend eventually adopted the name teriyaki—a misnomer which took on a life of its own. Today, Western markets are stocked with bottled products labeled as such, containing not only starch and lots of sugar, but also a range of flavorings not necessarily on the roster of traditional Japanese seasonings, such as garlic. While these variations have plenty of worthy applications (who can argue when a gooey, garlicky version of the sauce meets with a chicken wing?), the original Japanese take on teriyaki is far more subtle and refined. Like the centuries-old method, our salmon teriyaki recipe requires only a handful of ingredients and a good fire.