Recipes
Salmon Teriyaki
The classic four-ingredient marinade for this easy, weeknight fish dish doubles as a glossy, salty-sweet glaze.
Serves

serves 4

Cook

4 hours 30 minutes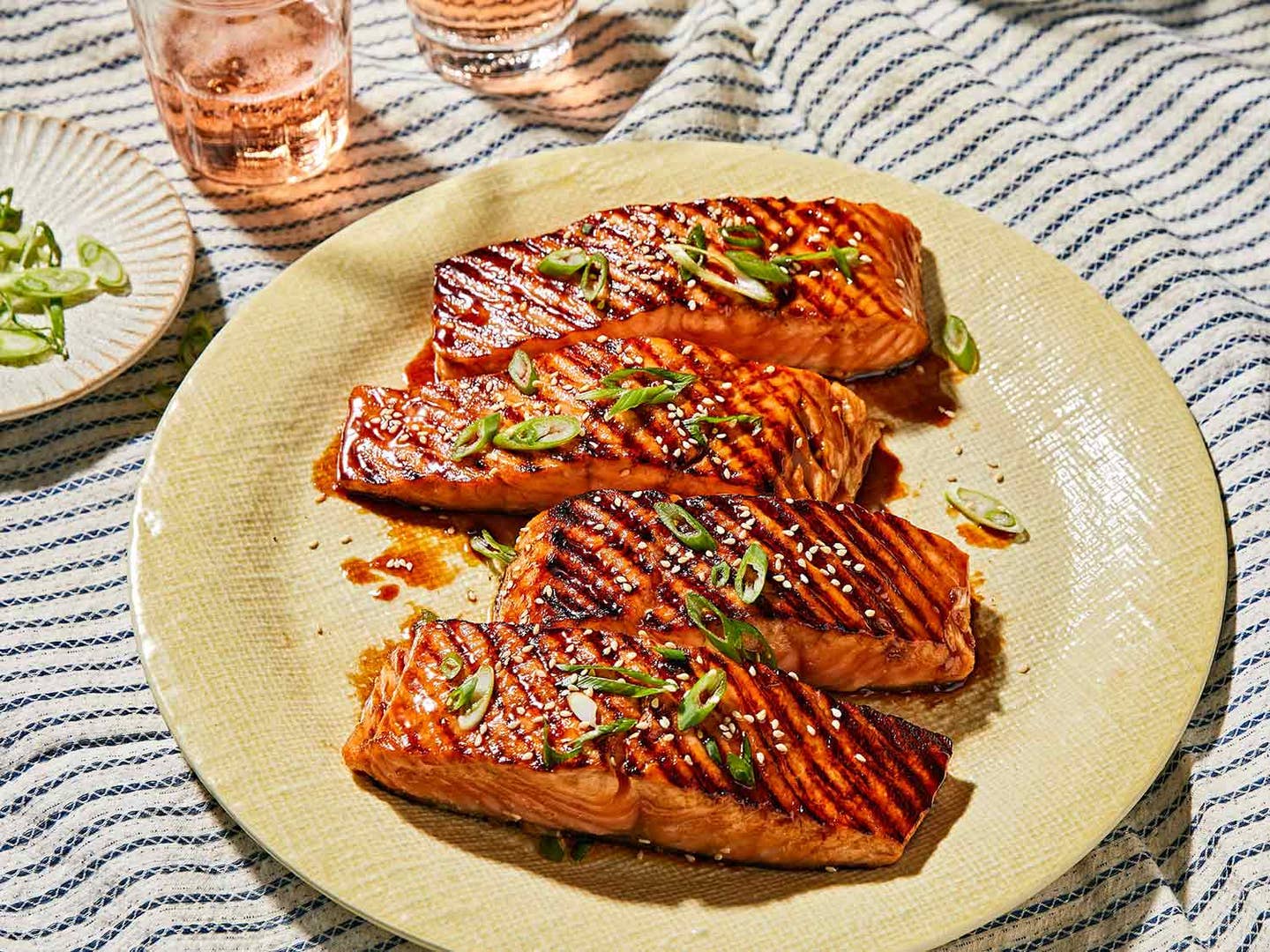 In the Japanese kitchen, "teriyaki" refers to a two-step style of cooking that consists of glazing followed by grilling or broiling. Bottled versions of "teriyaki sauce" are widely available, but the sweet-salty condiment sold under that name is so versatile and so easy to prepare that we prefer to make our own. Use the sauce as a marinade before cooking, then boil the liquid down to use as a glaze during cooking. The sugars concentrate and caramelize over high heat, locking in moisture and resulting in a deep, savory flavor.
Ingredients
¾ cups mirin
¾ cups soy sauce
¼ cups plus 2 Tbsp. sake
¼ cups sugar
Six 4-oz. skin-on salmon filets
1 medium scallion, thinly sliced
2 tsp. toasted sesame seeds
Instructions
Step 1
To a small pot set over medium-high heat, add the mirin, soy sauce, sake, and sugar. Bring to a boil and cook, stirring continuously, until the sugar dissolves, 1–2 minutes. Remove from heat and let the sauce cool to room temperature, about 20 minutes.
Step 2
To a large zip-top freezer bag, add the salmon and the marinade, press out any excess air, seal the bag, and turn a few times to coat the fish. Transfer to the fridge and marinate for at least 4 and up to 12 hours.
Step 3
Heat a grill or grill pan to medium-low heat. Remove the salmon from the bag (reserving the marinade); set the fish aside on a plate to come to room temperature.
Step 4
To a small pot, add the marinade, and bring to a boil over medium-high heat. Cook, stirring occasionally, until the sauce has reduced by half, about 15 minutes.
Step 5
Place the salmon, skin-side-down, on the grill or grill pan, and cook, turning once and basting with the reduced marinade occasionally, until just cooked through, 4–5 minutes per side. Transfer the fillets to a platter, drizzle with any remaining marinade, and garnish with scallions and sesame seeds.