Perkedel Jagung (Indonesian Corn Fritters)
Fragrant spices, ginger, and coconut perfume these Southeast Asian corn fritters.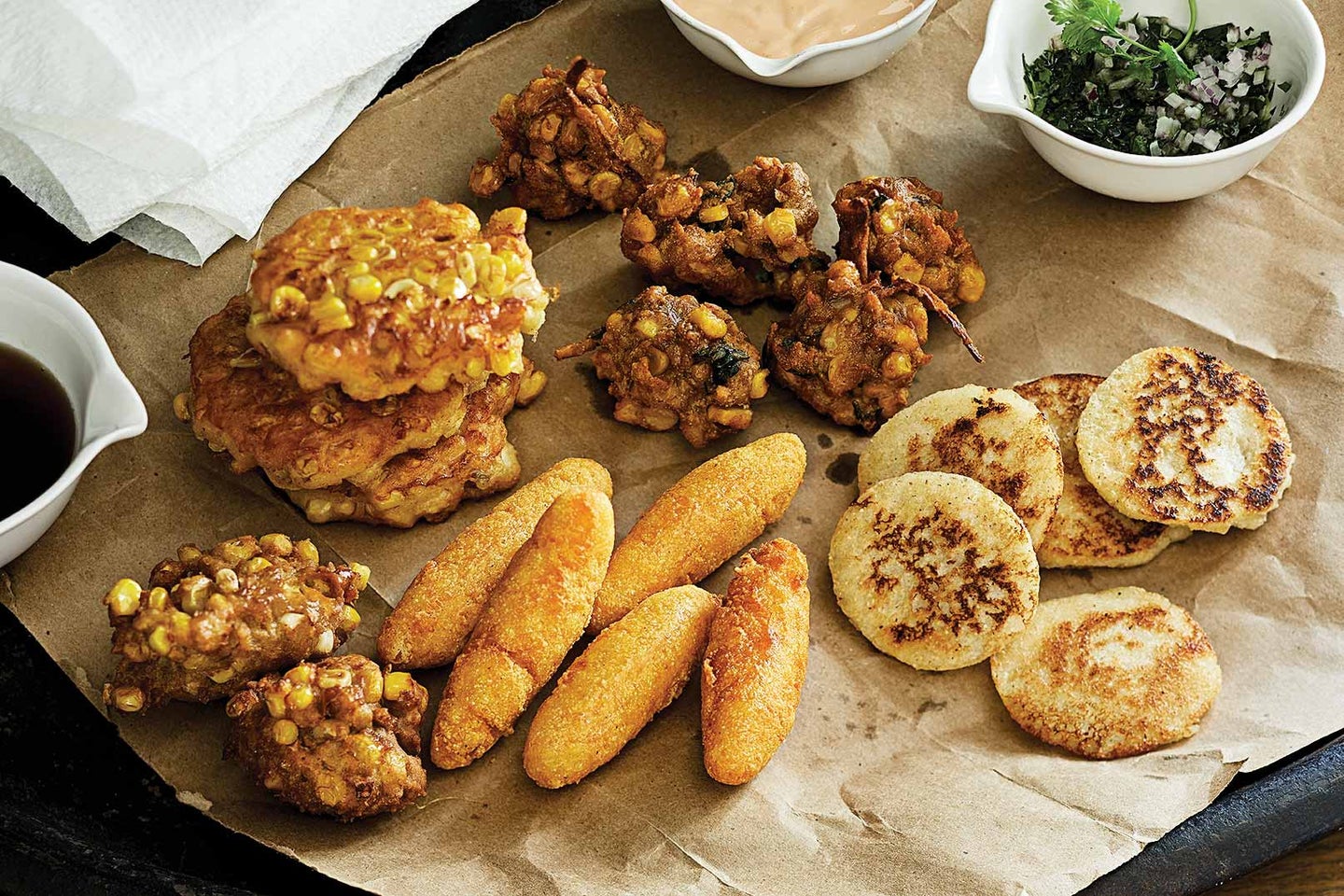 Check out all items from the Saveur 100 »
Look for the large, waxy candlenuts, the kencur powder, a dried, ground rhizome related to both ginger and galangal, and the creamed coconut at Asian markets. You can also find all three online at foodsofnations.com.
Featured in: The 2020 Saveur 100: 81-90
Equipment
Perkedel Jagung (Indonesian Corn Fritters)
Fresh corn kernals add a pop of sweetness to these rich, spiced Indonesian fritters.
Time: 45 minutes
Ingredients
2 Tbsp. yellow onions, finely chopped
4 candlenuts (toasted, cooled, and finely ground in a mortar and pestle; about 2 Tbsp.)
2 tsp. galangal, peeled and minced
2 tsp. garlic, minced
2 tsp. ground coriander seed
1 tsp. ground cumin
1 tsp. kosher salt
1⁄2 tsp. kencur powder
1⅓ cups fresh corn kernels (from 2 cobs)
2 Tbsp. pure creamed coconut, at room temperature
2 large eggs, beaten
1⁄4 cup plus 2 Tbsp. (1½ oz.) all-purpose flour
Corn oil, for frying
Sambal Tomat, for serving (optional)
Instructions
In a large bowl, stir together the onions, candlenuts, galangal, garlic, coriander, cumin, salt, and kencur powder. Add the corn, creamed coconut, and egg and stir until all of the ingredients are well incorporated. Stir the flour in gently, until just combined. Set the batter aside. 2. Meanwhile, add enough oil to a cast-iron skillet to reach a depth of ¾ inch. Cook over medium-high heat until oil just begins to shimmer (355-365°F on a deep-fry thermometer) adjusting the heat as needed to prevent oil from smoking.
Working in batches, drop the batter by rounded tablespoons into the hot oil. (Avoid crowding the pan.) Fry until golden and crisp, 1-2 minutes per side. Using a slotted spoon, transfer the fritters to a paper-towel-lined baking sheet to drain. Serve warm, with Sambal Tomat, if desired.