Shane Mitchell's Southern Corn Fritters
Hushpuppies are the corn fritters of choice in the American South.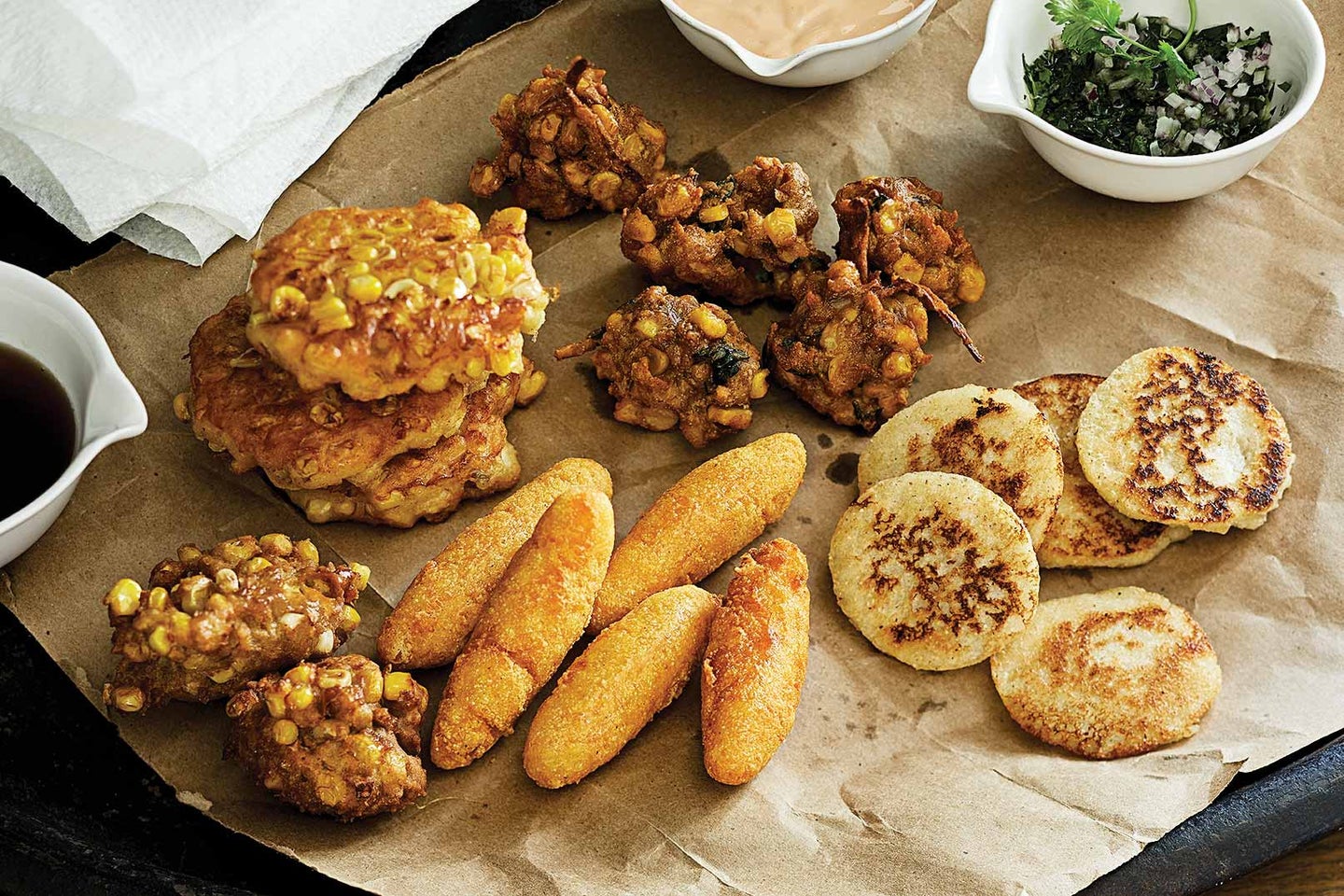 Check out all items from the Saveur 100 »
These shallow-fried fritters require little oil, and cook up like puffy little pancakes. Use the dull side of a chef's knife to scrape the cobs after removing the kernels, extracting the sweet corn "milk" to add to the batter. Room temperature leftovers make a great breakfast the next day.
Featured in: The 2020 Saveur 100: 81-90
Equipment
Shane Mitchell's Southern Corn Fritters
An easy Southern corn hushpuppy recipe from contributing editor, Shane Mitchell.
Yield:
makes Ten 3-inch fritters
Time: 45 minutes
Ingredients
3⁄4 cup all-purpose flour, sifted
1 tsp. baking powder
1⁄2 tsp. kosher salt
1⁄4 tsp. sugar
1⁄4 cayenne pepper
1 large egg, at room temperature, lightly beaten
1⁄2 cup buttermilk, at room temperature
1 tbsp. bacon fat or unsalted butter, melted
3 ears corn, kernels and juices scraped from cobs (about 2 cups)
Canola or safflower oil, for frying
Instructions
In a large bowl, combine the flour, baking powder, salt, sugar, and cayenne pepper. In a medium bowl, whisk together the egg, buttermilk, and bacon fat or butter. Using a silicone spatula, stir the egg mixture into the flour mixture until just blended. Fold in the corn kernels and juices. Set the batter aside at room temperature to puff slightly, 10-15 minutes.
Meanwhile, add enough oil to a cast-iron skillet to reach a depth of ¾ inch. Cook, over medium-high heat, until oil just begins to simmer (355-365°F on a deep-fry thermometer), adjusting the heat as needed to prevent oil from smoking.
Working in batches, drop the reserved batter by ¼-cup scoops into the hot oil, flattening slightly with a spatula to make fat pancakes about 3-4 inches in diameter. (Avoid crowding the pan.) Fry until golden and crisp, 3-4 minutes per side. Using a slotted spoon, transfer fritters to a paper-towel-lined baking sheet to drain.