Recipes
Rhode Island Johnnycakes
Midway between a fritter and a pancake, crisp Rhode Island johnnycakes are best when made using stone-ground white cornmeal.
Serves

serves 4

Cook

40 minutes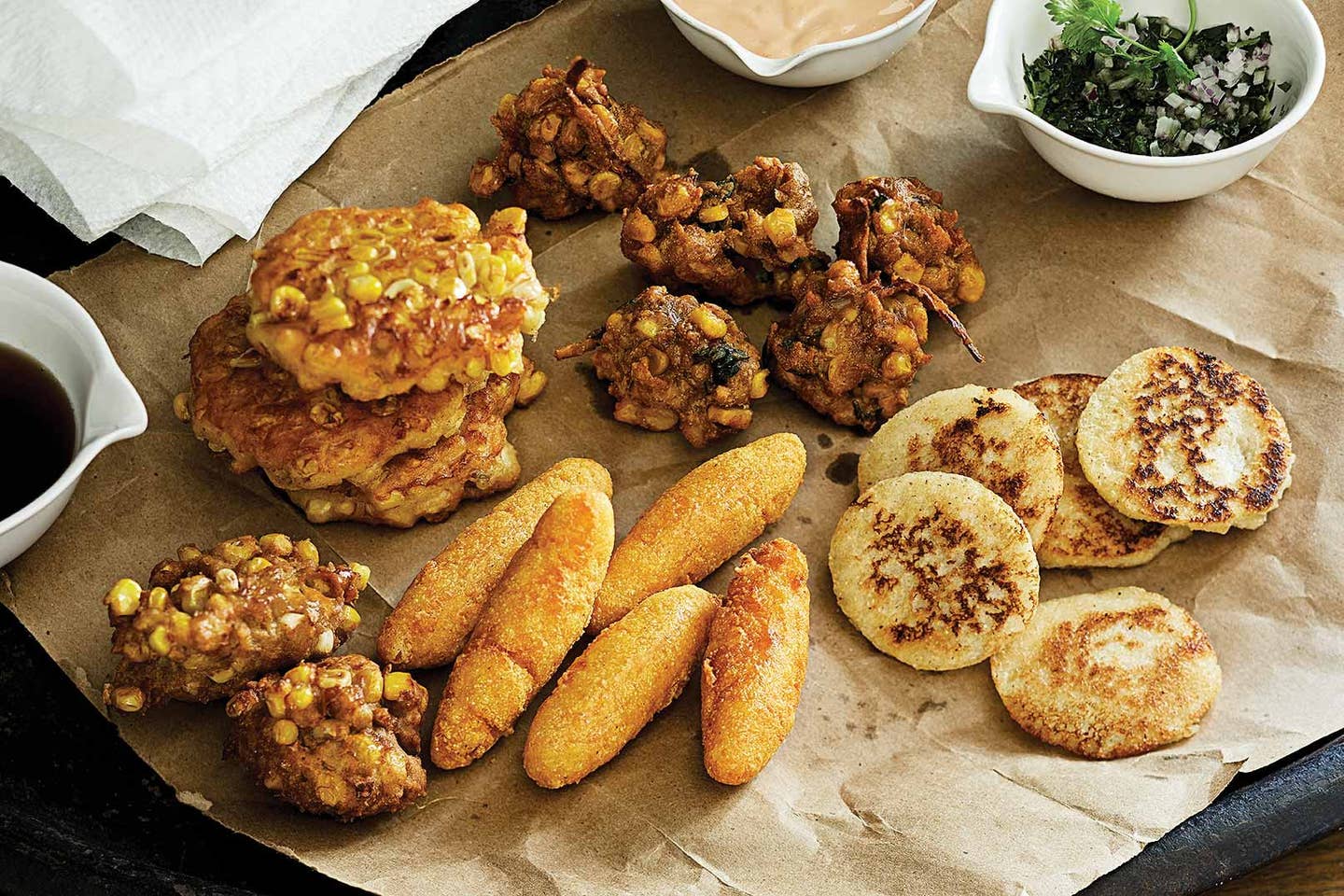 Variations on the johnnycake are found all along the eastern coast of the United States, as well as throughout the Caribbean. Midway between a pancake and a fritter, the Rhode Island version is most often made using a white, stone ground cornmeal batter, either griddled or shallow-fried into crispy, silver-dollar-sized patties. Each spring, Rhode Island granges, legion halls, and churches serve johnnycakes as a part of their annual May Breakfasts. They can be served as a sweet or savory finger food—topped with butter and maple syrup, or with minced onion and horseradish folded into the batter before cooking. If you find that the batter doesn't easily settle into round cakes, thin it with a tablespoon or two of additional hot water.
Ingredients
1 cup stone ground white cornmeal (preferably Kenyon's)
1 tsp. sugar
3⁄4 tsp. kosher salt
Corn oil, for frying
Salted butter, softened, for serving
Maple syrup, honey, or molasses, for serving (optional)
Instructions
Step 1
In a medium bowl, stir together the cornmeal, sugar, and salt. Bring 1¼ cups water to a boil, then slowly pour it into the cornmeal mixture while stirring to make a thick, smooth batter.
Step 2
Add oil to a depth of 1⁄16 inch in a cast iron skillet and place over medium-low heat. Once the oil is hot, working in batches, drop rounded tablespoon scoops into the skillet (avoid crowding the pan), tapping the spoon on the side of the skillet to release the batter and control the shape of the cake. Leave the cakes to fry undisturbed until they brown around the edges and firm up slightly, 2–2½ minutes. Drizzle each cake with a few drops of oil, then use a thin spatula to flip and pat each cake down slightly so it is a uniform ¼-inch thickness. Continue cooking until crispy and golden brown, 30–45 seconds more. Transfer to a paper-towel-lined baking sheet to drain and keep warm while you continue cooking the rest of the batter, replenishing oil in the skillet as needed. To serve, top with soft butter and maple syrup, honey, or molasses, if desired.