Sugared Rosewater Marzipan Balls (Kaber Ellouz)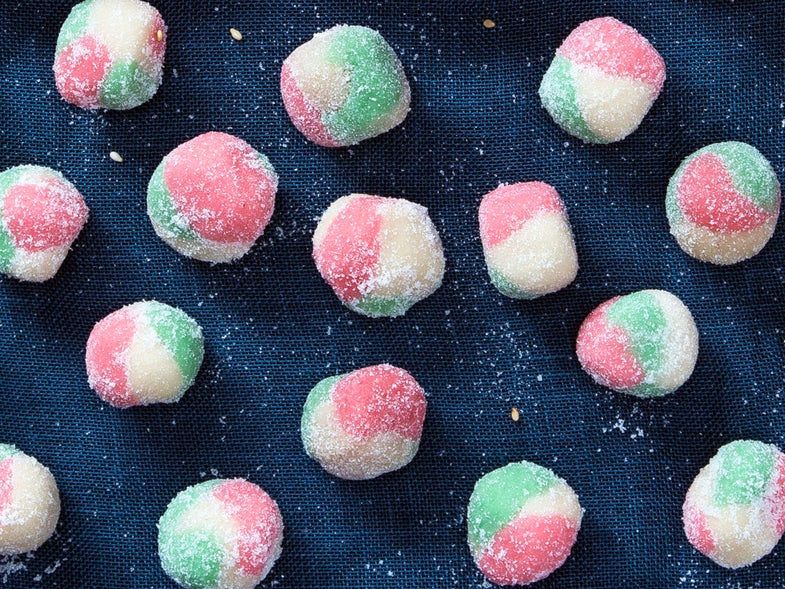 These whimsical marzipan balls, colored red, white, and green, are a favorite sweet of Daniel pastry chef Ghaya Oliveira during the holidays. A simple homemade almond dough is scented with rose water and dyed before being braided, cut, and rolled.
Featured in: 5 North African Desserts to Make for the Holidays
Yield: makes 2 1/2 dozen
Time: 45 minutes
Ingredients
1 cup (7 oz.) sugar, plus more
1⁄4 tsp. kosher salt
1 tbsp. rose water, preferably Carlo
1 tsp. vanilla extract
2 cups (8 oz.) almond flour
4 drops red food coloring
4 drops green food coloring
Instructions
In a small saucepan, combine the sugar with the salt and 6 tablespoons water and bring to a boil. Reduce the heat to medium-low and cook until slightly reduced, about 10 minutes. Remove from the heat and stir in the rose water and vanilla.
Meanwhile, place the almond flour in a food processor and, with the motor running, slowly drizzle in the hot syrup until the dough gathers into a ball around the blade. Transfer the marzipan to a work surface and cut into 3 equal pieces.
Place 2 pieces into 2 separate bowls and color one with the red food coloring and the other with the green food coloring. Knead each marzipan ball in the bowl until the food colorings are evenly incorporated.
On a clean work surface, roll the plain dough into a 32-inch-long rope, about 1⁄2-inch thick, and repeat with the red and green doughs. Braid the three doughs together, cut the braid into about thirty 3⁄4-inch pieces, and roll each into a ball. Transfer to a serving platter or plate and toss the balls with enough sugar to coat.