Summer Tomato and Herb Dip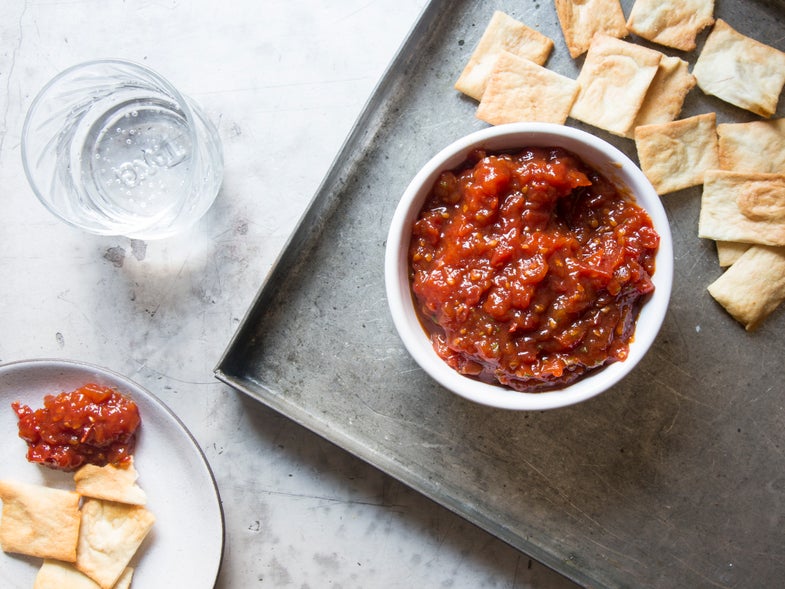 Tomatoes are cooked into caramelized honey and a slew of herbs and spices in this jammy dip from chef Sara Hauman of Huxley restaurant in San Francisco. Serve it with tortilla chips, pita chips, or use it as a flavor-packed sandwich spread. Note: Allow at least 4 hours for chilling.
Featured in: Flip the Dip
Yield: makes 2 1/2 cups
Time: 2 hours
Ingredients
3⁄4 cup honey
4 lb. mixed tomatoes, cored and cut into 1/2-inch dice
1⁄4 cup apple cider vinegar
2 tsp. kosher salt
1⁄2 tsp. freshly ground black pepper
1⁄2 tsp. smoked paprika
1⁄4 tsp. ground cumin
2 tsp. finely chopped oregano
2 tsp. finely chopped rosemary
Instructions
In a 6-quart saucepan, cook the honey over medium heat, stirring, until it darkens in color, 8 minutes. Stir in the tomatoes, vinegar, salt, pepper, paprika, and cumin, and bring to a simmer. Reduce the heat to medium-low and cook, stirring occasionally, until thickened to a loose jam consistency, about 1 1⁄2 hours.
Remove from the heat, scrape into a bowl, and let cool completely. Stir in the oregano and rosemary and chill for at least 4 hours, or overnight, before serving.