Recipes
Syrup-Soaked Pastries with Hazelnuts, Pistachios, and Pine Nuts (Deblah)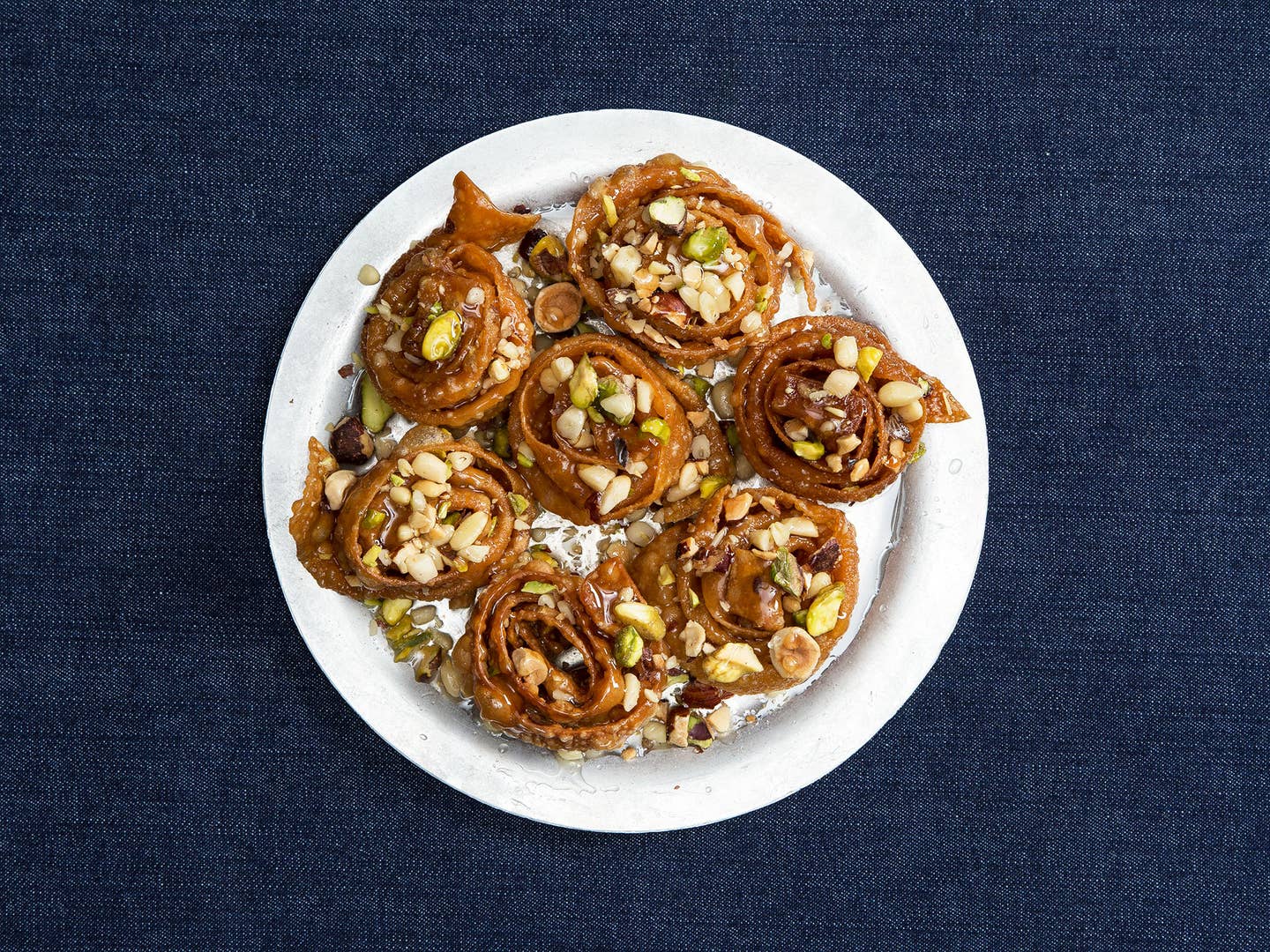 Traditionally made from strips of dough left over from making baklava, here these crunchy pastry spirals are formed from a simple pasta-like dough, soaked in a light lemon syrup, and topped with a shower of toasted chopped hazelnuts, pistachios, and pine nuts. Use a hand-crank pasta machine to roll the dough to ensure it gets as thin and even as possible.
Ingredients
1 1⁄2 cups (6 3/4 oz.) all-purpose flour, plus more for dusting
2 cups plus 1 tbsp. vegetable oil
1 tsp. kosher salt
2 large eggs, lightly beaten
1 cup (7 oz.) sugar
3 tbsp. fresh lemon juice
1⁄4 cup each hazelnuts, pistachios, and pine nuts, toasted and finely chopped
Instructions
Step 1
In the bowl of a stand mixer fitted with a dough hook, combine the flour with 1 tablespoon oil, 1⁄2 teaspoon salt, the eggs, and 1 tablespoon water and knead on medium speed until a smooth dough forms, 4 to 6 minutes. Wrap the dough in plastic wrap and let rest at room temperature for 30 minutes.
Step 2
Meanwhile, in a small saucepan, combine the sugar with the remaining 1⁄2 teaspoon salt, the lemon juice, and 3⁄4 cup water and bring to a boil. Reduce the heat to medium-low and cook until slightly reduced, about 10 minutes. Remove from the heat and pour into a bowl. Cover with plastic wrap and keep warm.
Step 3
Heat the oven to 180°. Unwrap the dough and divide into 4 equal pieces. Using a pasta machine or working on a lightly floured work surface, roll 1 piece of dough until 1⁄16 inch thick. Cut the dough lengthwise into 1-inch-wide, 12-inch-long ribbons.
Step 4
In a 10-inch skillet, heat the remaining 2 cups oil over medium until an instant-read thermometer reads 330°. Attach the end of 1 dough ribbon to the tines of a fork in one hand and hold the other end of the ribbon in your other hand. Place the tines of the fork in the oil, keeping them against the bottom of the skillet, as if stabbing it, and slowly turn the fork clockwise, wrapping the dough around it as it fries and puffs. When you reach the end of the dough ribbon, let it fall over the spiral against the tines of the fork. Carefully remove the fork and continue frying the dough spiral, flipping once, until golden brown, about 2 minutes. Using tongs, transfer the pastry to a rack set over a rimmed baking sheet and keep warm in the oven while you fry the remaining pastries, steadily maintaining the temperature of the oil.
Step 5
When all the pastries are fried, toss each one in the bowl of warm syrup and arrange on a large serving platter. Sprinkle the pastries with the chopped nuts, drizzle with the remaining syrup, and serve while hot.