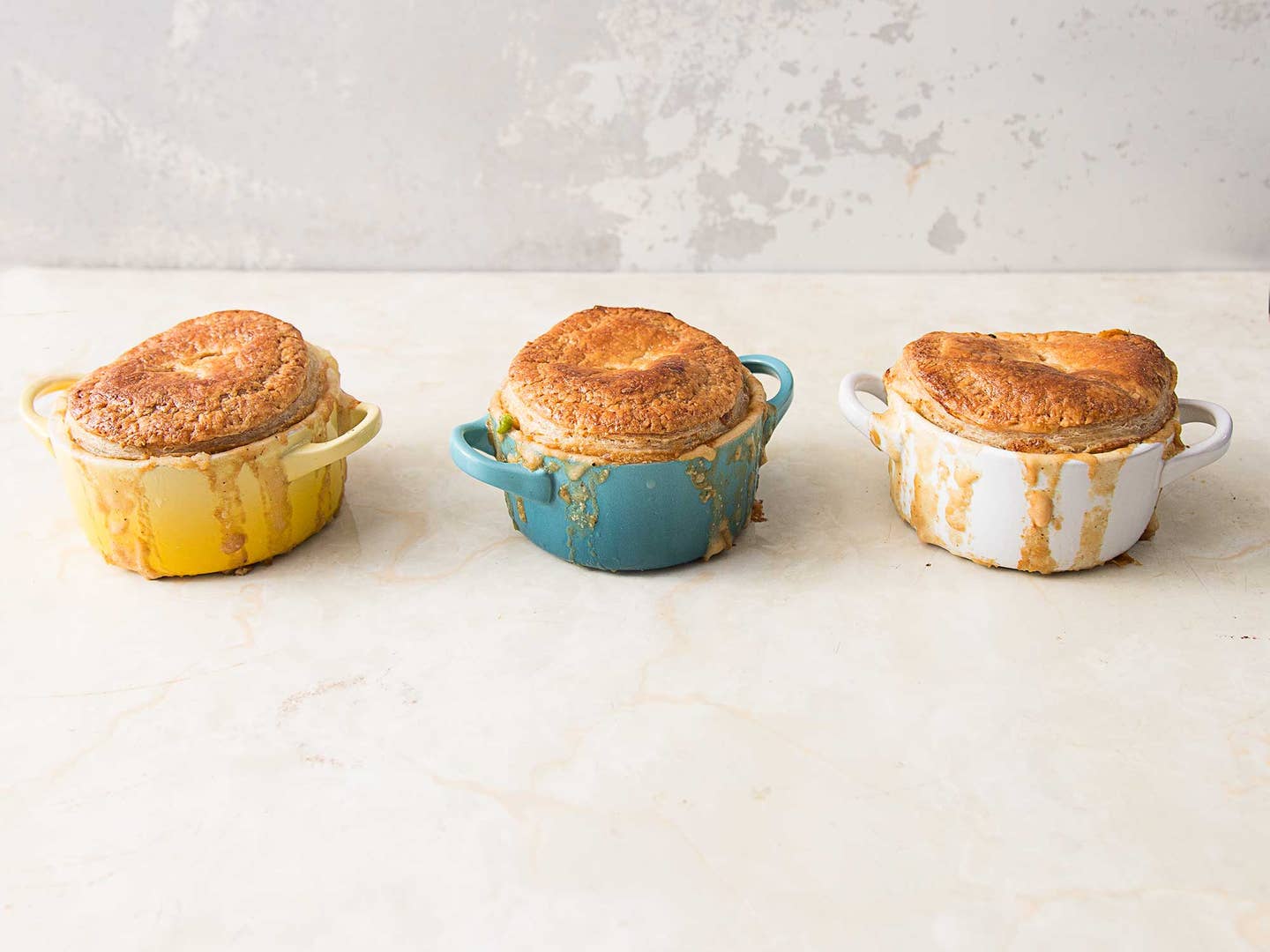 Recipes
Top Your Pot Pie With Puff Pastry and Mashed Potatoes
Give this comfort food staple the best of both worlds
I'm not great at making decisions. When I go out to eat, I prefer to share things so that I can try as many dishes as possible. I wish that I could do that at home, but home cooking rarely works out that way. Sometimes, though, you can have it all, like when I make chicken pot pie.
You see, I love topping my pot pies with pastry. But I also love topping them with mashed potatoes. For a while, I was simply topping my pies with pastry and eating mashed potatoes on the side. But eventually I realized that, in search of the ultimate pot pie, I could top mine with both.
So I do, and it's amazing. The pastry topping turns brown and flaky in the oven, and mashed potatoes underneath mingle with chicken gravy. If it sounds like too much starch, well, don't worry about it; it's not, and the double dose of potato and pastry does great things for this comfort food.
Make a simple pot pie base: brown chicken and transfer it to a bowl, then cook vegetables—carrot, onion, red pepper, and mushrooms—in the same pan you browned the chicken with some butter. Add some flour and cook out its raw cereal flavor, then pour in milk to make a bechamel sauce.
Add your chicken and its juices back in—there's so much flavor in there now! Oh, and some frozen peas, because everyone should always keep frozen peas on hand (they're one of my favorite "pantry" staples). Then throw the entire mixture into a baking dish, or several little ramekins for individual servings, then top that with mashed potatoes, and then top that with a simple store-bought puff pastry. Bake it until the pastry is brown and the filling is bubbling, and you are good to go.
My friends are always amazed and blown away by this technique, but truth be told, I can't believe it's that much of a surprise. But go ahead, surprise people, and if you know you'll be pressed for time, this can all be made ahead, frozen, and then reheated. That's comfort food at its finest.