Recipes
Full English Breakfast With Cumberland Sausage
Serves

serves 4

Cook

1 hour 5 minutes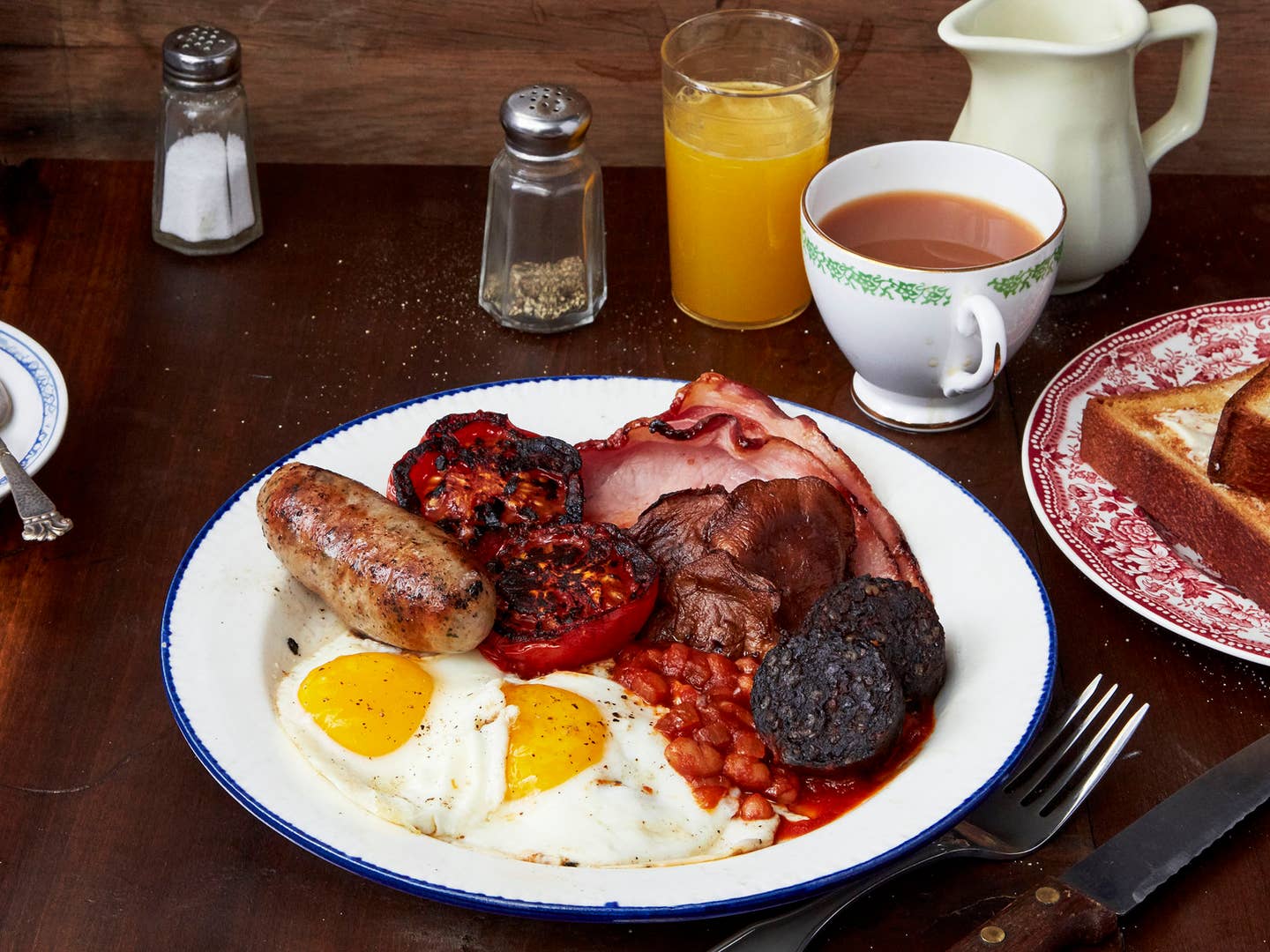 English breakfasts, or fry-ups—hearty assemblages of meat, eggs, tomatoes, mushrooms, and baked beans—are traditional all over the UK. Cumberland sausage, a pork sausage from Cumbria (made with meat that's chopped, instead of minced, which gives it a coarser texture), and black pudding, a pork sausage made with blood, can both be purchased from Myers of Keswick.
Ingredients
2 tbsp. vegetable oil
1 small yellow onion, finely chopped
1 tsp. smoked paprika
2 tbsp. Worcestershire sauce
1⁄2 cup canned tomato purée
1 tsp. sugar
One 14-oz. can navy beans, drained
Kosher salt and freshly ground black pepper
8 oz. black pudding, cut into 1-inch-thick coins
8 slices English "rashers" (loin bacon)
4 links Cumberland sausage
12 shiitake or cremini mushrooms, stemmed
4 vine-ripe tomatoes, cored and halved crosswise
8 large eggs
Toasted white bread, for serving
Instructions
Step 1
In a medium saucepan, warm the oil over medium heat. Add the onion and cook, stirring, until soft and beginning to caramelize, about 8 minutes. Stir in the paprika, cook for 30 seconds, then stir in the Worcestershire sauce. Add the tomato purée, sugar, beans, and 1 cup water and stir to combine. Bring to a simmer and cook, stirring occasionally, until thickened, 5 to 7 minutes. Remove the beans from the heat and season with salt and pepper.
Step 2
Heat an electric griddle or warm a large nonstick skillet over medium-high heat. Place the black pudding, rashers, and sausage on the griddle at the same time and cook, turning once, until browned and heated through, about 5 minutes for the black pudding and bacon, and 10 minutes for the sausage (cook each separately if using a skillet). Divide the meats among 4 serving plates.
Step 3
Place the mushrooms and tomatoes, cut sides down, on the griddle (or in batches in the skillet) and cook, flipping the mushrooms once but leaving the tomatoes undisturbed, until the mushrooms are golden brown and soft and the tomatoes are charred, about 8 minutes. Divide the mushrooms and tomatoes among the plates. Crack the eggs on the griddle (or in batches in the skillet) and fry until the whites are set but the yolks are still runny, about 3 minutes.
Step 4
Divide the eggs among the plates and season with salt and pepper. Spoon beans onto each plate and serve with toast on the side.