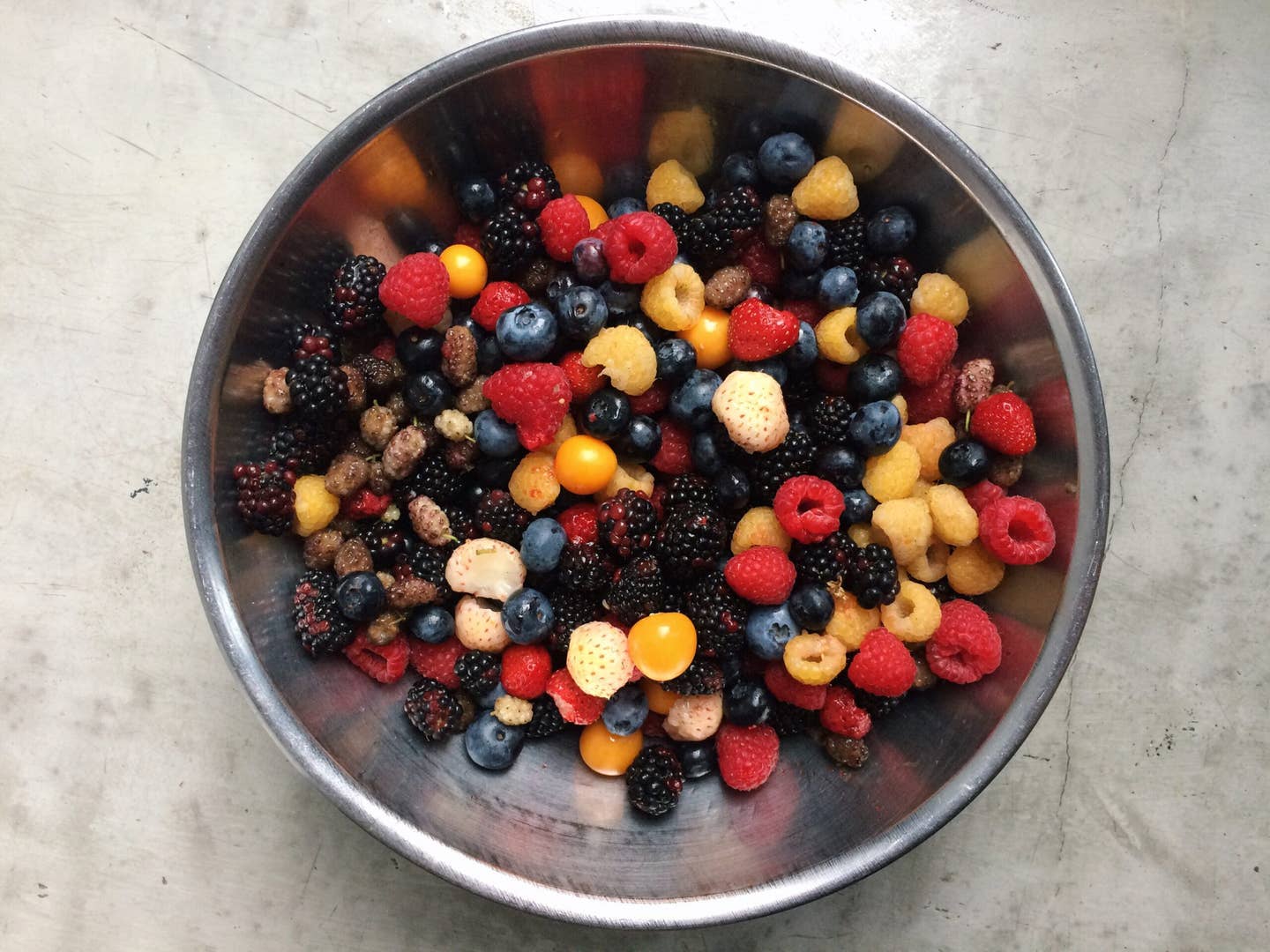 Techniques
What We Learned This Week: June 15-19, 2015
How to make fresh cheese, discovering new berries, and why clams love salt
While out shopping for a summer berry story (look for it in the August/September issue), we discovered all kinds of lesser known varieties: white mulberries (small, gummy berries native to eastern Asia), gooseberries (golden globes that have a pleasant tartness), strasberries (a variety of strawberry with a raspberry-like appearance), and pineberries (another strawberry variety that is small and white). After enjoying them all individually, we combined them to make a mixed berry bread.
Before I made a jumbo vat of clam chowder for the office, the test kitchen staff decided to see if we could recreate a favorite viral video: the one of clams licking salt when placed on top of it. After an hour of waiting with no movement, the clams began sticking out their tongues and sopping up the salt. We did some research and discovered that what we thought was the tongue is actually the clam's foot, trying to anchor into its surroundings—the salt makes the clam think it's resting on sand. Check out our Instagram video of the moment when it happened.
We tested a recipe this week for a fresh Icelandic cheese. This was the first time I had worked with liquid rennet as a means of separating the solid curds from the liquid whey. Rennet is a mixture of enzymes produced in the stomachs of certain animals, such as cows. The enzymes cause the proteins in milk to curdle, fostering the production of cheese. After heating the milk you add the rennet, but only once the milk has cooled to 98.6° F. We discovered that this is the most important step: The enzymes will only work at body temperature.
We needed to make a caramel for a recipe that called for adding 2 tablespoons of water to 1 ½ cups sugar. However, after cooking for almost 20 minutes, the mixture was still crystallized and pale. This is where food editor Ben Mims jumped in and demonstrated making a dry caramel: He simply heated dry sugar in a pan. Dry caramels cook in less time, but be sure to keep a close eye on your pan because they will burn quickly. As shown above, the process of making a dry caramel looks strange, but fear not: Within a few minutes, the melting sugar becomes smooth and dark.
Associate web editor Marian Bull has asked many times for a lesson in making pie dough. When I made a Chocolate Chess Pie this week, I reflected on how far my pie-making skills have improved over the years (the first one I made as an intern was incredibly overworked). Luckily for Marian, she can practice in the Saveur test kitchen with a team of experts, but for everyone else, we have made some great videos to teach you how to make your dough, and roll it out.
French confectioners Laduree sent us some of their ice cream this week: Each flavor is inspired by the macaron that comes nestled on top. Not only did we learn that macarons may be our new favorite ice cream topping, but also that EIC Adam Sachs will take a bite out of every flavor when left alone with ice cream.
I love when I run into a completely new ingredient. When I saw these strange, green-striped melons, I had to buy one. After a quick look on my iPhone, I learned that they got their name from the time of year during which they are ripe: They are at their peak during summer in the Southern Hemisphere, so the Northern Hemisphere receives them around Christmas time. The melons' tender flesh and floral sweetness inspired me to make a tart with them. You can find the recipe here.
Food editor Ben Mims developed an incredible pickle recipe for our August/September issue. However, the turmeric in the pickling liquid stained one of our measuring cups. Ben taught us all his trick for cleaning yellow turmeric stains: Make a paste with 2 tablespoons each of baking soda and water and scrub it on the surface of the stained item. The alkalinity of the baking soda cuts through the essential oils of the turmeric. Rinse and voila, no more stain!